---
February 21, 2010 3:32 PM
Cisco will not renew the reseller contract with HP which is due to end by April 2010. Which means HP will no longer be a Cisco Certified Channel Partner or Global Service Alliance Partner. The increased competition between two giants in the Data Center Sector is the main reason for this split, Keith Goodwin, Senior Vice President of Cisco's Worldwide Partner Organization said on a webcast.
Keith Goodwin, senior vice president of Cisco's worldwide partner organization said in a statement: "Being a Cisco Certified Channel Partner has numerous benefits including access to proprietary information (such as product roadmaps) and partner profitability initiatives. Given the evolution of our relationship it simply no longer makes sense to provide these benefits to HP."
According to figures from Dell'Oro Group Cisco had more than two-third of the Ethernet Market Share in last third quarter, whereas HP and 3Com were at second and third place. HP is no shaping up to be not just a competitor to Cisco but also it might be Cisco's biggest rival. With acquisition of 3Com, HP has a fair line up of both routing and switching product.
 [kml_flashembed movie="http://www.youtube.com/v/CeB1Y-Wadgo" width="425″ height="350″ wmode="transparent" /]
February 21, 2010 10:31 AM
I am always a great fan of David Hucaby; he comes up with pretty good titles, which can be easily used for achieving Cisco Certifications by self-study. His latest addition to the world of Cisco Certification is CCNP SWITCH 642-813 Official Certification Guide.  Thanks to Cisco Press and David to release this title so soon.
Thanks to Cisco Press and Jamie in especial for making this happen. I don't believe that I have a CCNP SWITCH 642-813 title with me. As we all know Cisco came up with a new version of CCNP Certification which requires only three exams to pass compared to four in the prevision version of CCNP.
The current CCNP SWITCH 642-813 book is much lighter compared to the CCNP Switch 642-812 book.  It's divided into 6 parts. I liked the way topics are distributed. This book is written in an easy way it covers all the exam topics and also provides some good troubleshooting steps especially I liked the VTP troubleshooting part.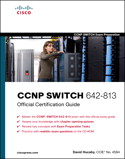 Pic Courtesy: Cicso Press
A chapter dealing with Securing Switch access is amazing I liked the best practices used for securing Switches. The Author David Hucaby did a commendable job. The CCNP Switch 642-812 title come with 100 practice questions for the CCNP 642-813 exam developed by Cisco Press and delivered by Boson. The CCNP SWITCH 642-813 title is up to date and most of the info referred deals with the latest IOS versions.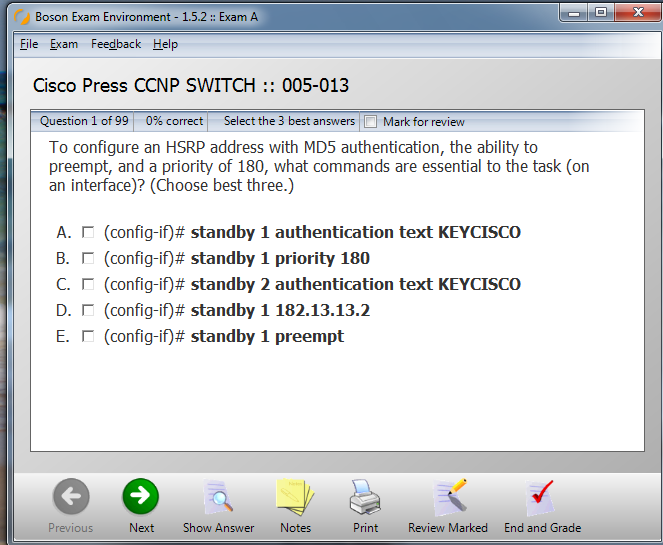 Overall this entire book is an excellent source for preparing for Cisco CCNP 642-813 exams, my advice is to buy this book along with CCNP Routing and Switching Quick Reference  book. With these two, you should have everything you need! Best of luck to you all CCNP Certification aspirers.
---
February 19, 2010 12:27 PM
According to Internet Security Vendor NetWitness computer network security firm. A botnet has been terrorizing corporate computers around the World over last 18 months.
The malicious program, or botnet, can commandeer the operating systems of both residential and corporate computing systems via the Internet. Such botnets are used by computer criminals for a range of illicit activities, including sending e-mail spam and stealing digital documents and passwords from infected computers. In many cases they install so-called keystroke loggers to capture personal information.
"Many security analysts tend to classify ZeuS solely as a Trojan that steals banking information, but that viewpoint is naïve," said Alex Cox, the NetWitness analyst that discovered Kneber when installing his company's software at a company. The new botnet he said, has been used to harvest a wide variety of data from corporations.
According to a white paper published by NetWitness Thursday — which includes some interesting analysis among the product pitches – the company's researchers found 75 GB of stolen data, which contained more than 68,000 stolen credentials obtained over a four-week period. More than 3,500 of those were Facebook credentials, another 2,500-plus were Yahoo usernames and passwords.
 If you want to know more about botnet check this article from Symantec.
The top five sources of infected computers are Egypt, Mexico, Saudi Arabia, Turkey and the U.S.
---
February 17, 2010 1:15 PM
We all know when we log in to any Cisco Routers or a Cisco Switch; in user mode we cannot see some of the show help commands, as demonstrated below
We can enable a Cisco Switch or a Cisco Router to display the all available commands when help (?) is used on the "show" command. To enable this feature on a Cisco Router or Cisco Switch use the command "terminal full-help" from the user mode as shown below.

Here is the example of "show?" command after "terminal full-help" (I have underlined some of the commands with red line, compare with first figure to see the difference)
This Cisco (terminal full-help) command is a simple little know feature, which definitely helps the user who has no access to privilege level in any Cisco Router or Cisco Switch.
---
February 13, 2010 5:46 AM
Cisco Systems announced the introduction of Cisco ASR 5000 mobile multimedia services solution. The addition of the ASR 5000 gives Cisco a comprehensive end-to-end Internet Protocol Next-Generation Network (IP NGN) architecture and offers mobile operators a platform specifically designed to accommodate the rapid growth of mobile Internet traffic and mobile multimedia applications.
This Cisco mobile Internet network architecture increases network and customer intelligence, offers world-class performance in each solution, and allows service providers to utilize Cisco networking expertise across any access, including 2G/3G/4G mobile network — from cell site to packet core to data center. With this new architecture, consumers will enjoy faster mobile Internet speeds and more seamless mobile multimedia experiences.
Primary Features
High performance across capacity, throughput, and transaction rate metrics
Integrated packet voice, data, and multimedia for service flexibility
High-touch deep packet inspection for enhanced charging and user understanding
Simple scalability with no function-specific cards
High reliability with session recovery and geographic redundancy
Major Innovations
Multiple functions supported in a single node
In-line Services for highly flexible service control and operational simplicity
Detailed protocol monitoring, debugging, and subscriber statistics
---
February 10, 2010 6:38 AM
As you might already have heard – the most successful Microsoft Learning Certification campaign ever, named Second Shot, is back – available from now onwards at any testing center until June 30 2010.
Second Shot means, that an exam taker will get 1 free re-take in case of a fail on the first try of a Microsoft Certification exam (eligible exams: IT Pro, Developer and Dynamics).



Important to know: To receive this free re-take named "Second Shot" the exam taker has to register online before taking the first exam (or alternatively buy a voucher from the testing center, that has second shot included. All vouchers bought from Prometric at or after January 13 2010 include second shot).
For details please go to: http://www.microsoft.com/learning/en/us/offers/Career.aspx#certification
Take advantage of our Second Shot offer and get a free retake when you do not pass an IT professional or developer Microsoft Certification exam the first time. You must take both the first and (if necessary) the retake exam before June 30, 2010.
·         Register to acquire a voucher for a Second Shot (Prometric.com)
---
February 10, 2010 6:32 AM
Pearson Education a global leader in Education and Professional publishing releases it first ever iPhone/iPad reader applications for both technical and professional communities as well as home and office communities. The newly released Apps are available as single or multi-book libraries, are a new learning format for Pearson and complement the suite of product types already available, such as traditional print books, online reference libraries, e-books, video, simulation and more.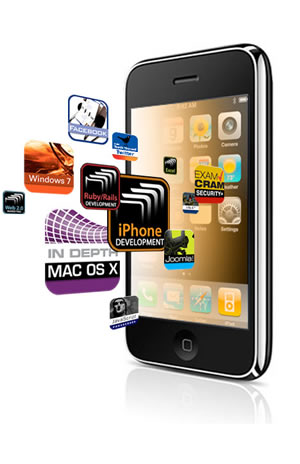 It's a new step from Pearson to provide its titles in smartphones especially the iPhone. Thought the first App launched was "The iPhone Developer's Library but I downloaded the Cisco CCNA 640-802 cert flash card. I could easily find cert flash cards for Cisco CCNA Wireless, Voice and CCNA Security exams. As we all know the importance of Cert Flash cards available for Cisco Certification exams. The Pearson Apps seems to be very handy and very helpful for Cisco Certifications. Moreover most of Cert Flash cards are priced less than 10 dollars. You can always try a demo version before buying the full version.
For IT Professionals who are interested in pursuing certifications you can find iPhone Apps for Cisco CCNA 640-802, MCSE, CompTIA and much more.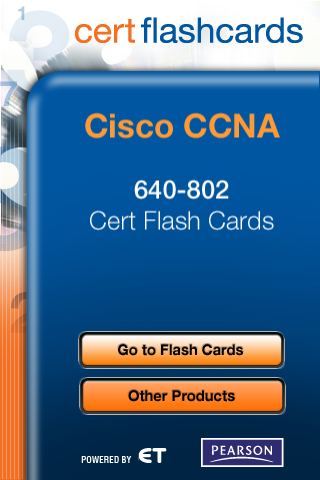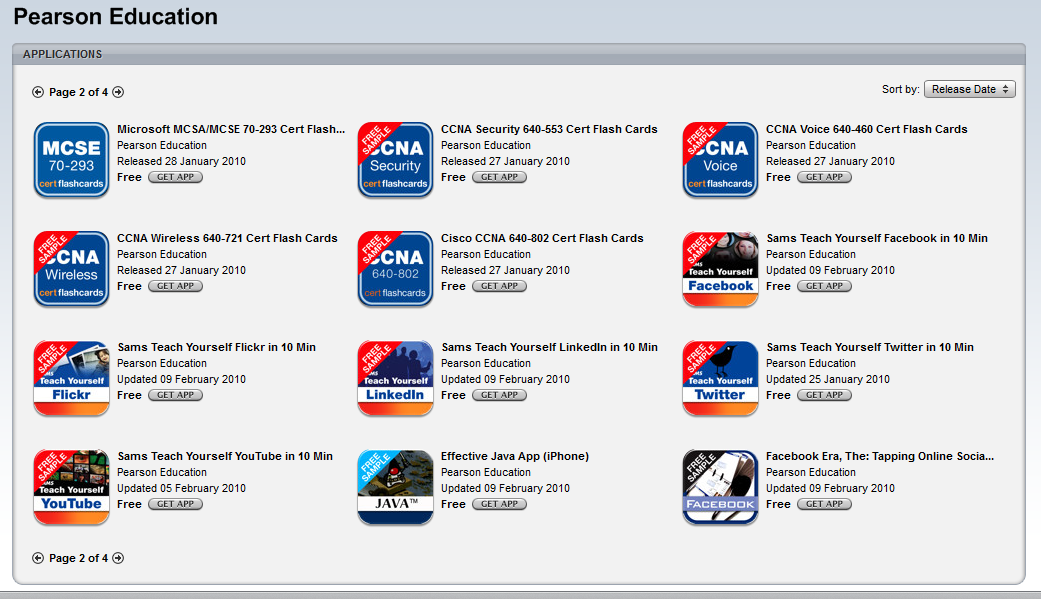 Some of the free latest Apps from Pearson are available to download form iTunes stores are : Effective Java MAC OS X Snow Leopard, in depth Microsoft Windows 7 Unleashed and much more. For more details check informit website.
---
February 8, 2010 4:13 AM
Year 2009 was proved to be a great year for Android but according the Kaspersky, 2010 could be a challenging for Android just not because of a lack of awesome devices or not because Android OS won't move forward significantly,. But it's the hackers who are expected to target Android users with malwares and viruses.
"Currently the rules are very simple, you pay $25 dollars and your program gets posted, and Google does not do anything to check or manage this process. This is a serious weak point for the platform at this point," Aleks Gostev stated. "There's already malware for Android so the appearance of new malware is just a matter of time, not technology."
Gostev says that Google will need to address the problem as a priority, but that it won't be easy.
Aside from third-party application Android vulnerability, Kaspersky Lab predicts that 2010 will see Google Wave become a target for cybercriminals as well. Other threats high on their list include mobile malware, not just for Android devices, but also the iPhone along with more peer-to-peer (P2P) and torrent attacks.
From a Kaspersky Press Release issued couple of weeks back
"An increase in attacks on iPhone and Android mobile platforms. 2010 promises to be a difficult time for iPhone and Android users. The first malicious programs for these mobile platforms appeared in 2009, a sure sign that they have aroused the interest of cybercriminals. The only iPhone users currently at risk are those with compromised devices; however the same is not true for Android users who are all vulnerable to attack. The increasing popularity of mobile phones running the Android OS combined with a lack of effective checks to ensure third-party software applications are secure, will lead to a number of high-profile malware outbreaks."
---
February 1, 2010 5:10 AM
If you have an innovative idea then make sure you build your dream team to en cash your team's brilliant idea with $250,000 as prize money. The good news is Cisco launched there I-Prize contest, an open global innovation competition in which entrepreneurs worldwide can collaborate and submit their proposals with the potential to be Cisco's next billion-dollar business idea. Following last year's competition, which drew nearly 2,500 entrants, this year innovative thinkers will have access to an expanded portfolio of Cisco® collaboration solutions to build on as they share their ideas with other participants around the world. The winning team will be eligible for $250,000 in prize money.

CONTEST DETAILS
·        Idea submissions should fall into one of four categories:
o   The future of work: Use the power of the network to bring together customers, suppliers and associates to propose solutions that will change the way companies and organizations do business. 
o   The connected life: Describe technological advancements that will dramatically improve living conditions and culture. This category will require people to envision a life of seamless connectivity. 
o   New ways to learn: Create innovative solutions that will transform when, where and how people learn and educate.
o   The future of entertainment: Devise next-generation solutions that will change how people play.
·        I-Prize contest participants will have access to the following Cisco collaboration solutions, which can help break down communication barriers associated with global innovation:
o   Cisco Show and Share, a social video community where contest participants can record, edit and share video; comment, rate and tag interesting content; and use speech-to-text translation for easy video search and viewing.
o   Cisco Pulse, a search platform that dynamically tags content as it crosses the network, allowing contest participants to accurately locate and rapidly connect with the best available experts and information on a particular topic.
o   Cisco WebExTM, an online meeting platform for audio and Web conferencing that enables users to share documents and desktops in real time.
o   Cisco TelePresenceTM, an immersive, virtual meeting experience that combines innovative real-time video, audio and interactive technologies to give people in distributed global locations a wide variety of face-to-face collaboration experiences.
·        I-Prize participants will also enjoy access to a unique management platform, powered by Spigit, which enables participants to buy and sell ideas on an open market. The idea market lets contest participants establish the value of their ideas through trades. Shares of ideas are purchased with virtual currency awarded to participants based on the value of their contributions on the platform.
·        Entries will be evaluated according to the judging criteria outlined in the terms and conditions, including an entry's technological innovation and business. All submissions must use the IP network as a platform.
·        For more information, contest rules and entry forms, please visit http://www.cisco.com/iprize.
Visit Cisco I-Prize on Facebook
Cisco I-Prize Questions & Answers
[kml_flashembed movie="http://www.youtube.com/v/UYj3hr8rNNY" width="425" height="350" wmode="transparent" /]
---
January 26, 2010 5:58 AM
Yesterday Cisco announced some major updates for the most popular Cisco CCNP Certification program. Currently three new CCNP exams are revamped i.e. ROUTE 642-902, SWITCH 642-813, and TSHOOT 642-832, wow  titles looks great for me.
In the prevision version you were required to pass four exams BSCI, BCMSN, ISCW and ONT.  Whereas the new updated version of CCNP requires only three exams to pass. The exams will be available in March/April 2010. The current CCNP track is available until July 2010.
 News Facts:
The previous version of the CCNP required four exams: BSCI, BCMSN, ONT and ISCW. The revised certification now requires three 120-minute exams:

ROUTE #642-902 Implementing Cisco IP Routing
SWITCH #642-813—Implementing Cisco IP Switched Networks
TSHOOT #642-832——Troubleshooting and Maintaining Cisco IP

The new CCNP courses and e-learning materials are available now. The exams will be available in March/April 2010.
CCNP is the second most popular Cisco Certification, after CCNA®.
No other imprint publishes to the CCNP certification
Cisco Press CCNP products can be purchased at your favorite local bookstore, computer/electronic store, online bookseller, or ciscopress.com.
By February you can expect new CCNP Products from the official publisher Cisco Press, thanks to updates shared by
Jamie Adam's. According to the press release
the new suite includes three Certification Guides and introduces a new product line for mid- to late-stage exam preparation, the Cert Kits, available for all three exams. Each Cert Kit provides a value-priced package combining video, print and electronic quick reference sheets, and online flash card preparation tools.
Pic Courtesy: Cisco Press
A complete listing of new CCNP products is available at www.ciscopress.com/ccnp.
Available February 2010
CCNP ROUTE 642-902 Official Certification Guide / 1587202530 / 9781587202537
CCNP SWITCH 642-813 Official Certification Guide / 1587202433 / 9781587202438
CCNP TSHOOT 642-832 Official Certification Guide / 1587058448 / 9781587058448
*Discount-bundled package of all three Certification Guides:
CCNP Routing and Switching Official Certification Library / 1587202247 / 9781587202247
So start preparing for the new suite of most prestigious CCNP certification. Better luck. Do let me know if you pass the new CCNP Certification.
Some useful links
http://www.cisco.com/web/learning/le3/le2/le37/le10/learning_certification_type_home.html
https://learningnetwork.cisco.com/docs/DOC-6393
https://blogs.cisco.com/ciscotalk/cin/comments/new_ccnp_requirements_-_new_ciscopress_resources/?awesm=fbshare.me_AFKrd&utm_medium=fbshare.me-facebook-post&utm_source=facebook.com&utm_content=fbshare-js-large
---