---
June 24, 2010 9:19 PM
BISCI announced its newest standard, BISCI 002-2010, Data Center Design and Implementation Best Practices. The new standard BSCI 002-2010 is intended to reflect the growing complexity of the Data Center deployments and the need for Companies to understand the electrical, mechanical and telecommunications requirements while designing new infrastrucre of Data Centers.
The new standard BISCI 002-2010 includes the best practice, requirements and consideration for the Data Centre design including factions such as site selection, thermal systems, layout and security, and also the new standard is compatible with existing data center standards.

Pic Courtesy:BISCI
Jonathan Jew, Co-chair of the Data Center Standards Subcommittee and lead editor of the standard said: "BICSI 002 is a great resource for data center designers and operators because it provides a wealth of information on the subjects important to this audience-all in one place. It is the culmination of the efforts of more than 150 subject matter experts in a wide variety of disciplines related to data center design."
"This is truly a great achievement for BICSI and our membership as BICSI 002-2010, Data Center Design and Implementation Best Practices is the ultimate standard for anyone working in the data center arena," said Brian Hansen, RCDD, NTS, CSI, and BICSI President. "I'd like to extend a thanks to all of the Data Center Subcommittee members for their hard work and dedication in producing what we believe to be the most comprehensive data center standard to date."
BICSI 002 is available for purchase at www.bicsi.org/standards. BICSI members qualify for a reduced fee.
June 24, 2010 12:10 PM
We are leaving in the era of social networking, these days social networking sites like Facebook, LinkedIn and Twitter are becoming part of our work culture. No doubt we are all enjoying these new features of social networking to reach out the new height of business success.
Seems to be inspired by the success of social networking, Cisco Systems is coming out with a new social collaboration platform aimed at Enterprises called Cisco Quad. Cisco Systems designed the Cisco Quad to take popular social networking tools and trick and blend them into a single platform purely for business use which is due to be released for limited uses in the first quarter of Cisco's financial year 2011. Cisco Quad initially will be available in the U.S., Canada, the United Kingdom, Australia and New Zealand.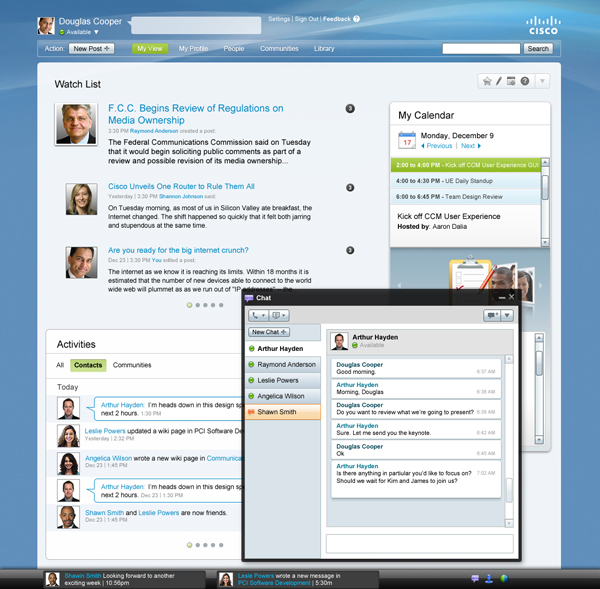 It's a social way of dealing with everyday business, according to Murali Sitaram, vice president and general manager of Cisco's Enterprise Collaboration Platform.
"We've borrowed from the Web 2.0 world," Sitaram said, noting that Cisco has been working on Quad for about three years. "It's a manifestation of social capabilities."
I am looking forward to test Cisco Quad, which looks to be a useful platform.
[kml_flashembed movie="http://www.youtube.com/v/j_DHOqcavIo" width="425" height="350" wmode="transparent" /]
---
June 22, 2010 5:53 AM
In my previous post I was talking about the POE issues related to Cisco Aironet 1252 AP and the Cisco Catalyst 3570 E Switch, to resolve this Cisco Systems have an answer "Enhanced Power over Ethernet.
After posting my article I did a little search on Cisco.com and I found the following white paper
"Cisco Enhanced PoE
To support new and emerging technology, many of Cisco's customers have an immediate requirement for PoE in excess of 15.4W per port. For example, Cisco has introduced a new wireless access point compliant with the IEEE 802.11n draft 2.0 standards. This wireless access point, the Cisco Aironet® 1250 Series Access Point, supports two radios, which use MIMO and other new technologies to increase the throughput, reliability, and predictability of the wireless network. However, to function at full capability, the Cisco Aironet 1250 requires 18.5W of PoE.
Powering the Cisco Aironet 1250, with its 18.5W power requirement, from a switch that supports only the IEEE 802.3af standard decreases network efficiency, because network managers must either add more equipment and cable to provide the additional power needed or resort to utilizing only one radio in the Cisco Aironet 1250. Although the Cisco Aironet 1250 could easily receive full power from an IEEE 802.3at-compliant PSE, that standard has not yet been ratified.
That is why Cisco developed Cisco Enhanced PoE, Cisco's extension to the IEEE 802.3af standard that delivers as much as 20W per port of inline power for devices that support Cisco Discovery Protocol (CDP). Cisco Enhanced PoE is offered on Catalyst 3750-E and Catalyst 3560-E switches starting in February 2008 with Cisco IOS® Software Release 12.2(44)SE. The Catalyst 6500 Series10/100/100 PoE linecards support Enhanced PoE with 12.2(33)SXH2 or later and the Catalyst 4500 E-Series support Enhanced PoE with 12.2(44)SG or later. When, for example the Cisco Aironet 1250 is connected to a Catalyst switch supporting Cisco Enhanced PoE, the access point can use Cisco Discovery Protocol to request a power level from the switch that is higher than the 15.4 Watts described in the IEEE 802.3af standard. After the Catalyst switch receives the Cisco Discovery Protocol message for higher power, it will grant the increased wattage to the Cisco Aironet 1250.
Cisco Enhanced PoE is by no means a replacement for or in competition with the IEEE 802.3at (PoE+) standard. It is simply a means of delivering PoE in excess of 15.4W per port to those customers who must immediately implement technologies requiring it and cannot wait for the 802.3at standard to be finalized."
To read the complete white paper click this link. Also I am thankful to all those gentlemen who posted their comments and tried to provide a solution. The current IOS version of the Cisco Catalyst 3750 E Catalyst Switch I have  is 12.2(35)SE5, let me upgrade the IOS and see whether I can enjoy the enhance power capabilities of 3750 E Switch.
---
June 21, 2010 9:13 AM
Recently one my colleague was trying to connect a Cisco 1252 Aironet Access Point without a power injector to a Cisco 3750 E POE Switch, but the device was not coming up, he was receiving the following log in the Cisco Aironet Access Point.
Jun 21 08:30:28.447: %CDP_PD-2-POWER_LOW: All radios disabled – NEGOTIATED WS-C3
750E-48PD (8843.e17f.f60d)
Jun 21 08:31:28.451: %CDP_PD-2-POWER_LOW: All radios disabled – NEGOTIATED WS-C3
750E-48PD (8843.e17f.f60d)
And when we checked the Cisco 1252 Aironet Access Point from the Internet Explorer we got this message.
Looking at the logs and graphical view I figured out the Cisco 1252 Aironet Access Point shut downed its radio interface as it was not getting the sufficient power.
Normally the Cisco 1252 Aironet Access Point requires more than 16 watts of power, whereas the Cisco 3750 E Switch is capable of providing maximum of 15.4 watts.
I am trying to find out a way to resolve these issues. The moment I get any resolution I will update you all folks.
---
June 20, 2010 5:09 AM
Cisco Systems releases newest version of WebEx Connect IM, some of the features the newly released Cisco WebEx Connect IM (6.5) allows the users to access their contact lists and send messages via a browser –based IM client. With the browser-based IM client the solution can be accessible from any computer with any operating system, wow!
The Cisco WebEx Connect IM for Windows is now localized for French, German, Spanish, Italian and Japanese, further expanding its ease of use for global organizations.
The release of newest version of WebEx Connect IM brings logging on Server-side, which allows organizations to capture logs of all IM traffic for more efficient regulatory compliance.
[kml_flashembed movie="http://www.youtube.com/v/4UVkz2fbTzA" width="425" height="350" wmode="transparent" /]
---
June 18, 2010 7:10 AM
Would you like to join the Cisco's technical experts for an in-depth discussion about the latest innovations-products, features and like experience the demos and roadmaps to develop strategies and deploy solutions that increases resiliency, agility and productivity, then you have a golden opportunity.
Cisco Systems is hosting successful Tech Days series in your region to keep you informed about the latest developments in borderless networks, virtualization, and collaboration technologies starting 9th June to 30th June 2010.
| | | |
| --- | --- | --- |
| City | Date | Registration Link |
| Memphis, TN | June 9, 2010 | Register Now |
| Melville, NY | June 23, 2010 | Register Now |
| Des Moines, IA | June 23, 2010 | Register Now |
| Grand Rapids, MI | June 24, 2010 | Register Now |
| Mobile, AL | June 24, 2010 | Register Now |
| Harrisburg, PA | June 30, 2010 | Register Now |
| Bloomington, IL | July 14, 2010 | Register Now |
They are offering three tracks, unfortunately I am leaving the other part of the World, I know I am missing a great opportunity, I love Borderless Networks.
Borderless Networks Track
Learn how systems innovations across routing, switching, wireless, acceleration, and security help organizations deliver mobility, security, and performance to transform the way IT delivers and scales those services on the network.
– Focus: Using the Network to Optimize TCO and Business Agility
Unified Communications Track
Learn how IP-based collaboration technologies can better position companies to operate more efficiently while using new mobile and web-based applications. Each session will cover solution strategies and roadmaps, practical demonstrations, and technical configuration and design principles.
– Focus: Unified Communications on Cisco Unified Computing System: Virtualizing Cisco Unified Communications
Virtualization Track
The proliferation of data center virtualization is promoting an architectural transformation from network to storage to computing. Learn how Cisco and its partners provide an adaptive IT architecture that enables organizations to realize benefits today and in the future.
– Focus: Unified Computing with Unified Fabric
---
June 16, 2010 5:49 AM
If you want to configure DHCP service in Cisco Aironet 1100 and 1200 series Access Points its pretty simple. Dynamic Host Configuration Protocol (DHCP) server capability was first available on the Cisco Aironet 1100 and 1200 series Access Points (APs) in version 12.2(11)JA1.
When an AP is configured as a DHCP server, it can provide IP addresses to an Ethernet-capable PC connected to its Ethernet port or to wireless client devices that associate to the AP.
Following example shows how to configure DHCP service on the Cisco Aironet 1100 and 1200 series Access Points
ITKE-AP01#configure terminal
ITKE-AP01(config)#ip dhcp excluded-address 172.16.0.1 – 172.16.0.50
ITKE-AP01(config)#ip dhcp pool ITKE
ITKE-AP01(dhcp-config)# network 172.16.0.0 255.255.255.0
ITKE-AP01(dhcp-config)#lease 20
ITKE-AP01(dhcp-config)#default-router 172.16.0.1
ITKE-AP01(dhcp-config)#end
---
June 12, 2010 6:44 AM
Now even the small-business market segments do matters, on June 11th Cisco Systems entered into the small-business market with its new storage product Cisco NSS 300 Series Smart Storage. The Cisco NSS 300 Series Smart Storage is a desktop solution with business application, data encryption and built-in servers specifically designed for small businesses with fewer than 100 employees.

Pic Courtesy: Cisco Systems
The Cisco NSS 300 Series Smart Storage family consists of two-bay, four-bay and six-bay desktop network storage units and it offers the following features
High performance: Class-leading performance reduces backup time and allows multiple people to use the device simultaneously.
Built-in and add-on applications: Extend capabilities beyond storage, and get more for your money. Running applications on Cisco Smart Storage helps ensure that they are available at all times, and can eliminate the need for additional devices on the network.
Security and data encryption: On-disk data encryption protects critical business data stored on disk even if hard drives are stolen.
Simplified configuration and management: Setup takes minutes and a straightforward, browser-based interface simplifies configuration.
Flexibility: Choose from multiple backup modes and share files across Windows, Macintosh, and Linux platforms.
Reliable, high-availability design: Safeguard data and reduce downtime with Redundant Array of Independent Disks (RAID) 0, 1, 5, and 6 configurations, and hot-swappable drives.
Service and support: Protect your investment with Cisco Small Business Pro Service, which provides three-year, peace-of-mind coverage
Cisco Systems is a relatively new player in to Storage business especially into SMB segment, Ian Pennel, co-chair of Cisco's Small Business Council, highlighted the company's storage directions:
"To help small businesses effectively manage the explosion of electronic information, we've built an innovative new family of storage solutions. The addition of these new devices further emphasizes Cisco's commitment to providing small businesses with affordable, easy-to-use technology they require to optimize productivity and drive growth."
---
June 8, 2010 5:32 AM
Last night when I  read the WWDC 2010 opening notes and the release of iPhone 4 by Steve Jobs for a moment I was shocked when I saw the name iOS, what is Cisco Systems IOS doing here with Apple.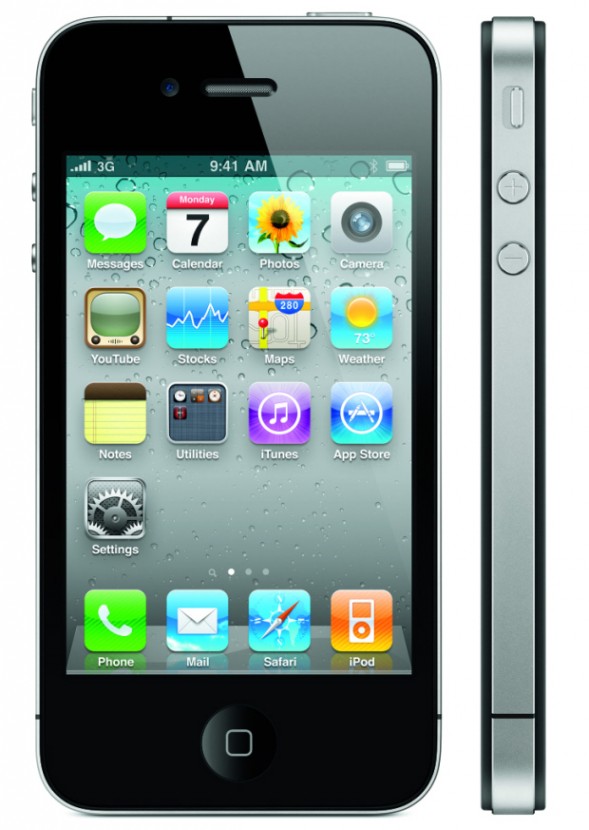 It's clear Apple has changed the name of iPhone OS to iOS. We all know IOS is around more than two decades a popular Cisco operating system for Cisco devices.
Cisco has agreed to license the iOS trademark used for its core operating system to the Cupertino company which has decided that should be the new name of the OS powering the iPhone, iPod touch and iPad.
---
June 6, 2010 5:59 AM
Since long time we are used to Cisco IOS version and few Cisco Switches with CatOS, now the era of NX-OS is coming. These days I am seeing more and more Organizations are moving towards Nexus Switches for their Core and Server farm. Since Nexus Switches are pretty new and they work with NX-OS.  NX-OS is different from IOS, in this article I will try to highlight on some of the key differences between NX-OS and IOS.
We are familiar with the traditional Cisco IOS command line interface (CLI); the CLI interface of NX-OS is pretty similar to Cisco IOS.
One of the key differences I have noted is NX-OS is when you first log into NX-OS, you go directly into EXEC ode.
NX-OS features are based on license model, where as in IOS what matter was the type of IOS you installed. A good beginning from Cisco as you can install the required features, more over you can try a 120 day license grace period for testing.  After 120 days of testing the features will be automatically removed. This is some thing you never experienced in Cisco IOS.
Cisco NX-OS has the capability to either enable or disable the features OSPF, BGP, etc. by using the feature configuration command.
I will try to come up with some more details in the upcoming post.
---