---
August 31, 2013 4:46 PM
Brocade is looking at opportunities to collaborate, the recent collaboration came into lime light was    to extend the visibility and monitoring capabilities of the VMWare vCenter Operations Management Suite into the Storage Area Networking (SAN) layer. Brocade achieved these capabilities by developing the Brocade SAN Analytics Management Pack.
Specifically, Brocade has collaborated with VMware to develop the Brocade SAN Analytics Management Pack for the VMware vCenter Operations Management Suite, which automatically sends real-time SAN health and performance metrics information from Brocade SAN fabrics into vCenter Operations Management Suite.
"With the Brocade SAN Analytics Management Pack for VMware vCentre Operations Management Suite, customers can benefit from visibility that extends into the storage subsystem, simplified management and rapid root cause detection, as well as optimal performance of workloads running in their virtual environments," said Ramin Sayar, senior vice president and general manager, Cloud Management, VMware.
Looks like SAN is making a strong presence in Virtual Environment, leaders like Brocade who are very strong in SAN switches are collaborating VMWare to  offer best SAN solution in Virtual Environment.
August 31, 2013 8:37 AM
These days Cloud Computing and Virtualized environment is making its presence in real world networks, be it Servers, Routers, Switches or Firewall, virtualization is catching up.
In the organization I work, we are implementing many solutions on virtualized environment, be it our Nexus Virtual Device Contexts or Cisco ASA Contexts or Cisco UCS Servers .Our Web Ex Solutions, Cisco IP Surveillance Solutions and PACS solutions are supported and operated on the Virtual platform. The challenge we faced for our Virtualized Sever platform running both windows and Linux environments are the backup and replication of data.
We were looking for a solution which is specifically designed for Virtual Environment and we found one called Veeam Backup & Replication Solution. This came handy to us especially when we had issues with our Data Protector System. Our PACS Servers are running on virtual environment using VMWare vSphere and it was a night mare for us to have a backup of those virtual imaging servers. With the invent of Veeam our task really become easy.
Veeam has created their backup and replication solution especially for Virtualized environments. It supports both VMWare hypervisors and Microsoft Hyper-V.  The Veeam Backup & Replication is easy to manage and its very user friendly.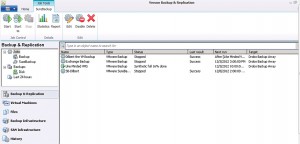 Since I am not a backup guy it will be hard for me to analyses all the features of Veeam Backup and Replication Software. As a layman I found it easy to install and manage and most importantly it provides a solution to our WebEx and PACs solution. Also it unifies backup and replication in a single solution, increases the value of backup and reinvents data protection for VMware vSphere and Microsoft Hyper-V virtual environments.
Veeam recently released the version 7 of Veeam Backup and Replication software. More details can be found in the following link http://www.veeam.com/vm-backup-recovery-replication-software.html
---
August 27, 2013 7:24 AM
When it comes to NX-OS upgrade its quite easy and simple compared to the IOS upgrade of Cisco Catalyst Switches or Cisco Routers. Recently we upgraded our Nexus 5000 Series Switches from the NX-OS version 5.0.3 to 5.2.1. In this post let's see how to upgrade the Nexus 5000 Series Switch step by step.
Step 1
Login to Cisco Website and download the NX-OS Kick Start and NX-OS System Software files to your TFTP server.

Step 2
Make sure that Nexus 5000 Switch has the enough space to install the new image files by using NX-OS command " dir bootflash". If there is enough space you are free to install the new NX-OS image files.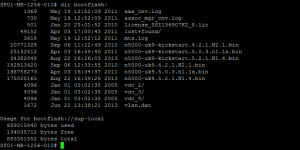 Step 3
If there is no enough memory delete old image files using NX-OS command
Delete boothflash: (kickstart image name)
Delete bootflash:  (system image name)
SF01-MB-1256-010# delete bootflash:n5000-uk9-kickstart.5.0.3.n1.1a.bin
SF01-MB-1256-010# delete bootflash: n5000-uk9.5.0.3.n1.1a.bin
Step 4
Copy the new kickstart and system images to the switch bootflash by using a transfer protocol such as ftp, tftp, scp, or sftp. The examples in this procedure use tftp. Use the following NX-OS command to copy the kick start and image file
Make sure that the TFTP server is started
SF01-MB-1256-010# copy tftp bootflash:

Step 5
Enter the install all NX-OS command to install the new images, specifying the new image names that you downloaded in the Step 1 as shown below

Once all the files are installed the switch will restart and reload with the new Image files.
---
August 22, 2013 5:47 AM
Cisco Catalyst Instant Access is a newly launched technology by Cisco which intends to simplify the network operation in a Campus network. The idea behind simplification of operation is by applying a single point of operation and management for Campus Distribution and access switches.
It creates a single network touch point and single configuration across distribution and access layer switches, ultimately driving simplified operations, distribution layer (Catalyst 6500) features at access layer and consistent CLI, which in turn drive down total cost of ownership (TCO). It brings simplified configurations across rich Borderless Network features support such as TrustSec – 802.1x, Security Group Tagging (SGT), SGACL, Flexible NetFlow (FnF), Medianet, Resiliency, Network Virtualization- Easy Virtual Network (EVN), MPLS..etc. The main goal of this session is to do a deep dive into deployment scenarios of Borderless Network solutions utilizing Instant Access in a campus architecture.
In order to deploy this solution you may use either Cisco Catalyst 6500 or Cisco Catalyst 6800 Series Switches along with Cisco Catalyst 6800ia Series Switches (Instant Access). The Cisco Catalyst 6800ia Series Switches operate like remote line cards and are physically connected by up-links to the Cisco Catalyst 6500 or 6800 as shown in the below figure. These switches can be compared with Nexus 2000 Series Switches which are just fabric extenders.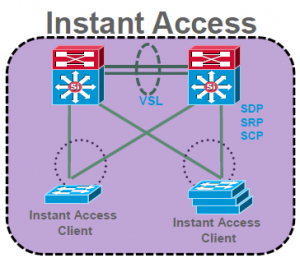 Some of the advantages of using Cisco Instant Access Switches are
Simplifies Operations via Single Point of Management, Configuration, Troubleshooting across Distribution & Access Block
Catalyst 6500 features at Access
Consistent Features and Agile Infrastructure across Access layer
NO Trunks to Configure from Access to Distribution
NO Configuration or Image Management at Access
No Routing Protocols or Spanning-Tree configuration between Access and Distribution
The Cisco Catalyst 6800ia Switch comes with the following features

Two options: 48 Ports GigE PoE+, 48 Ports GigE
2 x 10G uplink SFP+ Ports
Stackable up to 3 clients at FCS
80Gbps Bidirectional Stack Bandwidth
Single Fixed Power Supply and Fixed Fans
Operates in Client Mode ONLY
Full PoE (15W) across 48 ports
Full PoE+ (30W) across 24 ports
Includes Stack Module, no licensing required
Looks like Cisco doesn't want to stay behind in race as their competitors like Brocade are providing similar solutions.
---
August 20, 2013 7:41 AM
As we all know deploying the blade servers is a quite tedious tasks and time consuming. Well Cisco claims that deploying Cisco UCS B200 M 3 blade servers takes at least 70% less time compared to HP BL460C Gen8 servers.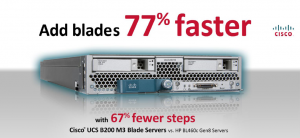 In the Principled Technologies labs, they tested two different blade server-deployment approaches: the Cisco Unified Computing System™ (UCS) with UCS Manager and the HP Virtual Connect Manager. Using the Cisco UCS Manager's automated configuration and deployment process, adding two blades took only 14 steps and 18 minutes. In comparison, the HP solution required 43 steps and 1 hour 23 minutes to add two blades. This means that adding two blades with the Cisco UCS solution was 77.4 percent faster and required 67.4 percent fewer steps.
The time and steps saved with UCS become even more dramatic in a large-scale deployment or server refresh. Cisco blades can save your IT staff an enormous amount of time, reduce the possibility of error by simplifying the configuration process, and lower your total cost of ownership.
HP are in this business since decades and they were leading the blade servers market, looks like Cisco is giving them a hard time. Especially the Cisco UCS solution is grabbing a huge market share in US market, gradually its entering the Middle East Market as well.  All our Digital Media Signage Solutions, IP Surveillance Solutions and WebEx solutions are running on Cisco UCS platforms and they are very stable.
You can access the detailed paper for the test conducted by Principled Technology Labs from the following link
http://www.cisco.com/en/US/solutions/collateral/ns340/ns517/ns224/ns944/ucs77_faster_v_hp_for_blade_deployment.pdf
---
August 19, 2013 10:38 AM
Resetting the Cisco Iron Port C370 appliance is an easy task. In this post lets see how we can reset the Cisco Iron Port C 370 appliance to factory default settings.
In order to reset the Cisco Iron Port C 370 appliance either we need a console or ssh access (telnet access will also do).
Step 1
Log into Cisco Iron Port C370 appliance either console or shh.

Step 2
Suspend the Cisco Iron Port C370 appliance as without suspending the appliance we cannot reset it.
So used the "suspend" command to suspend the appliance

Step 3
Use the command "resetconfig"to reset the Cisco Iron Port C370 appliance

Step 4
The Cisco Iron Port C370 appliance will ask you to confirm the reset once you said reset, restart the Cisco Iron Port C370 appliance.
Once the appliance is restarted its back to factory default.
---
August 15, 2013 7:37 AM
Let's continue from where we stopped in my previous post
Step 9
Once you are done with all the steps click submit as shown below.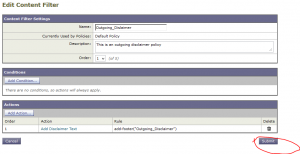 Step 10
Select Mail Policies ——-> Outgoing Mail Policies as show below and click add filter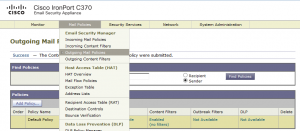 Step 11
Now you could see by default Content filter is diabled, we need to enable it

Step 12
Enable the Content filter and the policy as shown below and click submit

By following the above mentioned steps you can enable the disclaimer message in Cisco Iron Port C 370 appliance.
---
August 15, 2013 7:29 AM
Let's continue from where we stopped in my previous post
Step 5
Select Mail Policies ——-> Outgoing Content Filters as show below and click add filter

Step 6
Once you click add filter you will see the following template
Complete the template as show below are replace the name and description column with your our text.
Step 7
Click Add action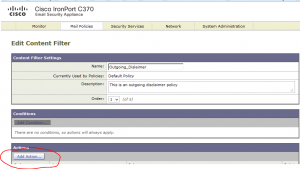 Step 8
Once you click add action you will see the following screen
Select Add Disclaimer Text and choose which ever your prefer for disclaimer message  "above message  or below message"  tab.
And then select disclaimer text tab as show in the example.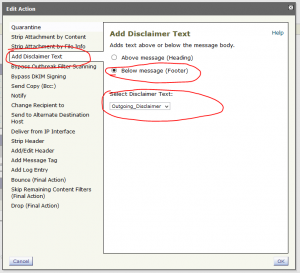 We will continue the rest of the steps in the next post.
---
August 15, 2013 6:03 AM
In one of my previous post , I discussed about the bug Microsoft Exchange Server 2010 is carrying related to disclaimer messages.
The only option we had is to configure disclaimer message in Cisco Iron Port appliance. In this post let's see how to enable a disclaimer message in Cisco Iron Port C 370 appliance.
Step 1
Login into the Cisco Iron Port C 370 appliance
Step 2
Select Mail Policies ——-> Text Resources as show below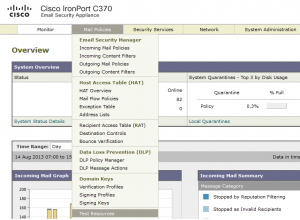 Step 3
In Text Resource Click add text resources

Step 4
Once you click add text resource you will find a the following template
Just give any name you like for the name tab.
In the type select the "Disclaimer Template"
The in the Inset Variables tab enter the disclaimer message you like have and click submit.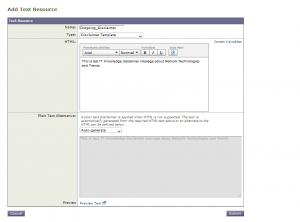 We will continue the rest of the step in the next post.
---
August 3, 2013 11:42 AM
In the recently concluded Cisco Live, Cisco made an interesting announcement about EIGRP. Yes Cisco is coming out with "EIGRP Over the Top (OTP)" which enables routers running EIGRP to peer across the service provider infrastructure without their involvement. An interesting feature which may catch up the pace in the real world networking.  With EIGRP OTP the service providers won't even see the customers at all.  EIGRP OTP acts as a provider-independent overlay that transports customer data between the customer's routers.
One advantage of EIGRP Over the Top solution is, it simplifies multi provider IP WAN network design. It also simplifies the interface with the WAN providers and facilitates an end-to-end EIGRP network, which makes the troubleshooting easier.
I believe EIGRP Over the Top will definitely makes things much easier for service providers as they can deploy EIGRP OTP as it doesn't impose any special requirements for them.
Some of the key futures of EIGRP Over the Top are as follows
Allow customers to segment their network using an MPLS VPN backbone
Impose little requirements or no restrictions on customer networks
Work seamlessly with both traditional managed and non-managed internet connections
EIGRP routes are NOT distributed to MP-iBGP and never show up in the MPLS-VPN backbone
Compliments an L3VPN Any-to-Any architecture (no hair pinning of traffic)
---