Mar 23 2011 3:13AM GMT
It was rather a very intense Google journey to find out all the details on how to emulate Junos. Since i intend to learn juniper, i needed a platform to work on. after two days of research and work, i managed to a results.
There are various things required to make things work. I would list them down here so they are easy to find. VMware Player, GNS3, Cisco router IOS, and VMware Olive (Google is your friend). Once you have all these, you are ready to start!
Running the VMware machine will be an easy task, but connecting the VMware Olive with Cisco in GNS3 is the one requiring some work. But with my guide, it should be as easy as 1,2 and 3.
After installing VMware Player, check for adapter settings in windows.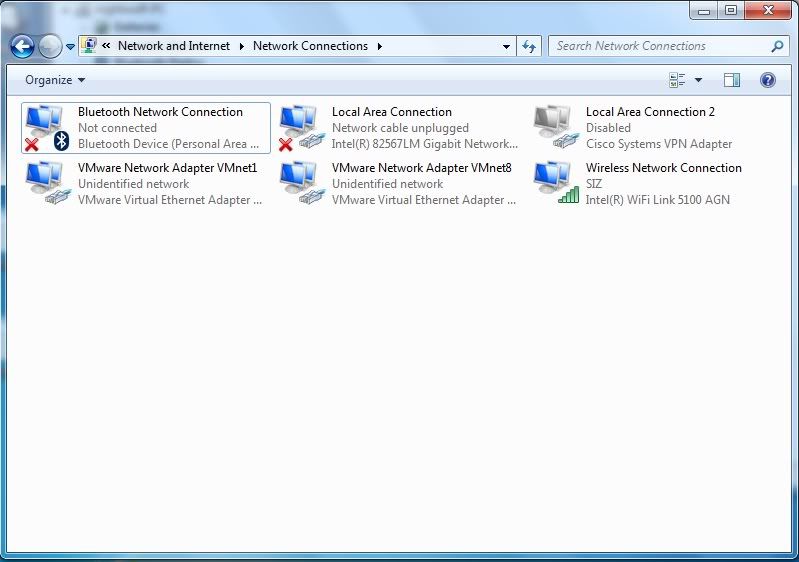 By default VMware player will install to VMware virtual Ethernet adapters, i'm not sure what are their numbers. but for my case, they were vmnet1 and vmnet8. These are significant to know how to connect VMware machine to Cisco router in GNS3.
Open the .vmx file in notepad. Here we can edit the fields in order to make VMware Olive machine use the virtual Ethernet adapters in windows.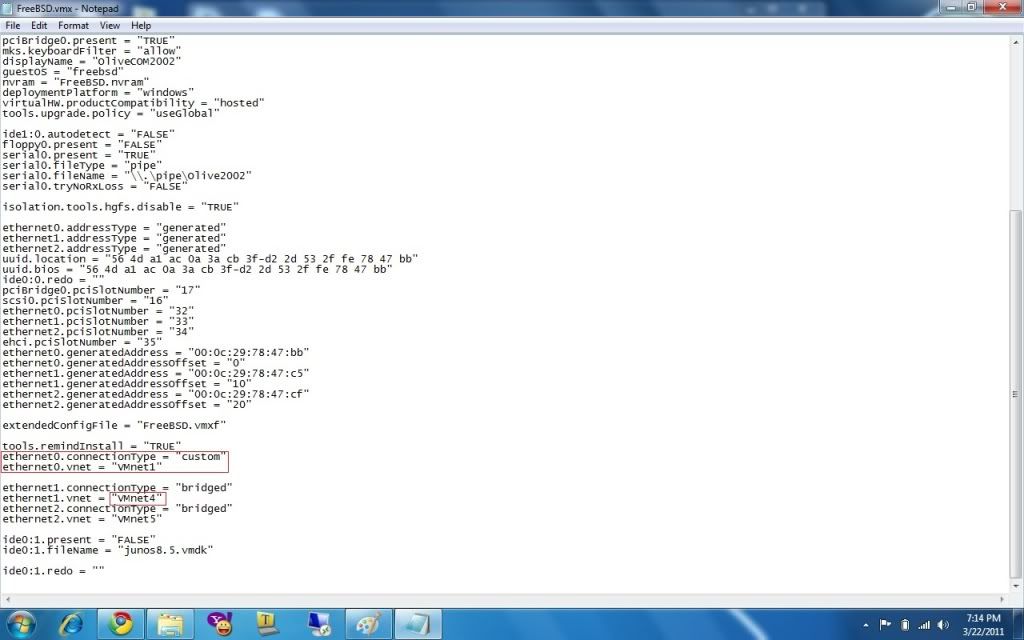 The Olive VMware has three network interfaces, two are bridged and first one is in "costum" we change the adapter to the one to fit the Ethernet adapter in our network devices (from the first figure). I already highlighted it in red. Ethernet 0 will be reflected as interface em0 in Junos. ethernet1, and ethernet2 will be bridge on the virtual Interface, so you can connect to other Olive Machines to ethernet1, ethernet2 (em1, em2). my assumption is, if you want to connect say Olive1 and Olive 3 using em2 then you change ethernet2 in vmx file of both olive 1 and 3 to a bridge mode with a common adapter.
That is the topology i created for the simulation. basic two Juniper routers connected to a Cisco router. and the two Juniper routers are connected as well (virtually in VMware). It was tested, and pings were working.
In GNS3, add the VMware as a Cloud, of course the cloud will be not associated with the VMware Olive till you select the adapter that you set up in the vmx file. In a screen shot, you will see that i have Chosen Vmnet1 for this particular Olive.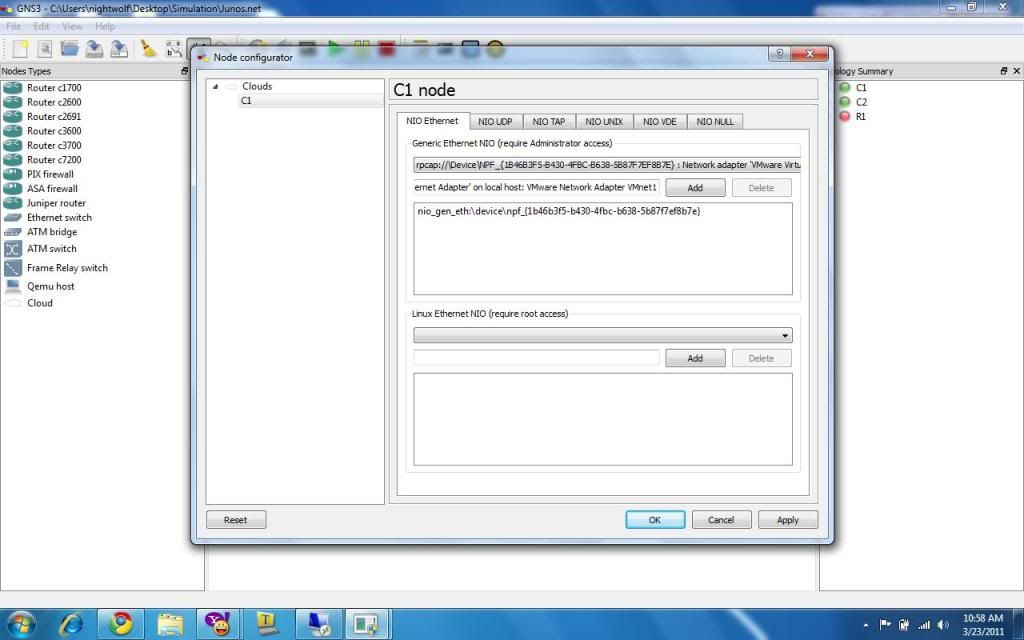 Last step, would be to do the appropriate configurations in the Olives, and Cisco Router, here is the screenshot of the sample configuration i used to ping.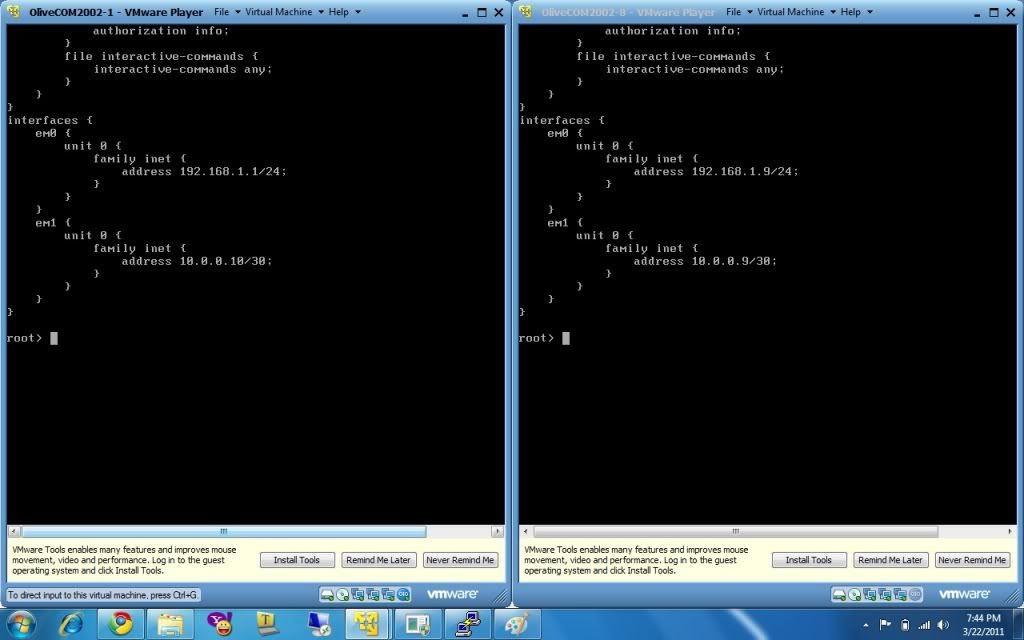 Don't forget to add the following before you can commit any configuration into Juniper Router
set system root-authentication plain-text-password
Cisco's Configuration as simple:
interface FastEthernet0/0
ip address 192.168.1.2 255.255.255.252
duplex auto
speed auto
!
interface FastEthernet1/0
ip address 192.168.1.10 255.255.255.252
duplex auto