Jul 30 2012 5:08PM GMT
I've came upon a network design for data center. While the physical infrastructure consisted of the latest technology,  it had "flaws" in the technical side of  it. The figure blew shows the connectivity.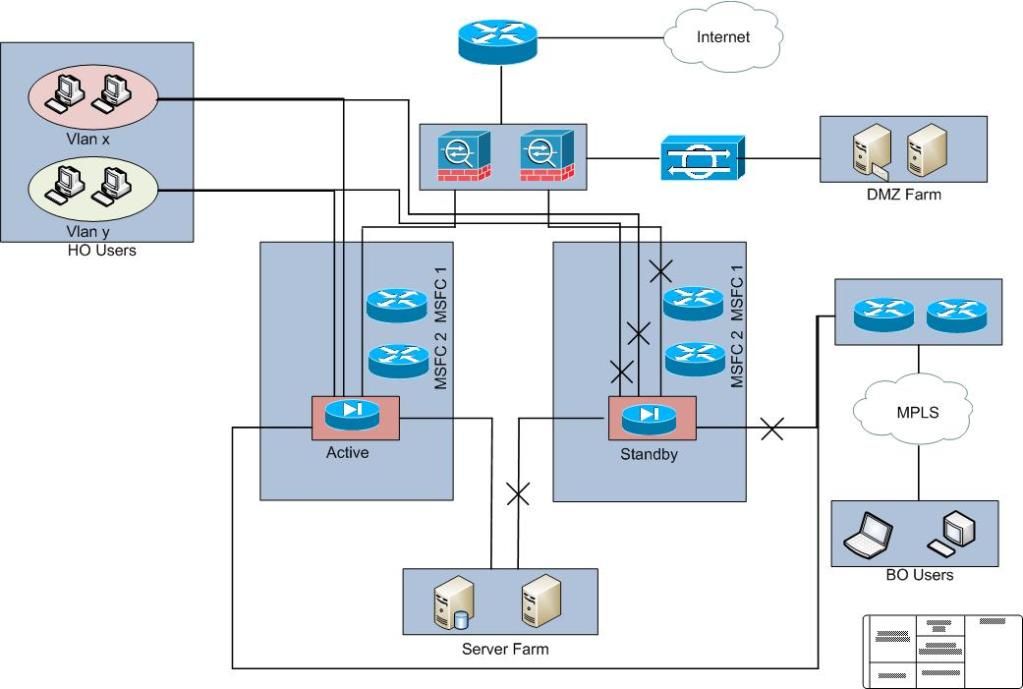 Image: DC Network Design
From the diagram, we found the following observations.
1- Two MSFC (SUP engine) in each 6500.
Since all servers are connected two different Chassis (6500), there was no need for redundant (SUP). This is extra redundancy that has no benefit, but only cost of running and purchasing. Redundant SUP are used in scenarios with a single chassis.
The probability of two SUPs going down is very very low from the manufacturing point of view. It has higher probability in going down in case of fire or loss electricity, then even the Second Chassis with 2 SUPs will go down.
2- Using Static Routing.
Static routes are not Scalable, not Flexible, not simple, don't provide high availability. These are major issues that need to be handle when making a new network design. Dynamic routing is a MUST.
Only when dynamic routing a high available and redundant paths can be utilized.
3- Using Spanning Tree Protocol (STP)
No new data Center based on STP. All new data center technologies from CISCO, HP, JUNIPER, and BROCADE are going away from STP.
STP will always have links not utilized. As STP works by "blocking" ports. Hence, all networking components and servers will be running with the half networking capacity.
4- Terminating user Vlans at FWSM (firewall)
Although this is good for security, it has many issues when it comes to scalability, management, and operation.
The Server Farm is protected by FWSM, user Vlans are not required to be controlled.
Referring to point one. The two MSFC (SUP) will not be utilized at all! The 6500 will be used as a giant firewall. If, this is the case. Then there was no requirement to purchase 6500 in first place. Any cheap Cisco 2960 will do the job.
These are the points that i did not like from the design. to tackle this, I would propose my own design that would make better use of the links and hardware in questions.