Mar 12 2011 5:13AM GMT
We are evaluating manage engine IT360 in the organization. We still don't have a centralized monitoring point. Every team does its own monitoring using their own devices. The management wants a transparent operation, while no downtime, and proper monitoring to know which and when went down.  I do agree with this policy. Here Manage Engine IT360 comes to play.
I have downloaded the Demo, installed it. it was very easy to do so. straight forward installation. Once installed, the application will take some time to initialize all the components, it did took a while.
Once started through its console (the web), you would need to do the first initial setup. that include usernames, passwords, adding devices, editing monitors, alarms, proxy setup, sms setup, etc. The screen shot shows the components in the admin tap.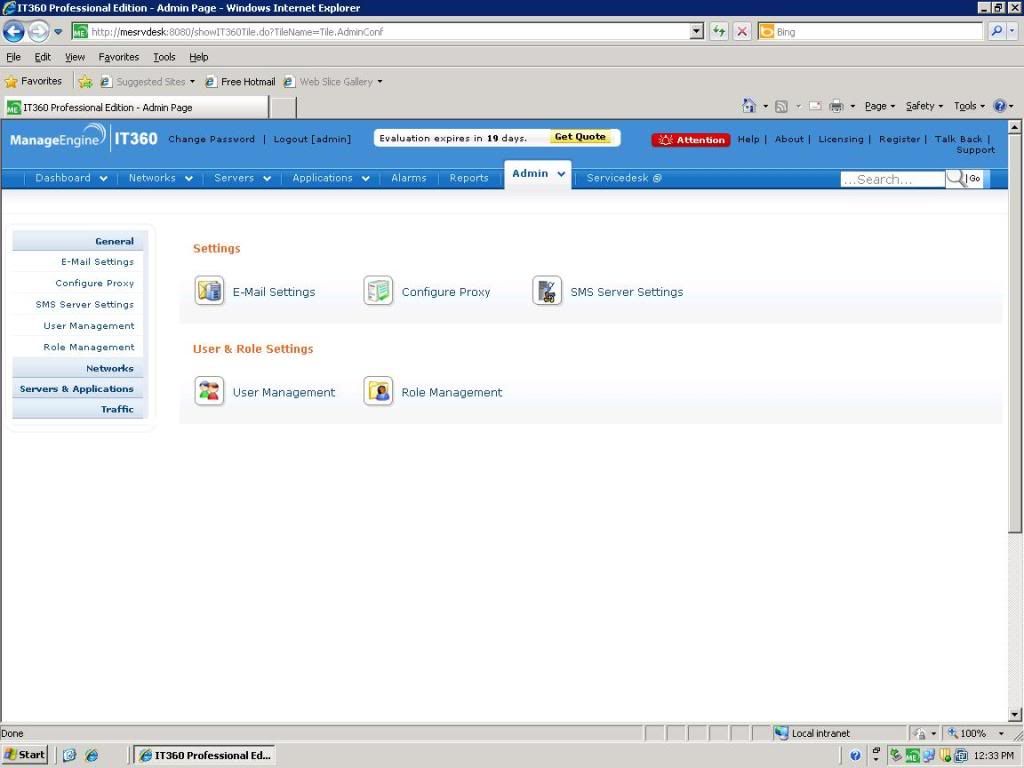 Figure : Admin Tap
Clicking on networks, will take all the possible configurations that be done for network devices. The figure shows the options available.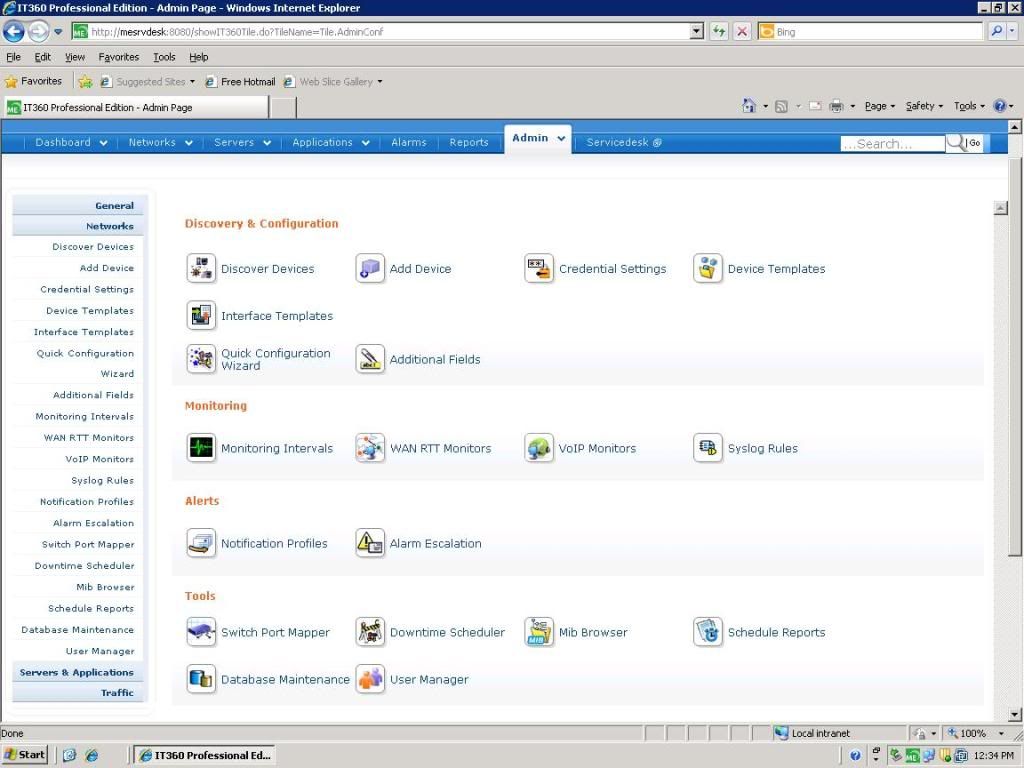 Figure : Network Tap
Adding devices made simple when you setup the credentials. Once that is done, devices can be added in Bulk, or even discovery of devices can be used for a range of IP addresses. SwitchPort Mapper will accept End users or Servers. I was expected a fully switch port mapper, which will show me which device connected to the port with mac and ip addresses. MiB browser can be used to add or edit the MiB files. Adding network Devices is straight simple. so i will not show how it is done here.
Application and Servers tap have similar interface, by clicking on add new monitor. we can add various servers and applications. Since the list was long, i have took multiple screenshots.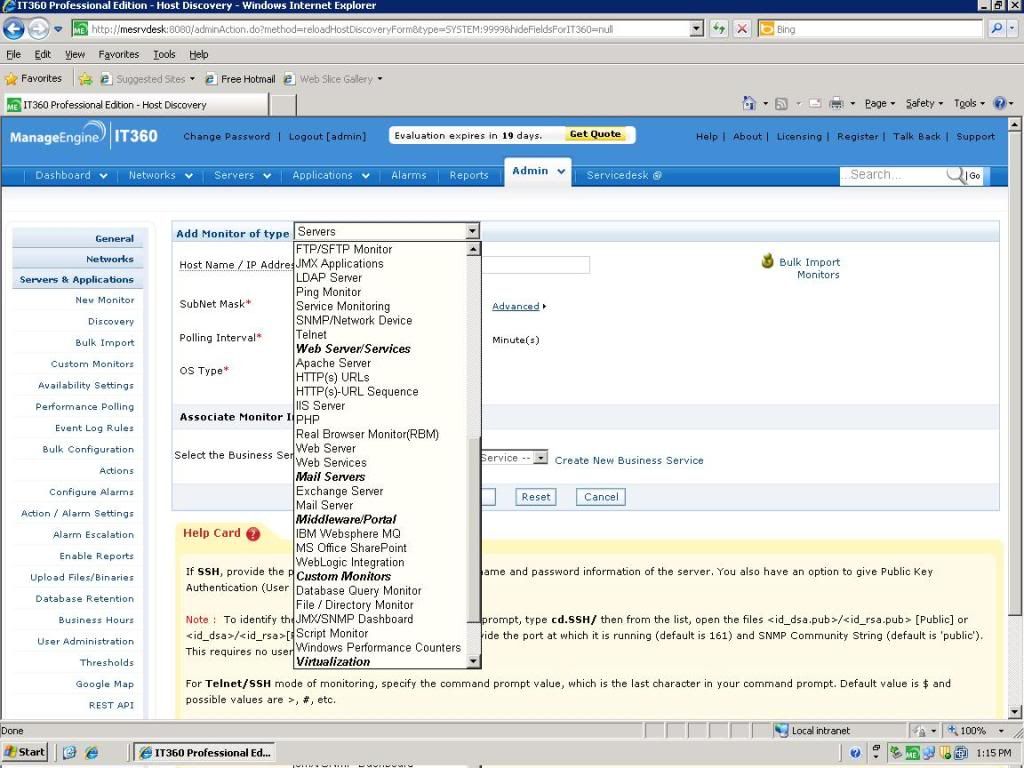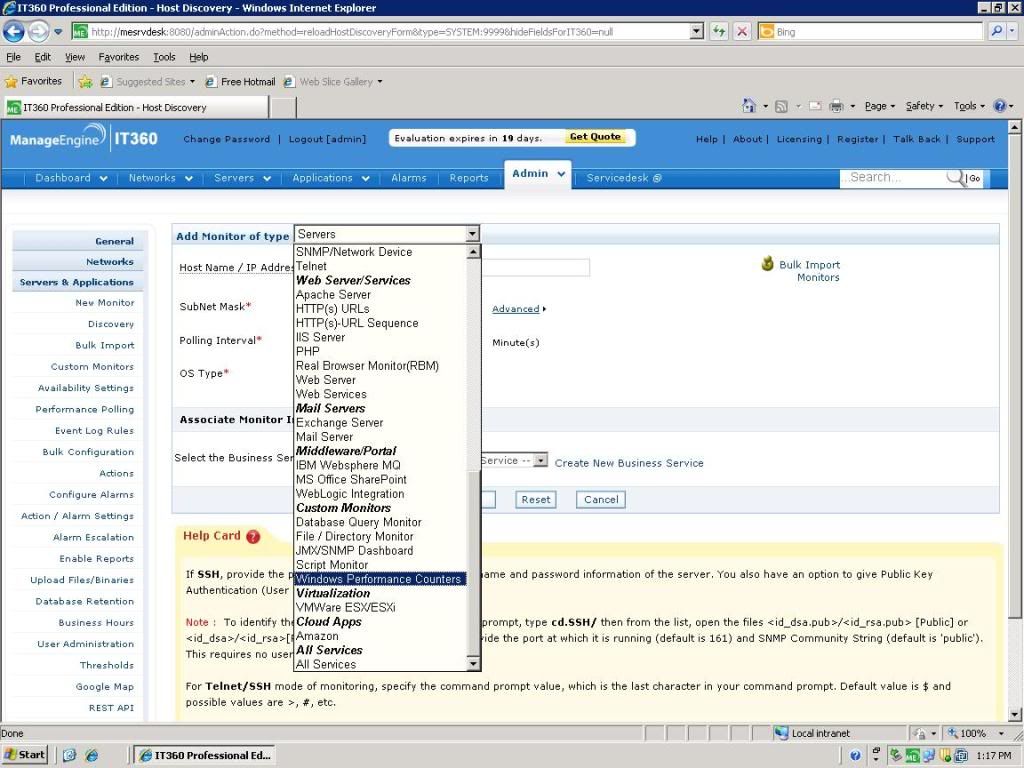 Figure : list of applications
As seen, they are really almost every important element any enterprise have.  Before full evaluation, the list seems good enough.
Lastly, we have the traffic tap. This will make use of netflow. At first glance, it seems that this will be used for billing purposes. Since our organization is not a ISP. This feature wont be required.
This application comes with Service Desk. This follows the ITIL standards. It will be very good if our help desk can make use of it, since the organization really have no centralized  point to see tickets, issues, requests, etc.
Newer entries explaning the Dashboard of Manage Engine IT360, and Network Monitor in Manage Engine IT360 are followed in this series.