Jul 2 2012 7:58AM GMT
This is the last entry for the series "how to use administrative distance". The interesting part was, why when static routes were distributed into EIGRP, they were shown as Internal?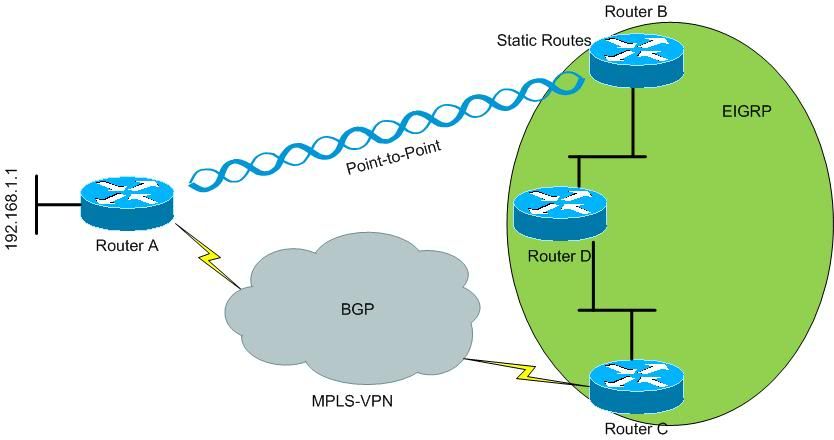 After some testings, what i found is the following:
When using command "ip route x.x.x.x y.y.y.y z.z.z.z" the redistributed static route will be external.
When using command "ip route x.x.x.x y.y.y.y gigabit0/1" the redistributed static route will be internal.
The reason is that, the IOS will assume any static route using "exit interface" as connected route, hence when redistributing it will be shown as "internal" route.
So, i have changed the static route configuration in router B, and my routes are shown as external.
Now, if the MPLS-VPN link fails, the routing will change automatically to use the Wireless point to point link. But when the MPLS-VPN comes back, the route will converge based on the minimum metric "cost" and that will be decided in router D. The route with minimum "cost" will win.
There is a way of doing it, using iBGP between Router B and C. This will make the route propagate, and the static route will be used only when the iBGP route is not in the routing table. of Course, the AD for static route has to be 201, as the AS for iBGP is 200.