May 29 2012 9:16AM GMT
In my earlier Blog, i have shown a detailed diagram of the problem/ requirement of the network change. After 5 mins of studying the proposal i came with an easy solution to change the routing behavior. I have made few assumptions and based on it i built my design. These assumptions are correct, they are not assumptions based on false info.
The assumptions:
1- Routers will advertise the best route. So, if they have two routes to the same network. They would only advertise the best route.
2- The administrative distance for Eigrp External is 170, Internal is 90, Static is 1, and e-BGP is 20.
From the Diagram. I have BGP running only in Router C, which is connected to MPLS-VPN. and Router B running EIGRP only. My plan was to manipulate the Static route AD to be higher than 170. So i made the static route with AD of 171. At router A I changed the AD of static route to 21, cause BGP routes will be AD of 20.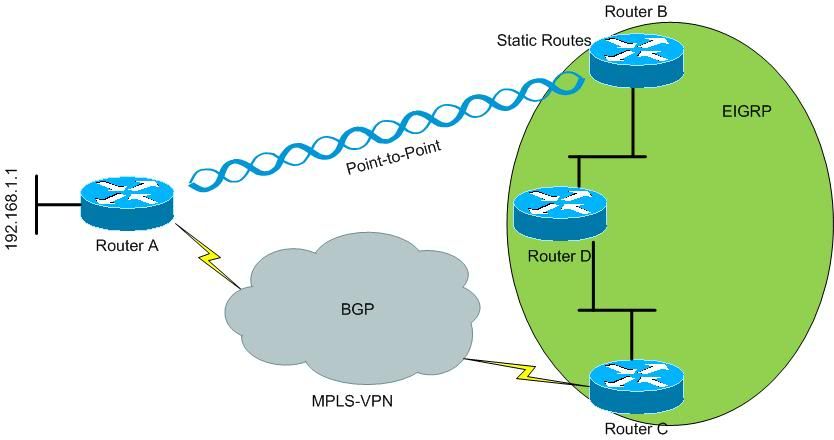 But my theory did not work as i wished. Since Router B and Router C are connected through various other routers. So what happened is that the intermediate Router E will get the info of both routes from EIGRP. From Router B with AD of 90, and from Router C with AD of 170.
Since Router E installed the route from Router B. Router B never managed to learn the route from Router C. and hence, the route convergence didn't work. So, as a workaround. I shut down the Wireless point-to-point link. The routes converged to the new ones. Once was done I turn the Wireless link UP.
Now, i know that if my MPLS-VPN link goes down, the wireless link will take over providing a redundant active link. The problem, if my MPLS-VPN comes back, the route will converge back to the MPLS-VPN link.
I'm looking at the possibility of running iBGP between router B and C, or some sort of mechanism so that i can get fully automated network that the Routing protocols will take care of the issue.