May 28 2012 2:44AM GMT
I'll admit, the title is slightly misleading. I will not elaborate on how to use AD for the routing benefit in general. What i would do is, explain a scenario. Then manipulate AD to have the desired routing outcome. In first entry, i would just show the scenario, while the configurations and solution would be later.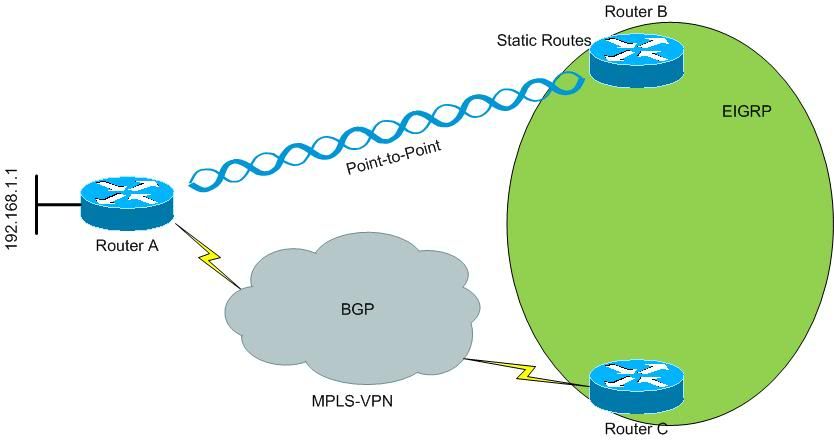 Figure 1
Figure 1 shows the network topology, we have one side connected through point-to-point wireless link. The connectivity is established by having a default static route at the at Router A, and static routes at Router B. Router B redistribute the static route into EIGRP which is the enterprise routing protocol.  Then we have Router A connected to Router C through MPLS-VPN cloud. This means we have BGP running between Router A and Router C.
The MPLS-VPN is new installed fiber link. Thus the requirement is to make the traffic go through this link. In the case of failure, the wireless link should be used.
The Networks in Router A such as 192.168.1.0/24 are shown "internal" in the enterprise network. Thus making the route have AD of 90. while when we redistribute the routes into enterprise from Router C, they would be shown as "external" with AD of 170.
The idea is to manipulate the AD to make the routers prefer the "external" routes over the "internal" routes without causing any kind of loops are sub-optimal routing.