Aug 13 2011 5:21AM GMT
The organization has decided to migrate into the new Hosted Microsoft Exchange 2010.  The current setup consists of 3 Costumer Access Servers (CAS), 3 Hub Transport Server, 2 Mail Box Database Server per group. The organization has two main groups, making the total Mail Box Database servers to be 4. You should know that the end users will be accessing the CAS only, it is the point of contact. CAS then will be talking with mail box servers, active directly, etc,. Since we have 3 servers, and the organization have around 15000 users, a hardware load balancer is a must. We choose Citrix NetScaler. NetScaler is a very robust load balancer, we are very comfortable using it and it never failed us to day.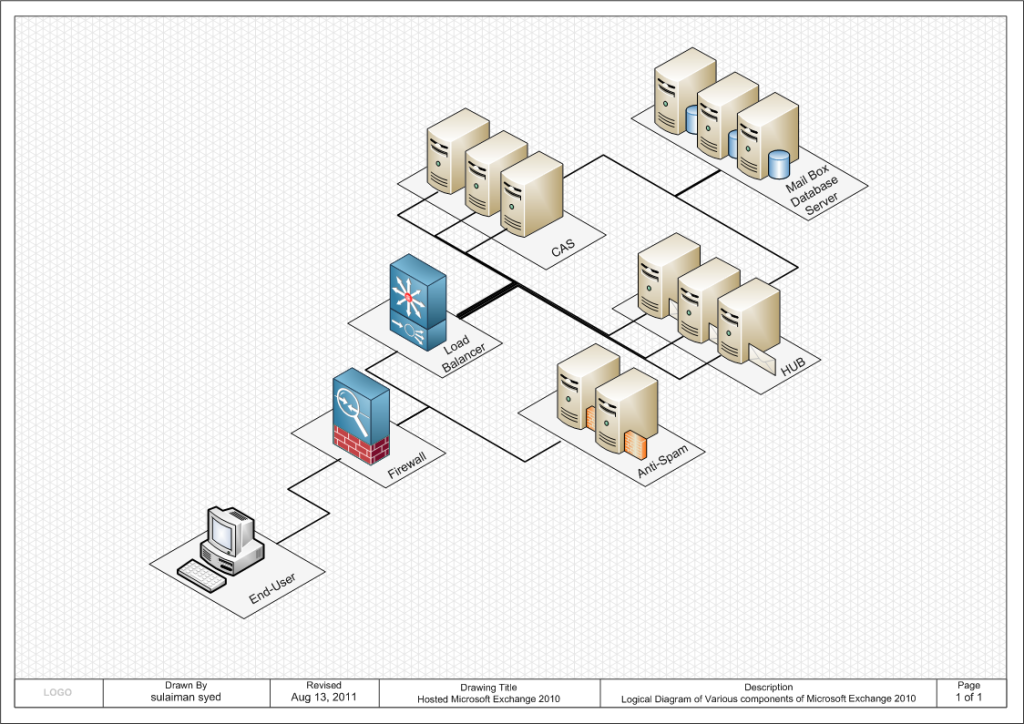 The image above shows a logical diagram of what the servers look like. Yes, i did put a Cisco icon since i didn't have Citrix NetScaler isometric Vision Stencils. When Retrieving emails The end user will access the CAS. CAS then retrieve the emails from the Mail Box Database. When sending emails, the end user access the CAS, CAS then forwards the email to Mail Box Database (sent items) and to HUB to be routed. When E-mails are coming from outside the organization (public domains) they would go throw the Anti-Spam, then HUB and lastly to Mail Box Database.
Before we Begin Configuring the load balancer, it is necessary to understand which traffic to expect. CAS will usually be expecting the following application traffic,  Outlook Web App (OWA), Active Sync, POP3, IMAP4, RPC Client Acces, Outlook Anywhere (OA). The load balancer will offload the ssl traffic from CAS, thus enabling CAS to provide its resources for serving the costumer.
VIP Port     Server Port    Protocol

OWA:    443           80                HTTPS

AC:       443           80                HTTPS

POP3:    995          110               TCP

IMAP4:  993          143               TCP

RPC:      Any          Any               TCP

OA:       443          80                 HTTPS
While the required ports for HUB operation is mentioned below.
VIP Port     Server Port    Protocol

SMTP:      25           80                   TCP

Return:     443        80                   TCP

Retrun-http: 80     80                    TCP
In the next entry, i would discuss some issues that need to be taken care of before configuring the NetScaler to load balance both CAS and HUB Traffic.