Oct 10 2011 2:36AM GMT
So, lets talk about how can we change the cost while distribution between routing protocols. Distribution between two routing domains should be done very carfully. It is easy when the there is single distribution router between the two domains. Things get slightly complicated when distributing between two domains and two routers. While extra efforts should be done when there are multiple domains with multipe routers. The image below shows these domains and routers.

Single Router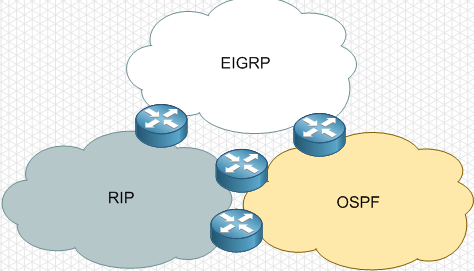 Multiple Routers
When we have single router, it will apply the "split-Horizon" rule by itself. Which stats don't redistirbute a route into the same domain learned from. For example, if the router learned a route x.x.x.x through RIP, it will distribute it into OSPF. When distributing OSPF routes into RIP, the router will filter the x.x.x.x router cause it was learned through RIP orginally.
Given that, most realistic scenarios would have multpile routers, so changing the cost of routes will be a trick that should be mastered. Lets redistribute from OSPF the route 66.66.66.0 into RIP. First we would need to learn the OSPF database.
R1(config-router)#do show ip os data

OSPF Router with ID (150.1.1.1) (Process ID 1)

Router Link States (Area 0)

Link ID         ADV Router      Age         Seq#       Checksum Link count

150.1.1.1       150.1.1.1       1408        0x80000004 0x000989 2

150.1.4.4       150.1.4.4       922         0x80000004 0x00D254 2

150.1.5.5       150.1.5.5       1155        0x80000008 0x008C67 5

Type-5 AS External Link States

Link ID         ADV Router      Age         Seq#       Checksum Tag

66.66.66.0      150.1.4.4       706         0x80000001 0x000F2B 0

155.1.13.0      150.1.4.4       922         0x80000001 0x00DD79 0

155.1.67.0      150.1.4.4       922         0x80000001 0x008997 0

155.1.146.0     150.1.4.4       922         0x80000001 0x0021B0 0
We can note from the output that 66.66.66.0 is external route (redisributed into OSPF domain by the router with ID – 150.1.4.4. lets create access list to match this route.
ip Access-list standard 10 permit 66.66.66.0 0.0.0.255
Now lets have a look at the syntax would be
distance metric router access-list (RIP and EIGRP would use the neigbour IP, and OSPF would use Router-ID). for our example, to make our redistributed route into rip to be more disatractive than the origianl RIP (AD of 120)
To configure the router follow the commands
router ospf 1

distance 121 150.1.4.4 0.0.0.0 10
This is how the Administrative distance can be changed for particular route. It is very simple and straight forward, just needs some practicing.