Dec 25 2010 4:20AM GMT
Last week, we were contacted by Aruba networks. They were marketing their latest WiFi solutions, and AirWave. But what caught our attention is airwave. It is a full management solution for WiFi networks. It has interoperability with various vendors, including Cisco.
After going through the brief training/setup we were able to test the airwave ourselves. Aruba were nice enough to give us a webinar with their System Engineers Director Johan Schaap.
The product is impressive, loaded with so much information in just few clicks. Lets go through main features, a screen shot is shown for the homepage. Keep in mind we have only added one building for testing purposes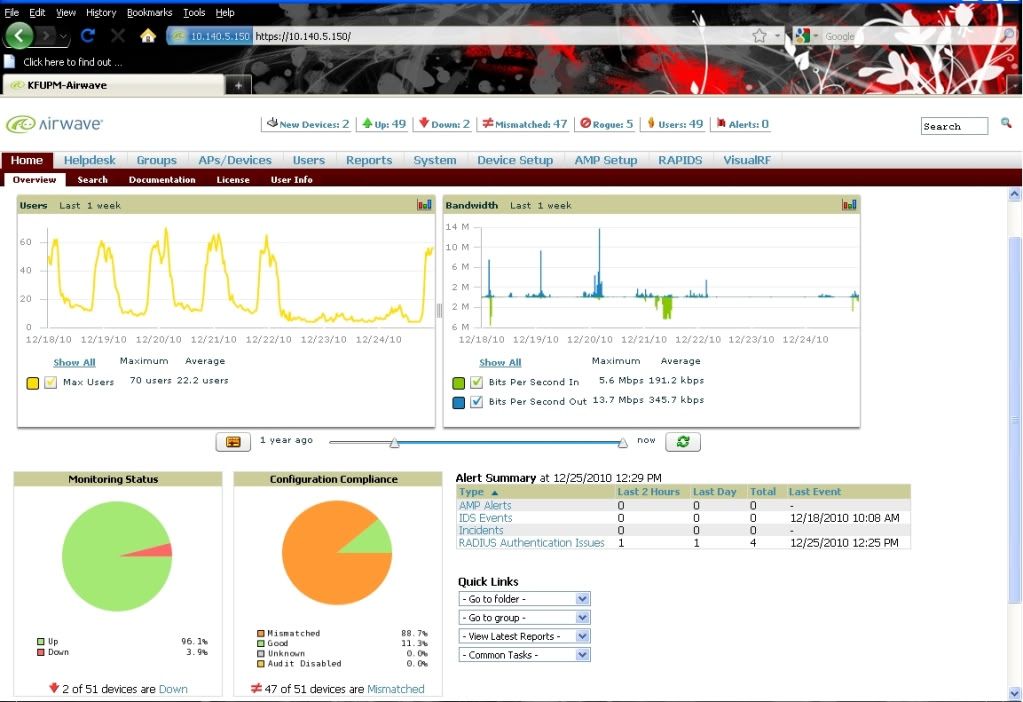 The most AP/Devices is the menu to see list of access points, users connected to these access points, and bandwidth utilization. In this list, the IP, Channel, IOS, Location, MAC of LAN and Wireless are all shown for each access point. Clicking on the access point will give us more information regarding the access point, CDP neighbor, Users connected.
Users Tap will show all users connected, their bandwidth usage, the history of the user (based on mac) for upto 2 years. in which access points connected, which SSID, duration, location, signal strength, IP address.
Reports, here all kind of reports can be generated, weekly, daily, yearly bases. about almost every event! it is highly customizable, with all kinda of data, and the data available is just a lot!
RAPIDS is the rouge access points detection, airwave can do much with this. it can block these access points, find their location, etc.
VisualRF is interesting as well. it shows nicely the access points on maps uploaded. Which users connected to which Access point. Signal Strength, data rate, and plenty more. A screen shot for such example.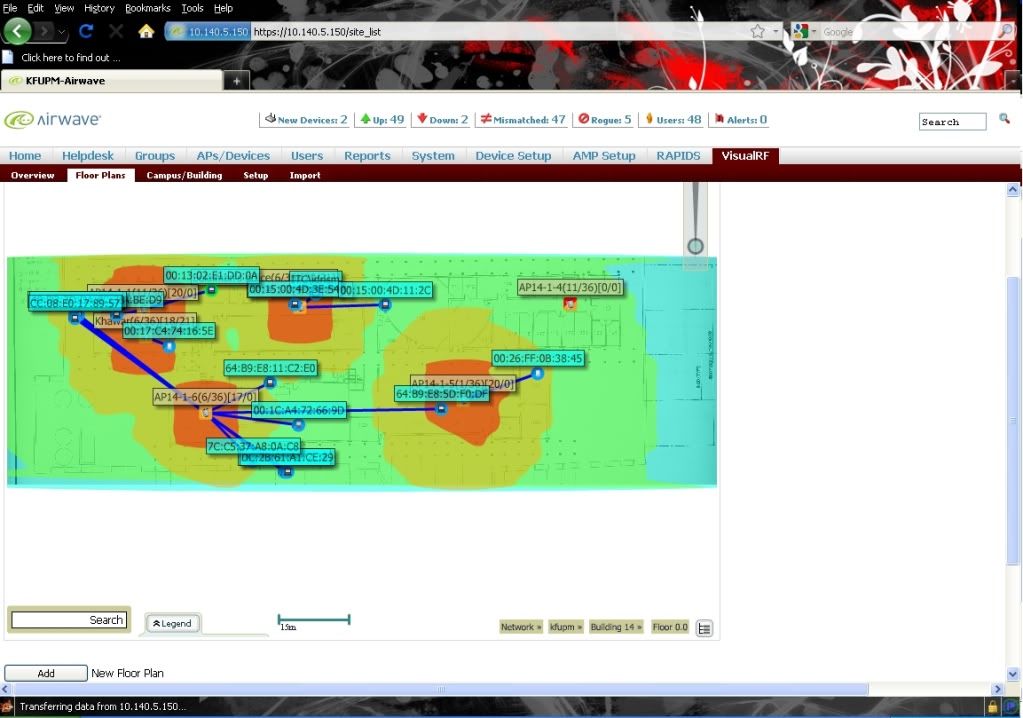 One of the features is to manage Fat access points. Some organizations still use fat access points, although it is recommended to use thin AP. With AirWave, it is possible to create a template, and the software will make sure that all access points using this configuration (for unified configuration). It can also pushes any new configuration to access points.
All i can say, this is one of the best management tools for wireless that i ever used. I would recommend it to everyone, regardless what their infrastructure consist of.