Mar 13 2011 4:26AM GMT
Following on my previous entry of IT360, where we have Introduced Manage Engine IT360. I would like to go on how the dashboard looks like. I think that once the alarms and monitors configured properly. the dashboard will give a real over view of every element in the network that the IT360 support. I would like to apologize for the zoom out images. I wanted to fit all information into a single webpage.
Once logged into IT360, you can see the dashboard, refer to figure 1. In there The business can be configured (grouped) so all services follow a logical pattern. Practices from ITIL will help to define the group of services, and making them into a logical processes with process owners, who can go and log into IT360 to find the appropriate data that they are monitoring, and operating.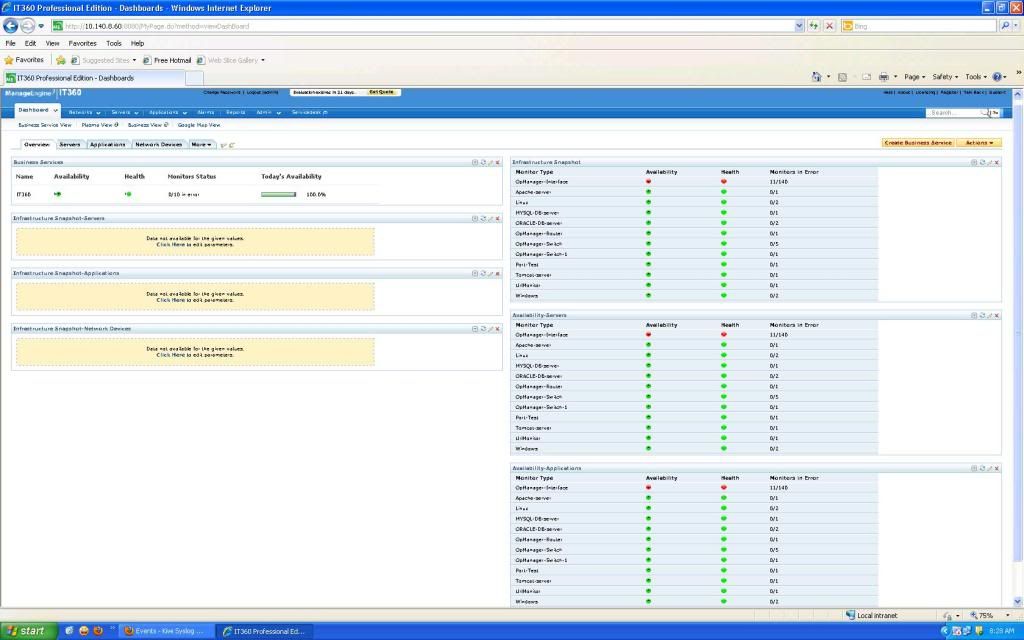 The dashboard will also give the option to see the networks, servers, or applications that are monitored. But i will leave that for some other time. So clicking on the IT360 business (it was the default one). It will take you by default into the Summary tap. as shown in figure 2. The main variables to see are Up-time, recent alarms, application response time, server response time, CPU utilization, link utilization (it is not shown since the network data was not available, misconfiguration?). These readings are very accurate. To this moment of the review, it seems that IT360 provide actual proper data. (our own motoring tool without naming it. wont pull these data, or pull them wrong).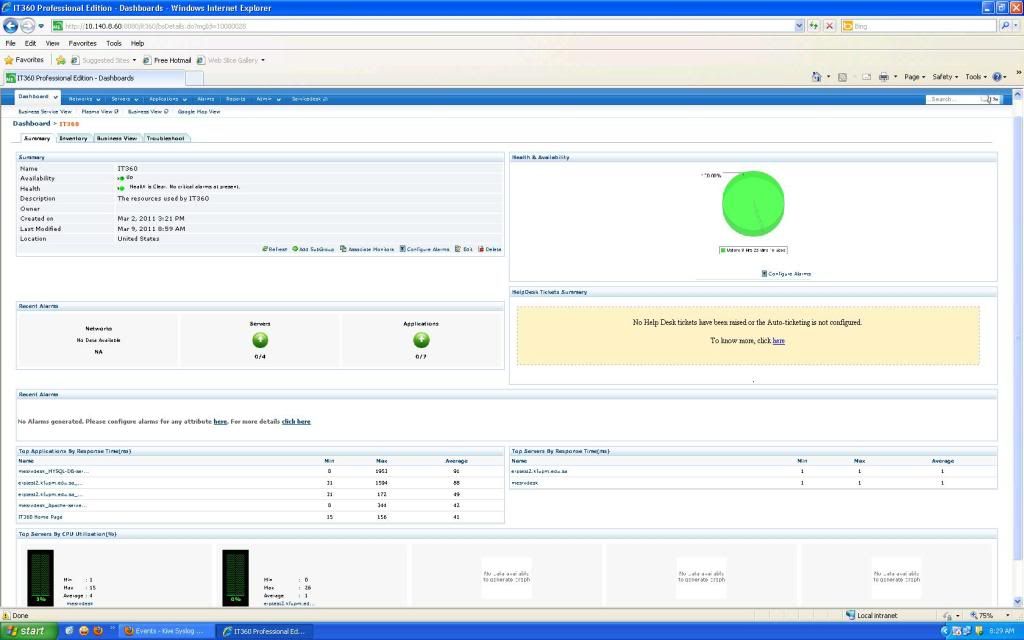 Figure 3 is showing the inventory. This tap will just give a brief idea of health, up-time for all the items that were added. This can be configured to show only the important inventory, or to show everything. when adding routers, it will show the interfaces as well. which is good just to see if everything is up or not. I don't find the data here interesting, since it is presented in other taps as well.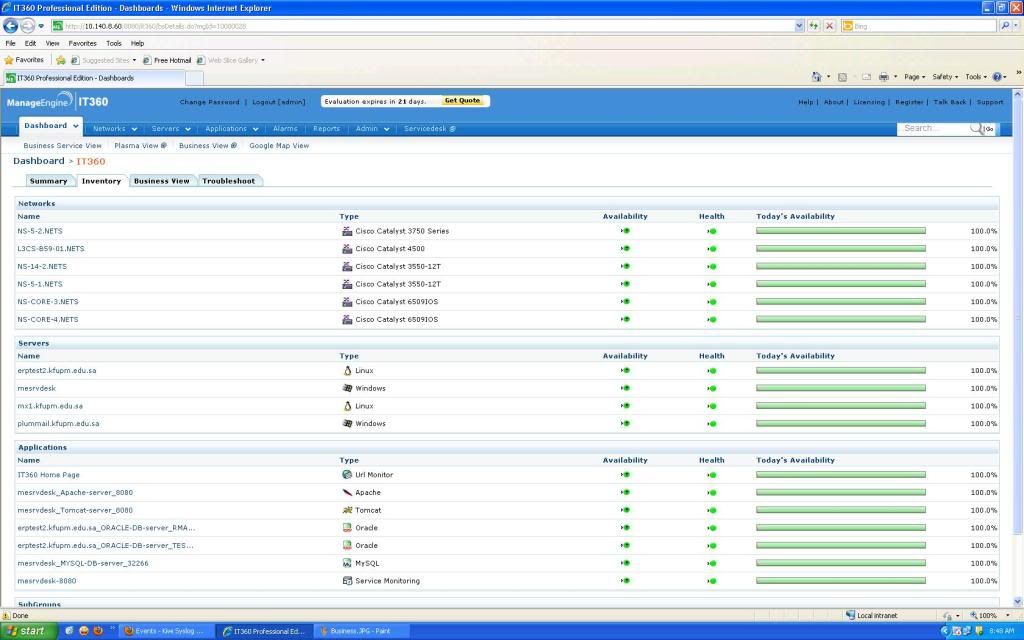 Business View is how you categorize the Items. As seen from image. It is really good touch, to see which service is down effecting which business. Again, since i haven't configured this. all shown in one single business.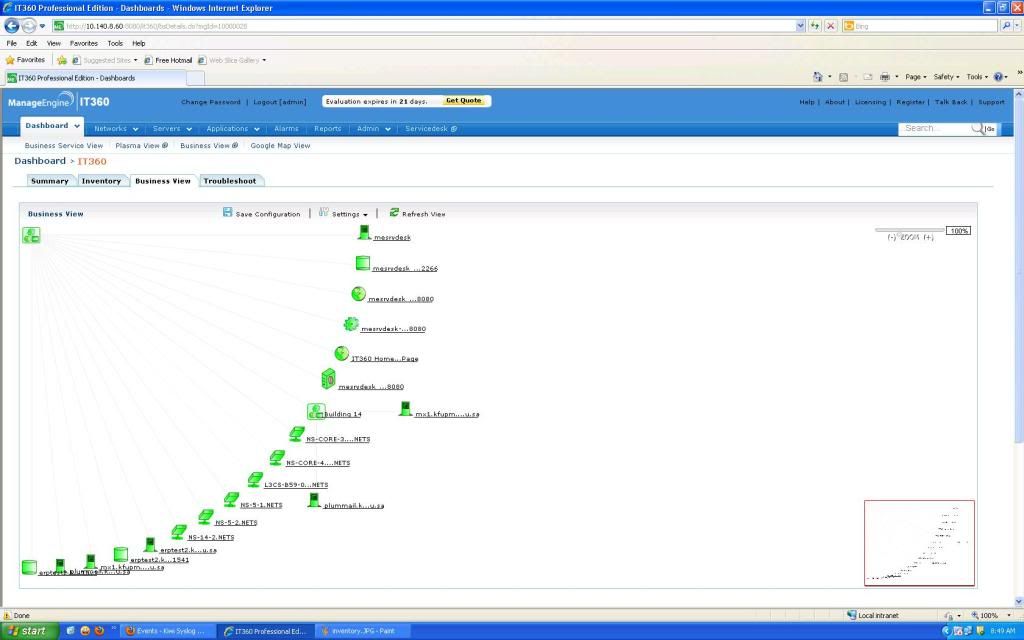 Last tap, the troubleshoot. will show the status per hour. the period can be changed from hours, to days, to custom. When there is a ticket/alarm clicking on the box will take window to the alarm. This will help to see what was the issue, was it resolved, and who is responsible.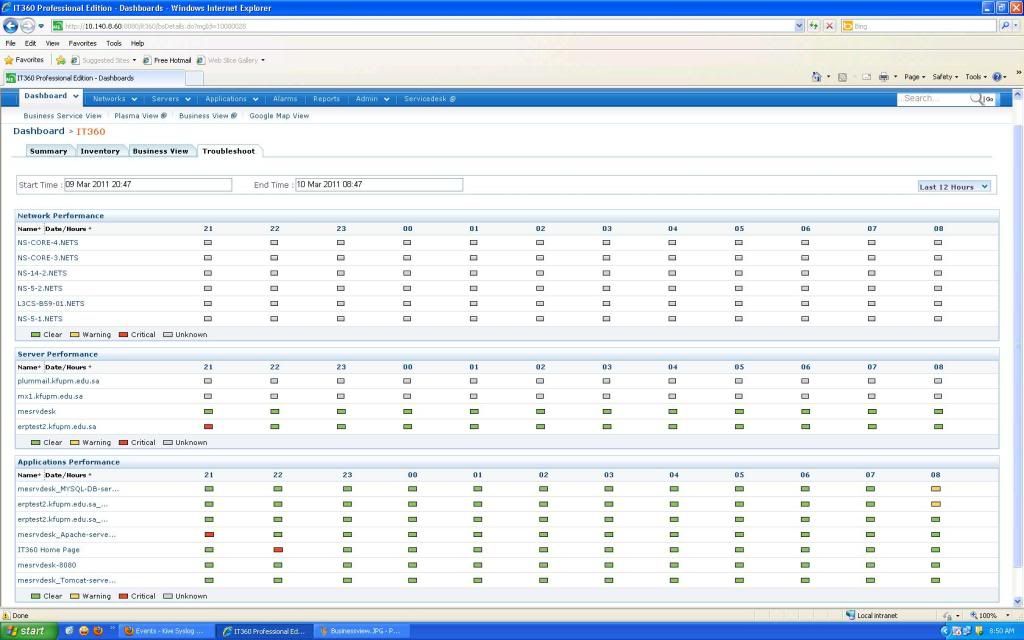 In our next entry, I will go through the network tap. and see all the possible things to monitor, and how to do that. I have not yet done proper review of it. but from the first glance. I really liked it. I think a more deep digging will give me a good insight. but i can tell that it can do everything what our current solution (whatsup) can do. This can be seen in the last article on Manage Enginer IT360.