Mar 24 2013 2:39PM GMT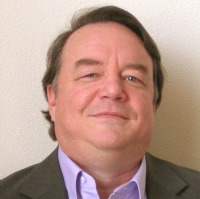 Profile: James Murray
Did your parents tell you not to get into art?  There's no money in it?  Your family will starve?  That's the way my parents thought.  I was discouraged from getting into art.  I think though that a lot of things have changed in the last 30 years.  As a Seattle IT Consultant I see art everywhere in our entertainment, thework place and even lately coming into our education.  I've been around IT a long time.  I started in the DOS 3.3 days and continue today.  I've lost track of the number of dramatic changes that have happened in technology.  Staying relevant in a world that changes every 2 – 5 years requires re-invention and the ability to make some reasonably accurate predictions about the future.
The president of a leading IT Consulting company asked me a question a month ago,
"Where do you think technology is going in the future?… oh and don't say, Big Data."
So how would you answer that question?
My daughter is an artist.  Her media are the digital tools that she finds on the internet.  She created this video for me called the Monk Story.  The video is based on a 45 minute presentation I do on that cloud, that she summarized into 2.5 minutes.  So in 2.5 minutes she shared 45 minutes of information.  So is this valuable?
My daughter is getting ready to graduate from High School and need to do a job shadow.  I know that she didn't want to shadow her dad, because her passion is art and video production.  So I Introduced her to Richard Fleming at Run Studios.  Run Studios specializes in Digital Media Production.  Richard offered to show my daughter around.  He introduced us to one of his 3 D artists, Nate, who showed my daughter a little about being a 3 D artist.  Walking around we met cinematographers, 2 D artists and the equipment they use to build their systems.  Run Studios is one of the many pioneers in this field.  When I was young we saw this same excitement and passion in the people I worked with as well.  We weren't what you'd call artists, but we were passionate.  We were technicians who never went home enough and often snatched a few hours of sleep under their desks. This was the type of passion Richard, Nate and the others we met at Run Studios showed in what they were doing.  My friends and I did it 30 years ago when we weren't sure if computers would take off.  It turns out in retrospect we were pioneers.  (Who knew) Today I see artists like those at Run Studios, walking that same pioneering path.  Just like us, we had no idea where we'd end up, but I can tell you that 30 years from now, the world will be as different as the DOS 3.3 world of 20 years ago is to technicians today.
Referring to the question I mentioned earlier, "Where do you think technology is going in the future?"
This is an important question for each technical expert to ask themselves.  We all know that technology is a 2-5 year cycle of change.  If you aren't looking forward, you are falling behind.  I think that the future of technology is Unified Communication (UC).  What UC technologies does is increase the number of ways data can be input to the user.  Going back to the Monk Story, printing and distributing bibles was how the church spread it's message and ultimately grew.  Because the Catholic church was first and continued to spread the message, the Bible message is everywhere even 2000 years later.  A book is about visual communication.  It can take years to learn the messages and a lifetime to understand the message in a book like the bible.  It would be nice if there was a faster way.  UC technologies gives us that faster way.
We know that adding audio and visual communication means that the learner learns faster.  Add tactile inputs and that message is learned even faster.  The problem with traditional communication is that learning is only through one media (audio or visual or tactile).  What UC technologies do is allow multiple communication inputs to the user so that a user can learn through a combination of media and sensory inputs.
What companies like Run Studios do is take each media and translate that for the user.  So now not only does the user read the message but they see the message moving.  Not just moving but they hear the message too.  We all know that a good story teller can make us almost feel like we were there and can cause a physical reaction to our systems.  This is the power of UC technologies.  Yet without the translation from digital process to the user's own brain, that companies like Run Studios creates, UC technology just seems interesting idea.
You many not agree with me about UC technology, but I wonder what you think is the next big thing in our industry?