---
January 30, 2013 12:41 PM
When BlackBerry released the BlackBerry 10 line of phones today, it reminded me very much of a basketball player who made a basket after buzzer had sounded, the competition was in the locker room and the stands were empty. Nice try, but it didn't count.
First the good news. These appear to be really nice phones and VentureBeat reports they have lined up all the big names for apps including Skype, Facebook, Box, Evernote and Twitter. They even had the good sense to change the company from Research in Motion, a name that never made sense to me, and officially call the compnay BlackBerry. A name change was overdue, although they might have broken completely with the past and tried something new.
Today's announcement involved two phones, the Q10 and Z10. The former is a more traditional flat-front glass smartphone without a hardware keyboard, The latter has the external hardware keyboard we are used to seeing on BlackBerry devices. These aren't your father's BlackBerry phones though. They are slick and beveled and actually pretty.
And the Z10's Time Shift Mode feature is a huge differentiator. It's like a DVR for your camera, letting you shift back in time to get the shot you might have missed by waiting too long. It sounds futuristic and cool, something you don't normally associate with BlackBerry, although I imagine you need a lot of hard drive space to accommodate that kind of ability. You can see how it works in the short YouTube video below:
The bad news is in spite of getting all the major players to build apps, and coming up with some phones that dazzle, BlackBerry has been in free fall for over three years. It went from a company that controlled more than 40 percent of US smartphone market share in 2010 to an also-ran by the time they made this announcement. By November of 2012, the most recent data available,  comScore was reporting RIM, now BlackBerry, controlled a mere 8.3 percent. That is a precipitous loss of market, and when your brand takes a hit like that, it's hard to recover.
The company may attract the few advocates it has left, but it's going to be very difficult to break the iOS-Android stronghold on the market.
And I'm not the only one who thinks so. Adam Leach, principal analyst at Ovum said in a statement that he was also impressed with the platform and the phones, but  essentially, it didn't matter. "Ovum believes that despite a well-designed Blackberry 10 platform, that will certainly attract short-term interest from existing users the company will struggle to appeal to a wider audience and in the long-term will become a niche player in the smartphone market."
And BlackBerry isn't helping itself as FierceWireless reports by delaying the US release until March. When you wait too long to get your updated product to market, the last thing you want to do is get your potential market hyped up and then make them wait 6 weeks. It's the kind of dumb move that has hurt this company in the past.
I give BlackBerry a lot of credit though for doing what it needed to do. The problem is, they're about 18 months to two years too late to the game. They made the shot they needed to. But while they stood by the basket with hands thrust in the air, it simply didn't matter. The game was over long ago.
January 24, 2013 7:56 AM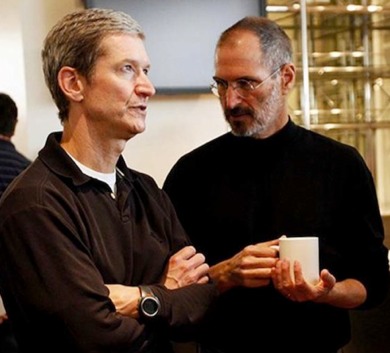 When you look at successful organizations over the last decade, it's hard to find two better examples than the New England Patriots and Apple. But it seems that their success comes at a price. At a certain point, people begin to hate them for their success and actually long to see them fail.
But these two organizations seem to have a lot more in common than their recent success. Much like Apple, The Patriots experienced a lot of failure before their current 12 year run of success. Then they made a key move at the top hiring Bill Belichick as head coach in 2000. Apple made the key move bringing back Steve Jobs in 1997. In both cases, with a demanding and highly intelligent leader at the the helm, the organizations thrived.
Now many years later, success has spawned success. For the Patriots it's been 10 division titles,  7 trips to the AFC Championship game, 5 trips to the Super Bowl, 3 Super Bowl Championships. For Apple, it's been one home run after another. First the iPod, then the iPhone, then the iPad.
These two organizations both demand excellence from their employees. They both value silence and neither one gives the opposition an edge ever. They are tight-knit and well managed and they have a methodology and they stick to it because it works.
Just this week, their paths crossed once again when the Patriots made it to another AFC Championship game and  were beaten soundly by the Baltimore Ravens, and Apple released their quarterly earnings report and the stock market punished them in spite of good, but not good enough numbers. Both organizations have achieved something few do, but when they came up short, the backlash was swift.
After the Patriots lost last weekend, the level of vitriol on social networks was palpable. Some people were happy to stomp on New England and take glee in their loss.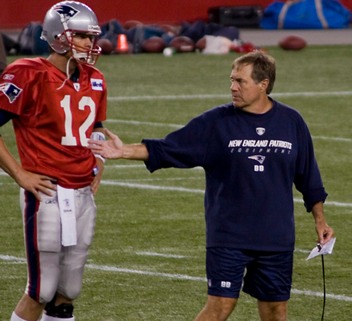 Same goes for Apple. They sold a record number of iPhones, yet it wasn't as many as Wall Street had hoped. Suddenly, Apple is simply another technology company, nothing special. All that success and all that cash and people get sick of hearing how great the products are and how many they sell. Enough already! They want them to fall from grace. They wish for it, and when they fail, they take great glee.
And let's face it, neither is a terribly likable organization. Belichick is often surly with the press. Jobs was secretive and paranoid (and reportedly downright mean to people). Cook is definitely more likable, but the organization remains closed and tight-lipped with him at the helm. When there was an issue with the iPhone 4 antenna, Jobs suggested people were holding it wrong. People don't like that kind of answer, any more than they like Belichick snubbing an opposing coach during the post game handshake or telling a reporter "It is what it is."
Yet, in spite of this, each of these individual leaders, and organizations have had an uncanny way of taking good personnel and wringing out every last bit of talent from them to build a product and a brand that exudes success and greatness.
Perhaps, it's just human nature to want such successful entities to fail, but instead of wasting our time hating the insanely great, maybe we should step back and see what got them to this point — a leader with keen vision and uncanny motivational skills and employees with a desire deep in their bellies to reach the apex every time.
Photo Credit Jobs/Cook: thetaxhaven on Flickr. Used under Creative Commons SA license.
Photo Credit Brady/Belichick: Andrew Choy on Flickr. Used under Creative Commons SA license.
---
January 17, 2013 3:24 PM
There was big news on Tuesday from Facebook, but what Facebook didn't announce may be more important than what they did. That's because once again, Facebook paid mobile short shrift and it's time to consider that maybe the company will never get it.
You may recall there were many rumors prior Tuesday's announcement as the Technology press speculated what it might be. Many believed it might be the long-rumored Facebook phone (whatever that would entail), but I think a lot of people figured it must be something about their mobile strategy whether it was an ad platform or another thing entirely.
As we found out, it had nothing to do with mobile and in fact, from following along in various live blogs of the event, it was clear Facebook didn't demonstrate Graph Search on a mobile device and they didn't even mention mobile, except in the question and answer period after the presentation in which Zuckerberg suggested that a mobile version of Graph Search was down the road.
Perhaps ClickZ put it best when it asked Is Facebook Still a Web First,  Mobile Last Company? If you had any doubt, this announcement showed that Facebook still sees itself as a web-first company. As Matt Kapko writing on ClickZ pointed out, it's a bit strange that Facebook would continue to dismiss mobile when a majority of its users are accessing the service from mobile devices.
Om Malik live blogging the event could barely contain his disgust over Facebook ignoring mobile in the announcement writing, "My big takeaway so far: Facebook will never be a mobile company. They launch this graph search and it is on desktop browser. How it will work on touch devices, where typing isn't the key way to interact with the device and information," he wondered.
It's kind of funny because I think of Facebook as a young company, and I would think that they would get this, but Zuckerberg is already a vestige of a previous generation. Don't forget, Zuckerberg launched the first version of Facebook while a student at Harvard way back in 2003.
That was 4 years before the first iPhone, so he cut his teeth when web services were delivered in a desktop browser. But unlike some of his peers who have made the transition to mobile, Zuckerberg and his company continue to cling to the desktop.
One of the great use cases for the iPhone for me is I take a picture and I share it on Facebook. It's so simple, and would be even easier if you could share right from the camera app. If I had to take a picture then email it to myself, go to my laptop and download the photo, then share it on Facebook, it wouldn't be worth the effort.
Social computing was made for mobile, but the folks at Facebook don't seem to understand that, or if they do, they don't seem to get it enough. The mobile app just got sharing recently and it's still implemented in a funky way. You can share from the newsfeed, but not if you tap through to the status to comment, you can't share directly from the status. And the mobile app is still often slow and unresponsive, even though it's better than the prior versions.
Facebook really needs to put mobile first, but as this announcement shows, it seems stuck in the desktop browser, and you have to wonder how long it can live there, ignoring the very place its users are most comfortable.

Photo: (c) Can Stock Photo
---
January 9, 2013 3:18 PM
We've seen all the signs lately that the PCs days are numbered and mobile and cloud, well they're the cat's meow, the BMOC, the big dog.
Oh , you'll still see PC skulking around, showing up at parties and being annoying, but in 2012, we seemed to make a clear transition from desktop to mobile. Even Microsoft has seen this coming. Hence the rush to the cloud, the emphasis on mobile and the even the release of a Microsoft branded tablet with more coming.
We've all heard that Windows 8 PC sales have been slow. NPD reported at the end of November that Windows 8 sales were sluggish as were PCs and laptops in general with notebooks down 24 percent and desktop sales down 9 percent.
Granted it was early days, but Preston Gralla writing on his Computerworld blog after the holidays found that Windows 8 sales were still in the doldrums, and Gralla referenced a variety of sources reporting essentially the same bad news with lagging sales — and some computer manufacturing executives were beginning to express frustration at the lack of Windows 8 PC and laptop sales.
I trust that it has nothing to do with the quality of Windows 8. Whether you love it or not doesn't have much to do with the lack of sales. It's because the sales have shifted to mobile devices. In Mary Meeker's Internet Trends report this year, one telling slide was # 25, which showed in the fourth quarter of 2010, smartphones and tablet shipments surpassed PC and notebook shipments for the first time — and are expected to skyrocket in the coming years, while PC and notebook shipments will remain flat. Go have a look, it's pretty telling. I'll wait.
What's even more telling is the next slide which predicts that sometime this year, the installed base of mobile device users will surpass the installed base of PC and Netbook user for the first time. Those two slides tell the tale of the changing demographics in technology usage (in case you needed a picture of what's become obvious to just about everyone).
That not enough for you? How about this little data point then? Apple reported recently that it surpassed 40 billion total downloads in the App Store  since inception with almost half of those coming in 2012 and 2 billion in December alone. The App Store now has an astonishing 775,000 apps now. There are simply a lot of idevices out there and people appear to love to download apps.
And it's not just Apple. ReadWriteWeb reports that Google, the other mobile behemoth, and its Google Play Android store is growing even faster and could pass a million apps before Apple does.
All this data seems to agree that mobile is ascending and PC is waning. This doesn't mean we'll stop using PCs or that the PC will go the way of the dinosaur, at least for the near term, but it does mean the PC will have less and less use in our lives, and as that is going to have an impact on traditional PC software like Windows and Office for the desktop. It's a mobile world and the traditional PC is just going to have to get used to it.
Photo Credit:
---
December 21, 2012 9:51 AM
Oracle made a big splash yesterday when it bought marketing automation vendor, Eloqua for $871 million. It has lead to much speculation that Oracle is going after rival Salesforce.com, but can an enterprise software company like Oracle really compete in the cloud? I think it's going to be a tough sell for them.
Reuter's reported that Oracle bought the company because it wanted to boost its cloud presence adding to another cloud purchase, RightNow Technologies, which it bought last year for $1.5 billion. But it's not clear that Oracle can use its considerable purse strings to buy its way into social customer and marketing management in the cloud, but that doesn't mean it's not going to try.
As Tony Byrne pointed out in the Real Story Group blog, what we have with this purchase is a hodge podge of solutions, lacking any semblance of coherence across the Oracle product line (although Byrne was no kinder to rivals IBM, Adobe or Salesforce.com).
Cathy McKnight of Digital Clarity Group, however, isn't so sure. McKnight, writing on the Just | Clarity blog sees this as a key piece in Oracle's marketing cloud strategy and a step in the right direction.
So is it a hodgepodge or a smart move? It's probably a little of both, but I'm not convinced that Oracle can change so easily. Even more than Microsoft, which is has begun shifting to the cloud with more agility than I would have imagined, Oracle is the quintessential data center product.
They typically sell to IT, not to business units like marketing, and like many Enterprise software companies of its ilk, there is very likely going to be a long installation cycle and a long upgrade cycle. Oracle might have a few cloud pieces to go with its core enterprise offering, but it's never going to be able to move as quickly or innovate as fast as cloud rival Salesforce.com can simply by being a cloud company built from the ground up for that purpose.
In spite of a few swings at the cloud,  Oracle is first and foremost an enterprise, on-premise software company, but as McKnight pointed out to me Twitter, just because many companies are looking for the simplicity that the cloud brings, doesn't mean there won't still be a market for companies that need or want more complex solutions for whatever reason.
I have no doubt she's right, but I also see a marked consumerization shift going on in the enterprise. For IT that means moving away from complex enterprise solutions that require lots of IT overhead to install, configure and maintain and toward much simpler solutions that provide the same level of usability you are likely to find in consumer solutions on the web and require much less IT intervention.
Beyond simplifying and ease of use, there needs to be a smooth connection using the cloud as a conduit for users to access apps and content across devices and platforms wherever they are, providing a bridge between mobile and the cloud that we so often talk about on this blog.
When you think of consumerization, Oracle is probably the last company you think of, and while Oracle understands that the world is changing around it, I don't think buying a couple of marketing companies based in the cloud does it a cloud company make. It's going to take a whole lot more than that, and right now I put my money on its more agile competitors. Oracle isn't going anywhere, but neither do I expect it to take this market segment by storm.
Ultimately, I see it as just another clumsy attempt by a big company to use its wallet to shift gears in a changing marketplace.

Photo Credit | (c) Can Stock Photo
---
December 17, 2012 8:20 AM
It's that special time of year when the technology news cycle slows down and all tech journalists turn toward those old chestnuts: year-end wrap-ups or predictions for the coming year. In the spirit of looking ahead I've decided to look into my mobile technology crystal ball and make some prognostications for the coming year. Maybe in December 2013, we can look back and see how accurate I was (or not).
Here we go:
Buh-Bye RIM; We hardly knew ya
The first one is pretty easy. RIM goes down once and for all. After losing market share for years, and having lost consumers along with it, the handset business will be cut off and drowned in Lake Ontario. No body will be found. I'm sure somebody will buy the other pieces like their patents and perhaps their server business, but Blackberries will go back to being fruit and the handsets will be a footnote in mobile history.
Microsoft Mobile barely makes a dent
Microsoft realizes once and for all, that for better or worse it's a desktop software company. Maybe its cloud play begins to gain some traction in 2013, but Microsoft phones and tablets? Not so much. Let's face it, even if Microsoft took 10 percent market share in tablets and phones, it would be a raging success, but I'm going say they get half that. By the end of 2013 if they haven't reached 5 percent, I think we can confidently call the mobile strategy a failure.
Android gains, but Google rues the day it bought Motorola Mobility
Android will continue to make gains across the tablet and smartphone space, although the latter will begin to flatten even while the former one grows. Google realizes too late, however, that it threw good money after bad when it bought Motorola Mobility. It's not a hardware company and trying to buy its way into the hardware space with a company that makes inferior products doesn't help. They don't make much money and piss off their OEMs. Seems like a perfect lose-lose situation. The only question left is what they do about it.
iPad loses market share, but makes gobs of money
Competition begins to catch up with Apple as Android tablet makers begin making better and better devices for increasingly attractive price points. That doesn't mean we have to cry for Apple because of their smart supply chain management, app store revenue and high margins, they will continue to make gobs of money. Apple may not dominate as it once did, but it will be fine.
Nokia hangs on, but barely
Nokia won't go the way of RIM next year, and in fact, will probably see some gains in Europe and Asia, but competition from Apple on one end and low-priced Androids on the other will make it tough sledding for the Finnish company in 2013. We may hear rumblings of a sale by the end of the year as Nokia's options continue to shrink.
---
December 5, 2012 1:03 PM
RIM has announced it will be releasing Blackberry 10 on January 30th and it is hoping that this is finally the missing link that makes the company relevant again. I hate to be the one to tell them, but it doesn't have much of a shot. Consumers seem to have rejected their brand and there is no reason to believe that an update to the operating system is going alter that.
I know that sounds cruel, but it's just a fact. RIM may have more market share than Microsoft, but it keeps dropping steadily month after month and year after year. In its most recent market share statistics, comScore reported that Blackberry continued its long and steady decline to just 7.8 percent of US market share losing a 1.7 percent from the previous report in July.
You could argue I suppose that Blackberry 10 represents a new opportunity for RIM, but there is little reason to believe that Blackberry is going to experience a turnaround. Blackberry was born in a different time before smartphones when IT ruled the roost and every good corporation handed out new employees their very own Blackberry.
That was before the iPhone and the Android came along and IT decided it was easier to let users bring their own devices, and as they did fewer and fewer chose the Blackberry. Now in the age of Bring Your Own Device, it doesn't seem likely that they are going to find a way to convince consumers to buy their phones.
It's not easy to win over consumers. Just ask Microsoft. Even though it has created competitive devices and developers seem to have created apps for it, at this point, Microsoft still can't catch a break in US market share. Those same comScore statistics for October found that Microsoft dropped .4 percentage points down to 3.2 percent.
This is after blitzing the airwaves with ads, subsidizing phones and paying developers to make apps for it. None of it has had an appreciable effect. What both these companies face is a very different marketplace than what they dealt with in the 90s and early 2000s. They are no longer selling to IT and they can't seem to adjust to that — either that, or when given a choice, consumers simply don't want their devices.
The market seems to have hardened around Android and iOS devices with those two mobile operating systems controlling close to 90 percent of the market and the others, primarily Microsoft and RIM, fighting over the remains.
If Microsoft with all its resources hasn't been able to make a dent in the market and actually continues to lose ground, it's hard to imagine that RIM can make any serious headway, no matter how good Blackberry 10 may be. It's worth noting that RIM has announced 70,000 apps will be available at launch, but I'm not sure that is going to matter to a public that seems to have rejected the brand outright.
I've suggested in the past, that perhaps the two companies would be better off combining their efforts and at least gaining some respectable market share numbers that way, perhaps building a solid number 3. As of now, RIM keeps spiraling down and there doesn't seem to be any good reason to believe that anything is going to change on January 30th.
---
November 30, 2012 10:13 AM
When I heard Microsoft's pricing for the upcoming Surface Pro on Thursday, my jaw literally dropped. Ed Bott reported on ZDNet that the pricing would be as follows:
The new Surface will debut in two editions in the United States and Canada: one with 64 GB of storage, priced at $899, a second with 128 GB for $999. Each model comes with a Surface pen but does not include Touch Cover or Type Cover add-ons ($120 and $130, respectively).
Excuse but as one friend put it when he heard the news, "Steve Ballmer must be huffing kerosene." Even folks who were lusting for the Pro tablet have to pause when the cheapest option with cover and keyboard — and let's face it they are selling the keyboard as a key feature — is $1149. Add on sales tax and you're getting close to $1200. That's not tablet pricing — that's a pretty nice laptop and if you're going to buy a laptop, buy a laptop. Why buy a hybrid device for that kind of money?
As though that's not bad enough, Mary Jo Foley reports that the Surface Pro is going to have half the battery life of the Surface RT. That means 4-5 hours maximum so the Surface Pro is going to have the battery life a typical Ultrabook, which what I suspect people will buy if they want to spend this kind of money.
Microsoft has been blitzing the airwaves with Surface RT ads and word is they still aren't selling. Last week even Ballmer himself admitted sales were off to what he called a "modest start." That's CEO code for we're tanking. But the implication has always been that we really need to wait for Surface Pro to see where this is going to go.
Analyst Gene Munster claimed based on his onsite Black Friday research at Mall of America that Apple was moving 11 iPads an hour at the Apple store, while Microsoft was selling a big fat zero Surface RTs at the Microsoft Store. When I was at the SharePoint Conference earlier this month, I saw a couple of Surface RTs, but not as many as you would expect at a Microsoft-centric event. I think it's fair to say that they aren't selling very well.
And with these prices, it seems highly unlikely to me that Microsoft is going to move many of the Surface Pros. I can't imagine someone paying $1200 for a tablet with 4 or 5 hours of battery life. I mean this kind of pricing makes iPads look positively affordable.
I've heard the arguments that this is a laptop replacement, and it's a new kind of device, but I'm really not buying it. Let's be honest here, the Surface is first and foremost a tablet. Microsoft created it to be a player in the tablet market and to compete with the iPad. Their strategy to is to have an operating system that has the same look and feel from desktop and laptop to tablet to phone. And the Surface family is the tablet part of the equation.
So let's compare Surface Pro and iPad pricing. I'm going to put the iPad 2 and iPad mini aside here for comparing purposes and just use the 64 GB iPad WiFi with Retina Display. Apple doesn't sell a 128 GB version of the iPad and the Surface Pro doesn't support mobile broadband. Apple charges $699 for the latest iPad compared with $899 for the Surface Pro. That's a pretty significant gap.
If you want a bluetooth keyboard and case you can get one like this iHome keyboard and case unit at Radio Shack for around $50 (and there are tons of  other options at a range of prices). That's $749 plus tax.
Microsoft would have been far smarter to cut the prices and lose money to be cheaper or at least equal to the iPad than making the Surface Pro significantly more expensive. And I haven't even mentioned the cheaper Android tablets at the other end of the market because this device clearly isn't competing with those. But I'm still left wondering what Microsoft could possibly have been thinking with these prices.
I'm predicting right now that the Surface Pro will be the biggest dud since the RIM Playbook or the HP TouchPad and I'm fully expecting a similar level of success — which is to say none at all. Look for these to go on clearance by the end of Q1.
Photo by methodshop.com on Flickr.
---
November 26, 2012 9:16 AM
Mirror on the wall, which mobile platform is the most lucrative of them all? If you believe IBM it is iOS. As for Android? It's not even close.
IBM published an infographic via Kara Swisher from All Things Digital on Sunday with all kinds of interesting Black Friday data. Overall online sales were up 20.7 percent over last year. Mobile shopping data accounted for 16.3 percent of all online shopping with 58.6 percent of that coming from the mobile phone and 41.4 percent coming from tablets.
When it comes to shopping online, iOS shoppers are much more likely to use their devices to shop than their Android counterparts. iOS accounted for 18.7 percent of mobile device traffic, while the entire Android platform accounted for just 5.5 percent. iOS was particularly dominant on the tablet where it accounted for 88.3 percent of overall traffic.
Surprisingly, the Kindle platform which has been designed specifically to be a front end for shopping on  Amazon accounted for just 2.4 percent of overall mobile retail traffic coming in behind the Nook which had 3.3 percent.
While Amazon's tablet strategy might not have been working as drawn up, it had to be happy with the overall traffic reports as Experian reported it was the number one online shopping destination on Black Friday with over 25 million visitors and comScore reported that Black Friday shopping online hit a billion dollars for the first time.
What makes this data even more surprising is how much Android dominates in the mobile phone market. According to comScore's September mobile marketshare numbers, Android was in control with 52.5 percent of the overall mobile phone market. Apple was in second place with 34.3 percent.
And while the iPad continues to dominate the tablet market, IDC reports its overall numbers have dropped dramatically this year falling to 50.4 percent in the third quarter, down from 59.7 percent last year.
In spite of these numbers, however, iOS users seem to be more likely for whatever reason to use their devices to shop. The big shock in all of this is not that Apple is dominating in this area, but that Android and particularly Amazon (which is running a form of Android) is so far behind.
Interestingly, the New York Times reports that brick and mortar retailers are trying to lure shoppers back to the store using smartphone apps to help shoppers plan their shopping experience before they arrive at the store, and even help find an open parking space — but if you want to avoid the madness that is Black Friday altogether, nothing beats the comfort of your living room.
Conventional thinking would suggest that once Amazon produced a low priced tablet, it would fly off the shelves and would give Amazon an additional advantage in online shopping, and when you combine this with Android's overall marketshare numbers, it would suggest that Android would at least hold its own. Yet IBM's numbers how a paltry 5.5 percent across the entire platform.
I'm not sure what this says about operating system choices, but perhaps it speaks to overall usability and how likely people are to use a device on iOS versus Android.
---
November 20, 2012 12:35 PM
I spent last week at the SharePoint Conference in Las Vegas. I saw a number of devices from tablets to smart phones running Windows 8 and after playing with a few, I have to say in all honesty, I have issues with the tile interface.
First some good news. I tried the Nokia Lumia 920 and as a phone separate from the operating system, really liked it. It has a fantastic screen and it was fast and reacted quickly. Unfortunately, I would have liked it more if it weren't running Windows Phone 8.
I know that sounds harsh, and it probably is, but I just don't like the tiles. There are a couple of main issues for me. First of all they are all different sizes. I'm guessing there must be a reason for that, maybe related to the amount you use an app or some other random thing, but it offends my personal design sensibilities.
Further, the live tiles remind of animated gifs on 90s web pages. They are fluttering and flipping and updating. Some see this as an advantage, but I don't. I find it disorienting actually and I don't want my operating system in perpetual motion. I grant you this could be a generational thing. I know from the commercial that Will Arnett's 20-something assistant loves the Windows phone.
But it's not just the phone OS. I got my hands on a Samsung 7 "tablet" that Microsoft has lent me to get familiar with SharePoin 2013 and Windows 8. I will probably go into more depth about the device at some other point, but it has given me some understanding of Windows 8. While I like the left to right scrolling a lot, and found I missed it when I played with SharePoint on an iPad, I frankly found the Windows 8 OS a bit confusing.
There are swipes to reveal a menu on the right and another to reveal a one on the top. If someone hadn't shown me this, I probably never would have found it — except by accident. Even when you know it's there, you need to be close enough to the right margin to reveal it or all you do is scroll right instead of revealing the menu (which is by design, but still confusing).
I grant you these are minor annoyances, but I think about my non-technical friends and family and I wonder could they pick up this device and use it right away? They probably could to the extent that the apps are exposed on the front end, but finding configuration menus could prove challenging and confusing. I can tell you I've watched a wide variety of folks pick up an iPad and just start using  it. Windows 8 is a bit more complicated than that.
Then there's the matter of the differences across devices and versions. One thing that Apple has always done well is keep it simple in terms of the number of devices and configurations available and the operating system is consistent across the mobile family. The whole Windows 8 for RT business that runs on the Surface just confuses me and I'm a little baffled as to why there are separate versions and what's different about them. Then I've been told, the Windows 8 Phone OS isn't quite the same as the other Windows 8s. Why not?
I'm sure I could figure it out, but my point is I shouldn't need a Windows 8 education. It shouldn't be that complicated. But even in a perfect world where Microsoft absolutely nailed the interface, I would still have issues with the whole tile view.
Before you start accusing me of an being anti-Microsoft. I'm not. In fact, I would love to see Microsoft make an impact, especially in mobile which desperately needs a viable third party candidate to shake things up. But if I walk into a store today, just looking at phones — all other devices aside for simplicity's sake — and I'm being honest with myself, I would be looking at iOS, Android and Windows Phone 8 in that order.
I'm just not into the tiles. Sorry.
---