Mar 10 2011 10:41AM GMT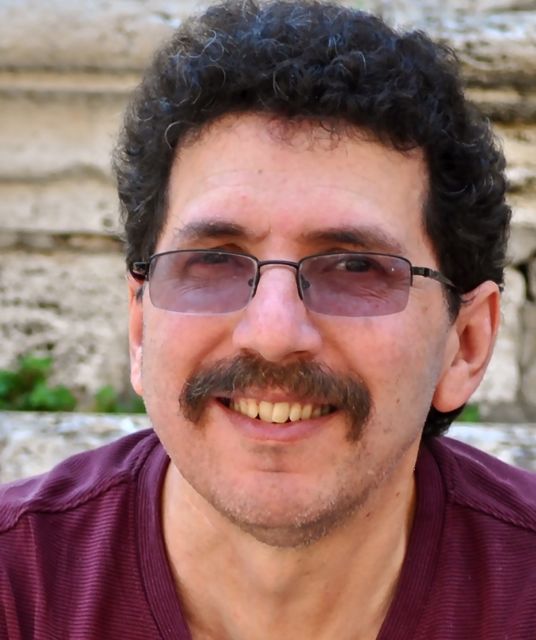 Profile: Ron Miller
There was no shortage of tablets on display this year at the
CeBIT
Technology Fair, held last week in Hannover, Germany. Each one was trying in its own way to find an audience and differentiate itself from the mighty iPad.
At the iPad 2 release party last Wednesday in San Francisco, Apple CEO Steve Jobs explained that it would be a mistake for competitors to see the tablet form factor as another kind of PC. In his view, it is much more than a laptop without a keyboard. Yet that's precisely how some manufacturers here seemed to see it.
Many tablet designs are trying to find their niche by being more enterprise-friendly and that means coming equipped with Microsoft software just like on the desktop and laptop. Fujitsu for instance showed off a prototype of a new tablet due for release in April running Windows 7 with a stylus for pen and mouse input (shown below).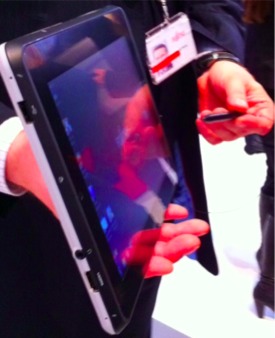 It also boasted a finger print reader and a PC Card slot along with USB ports. The idea is to make it secure and IT-friendly. It's immensely practical, but it certainly doesn't have the sex appeal of the iPad 2 and that could be a problem (especially for status conscious executives).
As I watched several presentations throughout the week from high-profile technology company executives, I couldn't help but notice that speakers repeatedly referred to the iPad and iPhone as examples of disruptive technology. Several indicated they owned both devices themselves. The fact is that if CEOs at major corporations own Apple devices, then chances are IT is finding a way to deal with the security issues associated with using Apple technology in the enterprise.
Asus took a different tact, offering a variety of enterprise-friendly tablets including one running Google Honeycomb with a slide-out keyboard, sensing perhaps that people want to have keyboard input to be a truly useful business device. Indeed, one executive speaking a the conference last week indicated that he carried an iPhone, iPad and laptop because he preferred to do his writing work with a keyboard.
Asus also had models that had bluetooth keyboard stands and a monster 12 inch tablet running Windows 7 they were marketing as an executive tablet.
Yet as interesting and attractive as these devices were (and each one did have some great features), they fell into that trap that Jobs warned about by trying to be a PC instead of a tablet. Sure, it's great that you can run Microsoft Office on your tablet and use a finger print identifier for security purposes, but is that really what the tablet is all about?
What separates Apple from the pack in my view is its design, its app store and its crystal clear understanding that this is a very different device where, as Jobs said, "the hardware and software intertwine."
Undoubtedly there are IT shops out there who want to provide tablets for their users, running their standard business software and who fear using external apps such as those found in the Apple App Store, for many reasons including productivity and security concerns. In Germany, for instance, from what I heard, IT tends to be extremely conservative in this regard and these tablets are being developed precisely for this type of market.
There will be organizations around the world that demand a high level of security and familiarity, and these tablets should provide that for them, but it might be at the cost of what makes the tablet special. If you are truly that concerned about these issues, a nice laptop might be money better spent.
Full Disclosure Department: CeBIT paid my travel expenses to attend the conference.
Photo Credit: Ron Miller