---
April 23, 2013 7:16 PM
Since beginning the "Profiling the best Exchange Server professionals" program last October, I've relied on those in the Exchange community to nominate worthy candidates for the award. This month, I decided to flex a little editorial muscle and go outside that process. As the April 2013 recipient, I've personally selected Exchange MCM and MVP Jeff Guillet.
I somehow became aware of Jeff's contributions only during last September's Microsoft Exchange Conference, but I've been following his helpful and insightful tweets and blog posts ever since.
Over the past few months, Jeff has written some really noteworthy blog posts, and I'm sure if you've read them or follow him on Twitter, you'll agree that he's incredibly deserving of the award. As I do with all award recipients, I asked Jeff to share how he got started with Exchange, what he's excited to work on this year and more.
 *Please join me in congratulating Jeff by tweeting this post.
1. How did you begin working with Exchange Server and related technologies?
I began my career as a BASIC programmer in 1984. This background helped me hone my skills troubleshooting and debugging. In 1996, I took a position for a company in the San Francisco Bay area managing its IT infrastructure, including upgrading the email system to Microsoft Mail 3.02. It was here that I earned my MCSE certification for Windows NT. 
I then made the jump to a consulting company and began specializing in Exchange in version 5.5. I've been awarded Microsoft MVP status every year since 2009 and have upgraded my Microsoft certifications for each version of Exchange and Windows. I also earned my Microsoft Certified Master for Exchange in 2011.
2. What's your favorite part of working with Exchange Server and related technologies?
I enjoy working with Exchange Server because it's so important to every business. I also enjoy working with customer email systems to solve business needs and security requirements. I take a lot of pride designing and implementing highly available and fault tolerant solutions for customers.
3. What are you excited to work on this year and why?
There are several projects this year that I've enjoyed working on, including bringing customers up to the latest version and features. I'm excited to be working with Exchange 2013 and to offer design solutions that provide automatic site fault tolerance through global server load balancing.
Until next time,
Matt
March 29, 2013 4:39 PM
Living in New England, we're not too upset to see March 2013 come to a close. After a quiet beginning to the winter, February and March brought lots of snow. Fortunately, we at SearchExchange.com had plenty to keep us busy during those messy months and pushed out lots of great content.
Below, you'll find some of our top performing content from Q1 2013. Take a look, and you'll see why these articles were so popular with our readers the first time around.
* An admin's guide to configuring Gmail in Microsoft Outlook
Do your users want to access Gmail within their Microsoft Outlook clients? There are various setups available.
* Our top five Outlook 2010 tips of 2012
We did the research and found out which Outlook 2010 tips were tops in 2012. Have a look and you'll see why.
* Troubleshooting Exchange Autodiscover service issues
The Exchange Autodiscover service doesn't typically need a lot of maintenance, but when issues crop up, it's important to be ready.
* An inside look at the Exchange 2010 ActiveSync Quarantine feature
Underused but important, the Exchange 2010 ActiveSync Quarantine feature helps restrict which devices connect to Exchange. Here's what you need to know.
* 10 new PowerShell cmdlets you'll need for Exchange 2013
Exchange 2013 includes almost 200 new Exchange-specific PowerShell cmdlets. Get started with the 10 most important.
* MVP reviews his first year with Microsoft Office 365
A year ago, a longtime MVP migrated from on-premises Exchange Server to Microsoft Office 365. Read about his experiences and reasons behind the move.
Have a nice weekend!
-Matt
---
March 28, 2013 12:44 PM
Since launching our "Profiling the best Exchange Server professionals" program, we've had numerous deserving nominees and winners. This month, I'm happy to present the award to the most oft-nominated individual, and with good reason, Paul Cunningham.
If you're not familiar with Paul or his terrific site, allow me to put it very simply. Paul writes about anything and everything Exchange Server-related. He's has a multitude of terrific in-depth articles on Exchange migrations, PowerShell code, backup and recovery, ActiveSync, DAGs and, well you get the point.
Don't take my word for it though, visit his site and follow him on Twitter if you don't already.
Paul was nice enough to answer some questions on his background, including how he started working with Exchange, favorite aspects and much more — which you can read below.
Please join me in congratulating Paul by tweeting this post.
1. How did you begin working with Exchange Server and related technologies?
Back in 1999, I got my first job in IT working on the help desk in a government department that ran Exchange 5.5. I still remember the tiny mailbox quotas and heavy .pst file use. I'd never even had my own email address before then.
Over the next few years, I worked in a bunch of different operations and projects roles, but Exchange Server was always a part of that. I had moved into a consulting role right around the same time Exchange 2007 shipped, and one day my boss asked me if I wanted to take over for the messaging lead who was leaving to go live overseas. That was the beginning of my focus on Exchange Server in my career, and it's been that way ever since.
2. What's your favorite part of working with Exchange Server and related technologies?
Exchange Server integrates and interacts with so many different things. I like to think about all the people in all areas of a business, as well as the various aspects of IT infrastructure like storage, virtualization, load balancers, firewalls, WAN, mobile and more.
The complexity can be challenging, but also a lot of fun. I really do enjoy dealing with the constant stream of new things that crop up. You can work with the product for years and still be learning new things, or coming across new scenarios that expose you to different facets of the product.
3. What are you excited to work on this year and why?
I'm looking forward to Exchange 2013 CU1 shipping so that we can accomplish coexistence with Exchange 2007 and Exchange 2010. Getting involved in some migration projects here should be very interesting.
I didn't get the chance to dive into Lync or Office 365 much last year, so I also want to spend more time on those products.
Finally, I'm also co-authoring a new ebook on Exchange 2013 and PowerShell at the moment. We're hoping to finish that in the next couple of months.
Do you have someone you'd like to nominate? Email me.
 Until next time,
-Matt
---
March 26, 2013 1:48 PM
IT pros are going to have to wait a little longer — two days actually — before they can begin migrating to Exchange 2013. And many are fine with waiting, as long as all the kinks are actually ironed out.
In a proactive announcement earlier this week, the Exchange team announced that the cumulative update for Exchange 2013, previously promised by the end of Q1, would be pushed back two days.
In February, the Exchange team announced a new way to service Exchange Server. It would roll out cumulative updates (CUs) at the end of each quarter. The updates replace past rollup updates, and the schedule was intended to give IT shops a better idea of when updates would become available. The hope was that the predictability would not only help Exchange shops, but the Exchange team and testers as well. It would give them a set amount of time to fix the bugs present in the product.
The first Exchange 2013 CU was to allow for coexistence with Exchange 2010 and Exchange 2007, helping Exchange shops begin the migration process to Exchange 2013. Now they'll have to wait just a little bit longer.
"Of course I'm a little disappointed, but I fully support Microsoft's decision not to release the CU just yet," said Michael VanHorenbeeck a technology consultant at Systems Integrator Xylos Corp. in Belgium. "It proves to me that Microsoft is making an effort to improve the quality of the product — and its updates — a welcome change after the debacles with previous updates."
Another member of the Exchange community shared a similar sentiment. "It's basically just two days late, not really a big deal, and I prefer quality more than just having those bits, said Dave Stork, an IT architect based in the Netherlands. "I would have been more upset when it was delayed for a month or so."
Another IT pro explained why the release would be delayed. "Waiting a few more days is a small price to pay when we'll get an update that doesn't require people on Exchange 2010 SP3 to install yet another update on Exchange 2010 CAS servers, said Michel de Rooij, a unified communications consultant in the Netherlands.
"Looking at the time required by some companies to test, accept and put updates in production, introducing another update for the current production platform would be unwelcome. I applaud this decision," he added.
Look for Exchange 2013 CU1 on April 2.
Until next time,
Matt
---
March 11, 2013 7:44 PM
About six months ago at MEC 2012, we heard that Exchange 2010 SP3 would be released in early Q1 to support Exchange 2013 coexistence. Well, Microsoft kept true to its word, and Exchange 2010 SP3 was released in February. It came with a caveat, however: Exchange admins would need the first cumulative update (CU1) before they could migrate to or coexist with Exchange 2013.
The Exchange team has held strong to its statement about CU1 being available "in Q1 2013." Now as we get closer to the end of the first quarter, we've seen several announcements regarding tools and information that will be important as organizations look to move to Exchange 2013 and Office 365.
* First, there was a blog update on the TechNet URLs for Exchange 2013. This caused a stir when it was first announced, and folks still aren't happy about the URL changes. However, the fact remains that the info contained within these pages will be critical as companies plan for and migrate to Exchange 2013.
* About a week ago, we saw an update on Exchange Server 2013 Deployment Assistant (ExDeploy). If you're not familiar with previous versions, ExDeploy is a Web-based tool that helps administrators plan Exchange upgrades and installs. The tool asks several migration-related questions, then spits back a checklist on what you'll need to do to properly deploy or configure Exchange.
The Exchange 2013 version helps admins plan not only for on-premises deployments of Exchange 2013, but also hybrid and Office 365 environments.
* Last week Microsoft also released the Exchange 2013 version of the Jetstress tool. This will be extremely important to organizations that want to be among the first to run Exchange 2013 in production. Simply put, the Jetstress tool tests disk stability and performance before placing an Exchange 2013 server into production. This is a highly recommended download.
* Today we saw an update to the Remote Connectivity Analyzer (RCA). This tool lets admins check Exchange, Lync and Office 365 connectivity problems. The updated version of the RCA includes several new Office 365 tests that are sure to be put to good use this year.
I, for one, am glad to see all this updated information prior to the CU release. Like others, I was surprised that the SP3 release didn't officially allow for coexistence with Exchange 2013. But now that I've seen this information trickle out before the CU1 release, it certainly seems like a good sign of things to come.
-Matt
---
March 1, 2013 4:36 PM
I'm very pleased to announce the recipient of our February 2013 "Profiling the best Exchange Server professionals" award – Michel de Rooij!
If you follow anything and everything Exchange Server-related on Twitter like I do, you're sure to have seen any one of Michel's countless contributions to the community.
This week, I was able to email with Michel in order to congratulate him on his award and ask him a few questions:
How did you begin working with Exchange Server and related technologies?
I'm actually a late bloomer when compared to the other great Exchange folks out there. I was involved in the migration/deployment scripting business for some time, but in 2004, I got the opportunity to join a global team responsible for defining and developing the email and collaboration (Exchange-based) standard at a large international banking and insurance company. This project required thoughtful planning. It also required me to dive deep into the product in order to understand it backwards and forwards.
Part of the job was also developing and maintaining a fully automated deployment tool (a set of scripts and HTML application as GUI) that allowed implementers to deploy Exchange using predefined building blocks. Long story short, it was a great learning experience and I decided to stay with Exchange and development.
 What's your favorite part of working with Exchange Server and related technologies?
My background in software development has proved invaluable as PowerShell and scripting knowledge is becoming more important every day. Scripts are not only important in completing tasks, but also in accomplishing them faster and more efficiently.
While I like working with Exchange or related technologies like Active Directory, at the end of the day I get the most joy from helping others. This might mean helping them perform a task or solve a problem. This allows them to do a better job, do it faster and do it consistently. Depending on the complexity of the issue, I usually begin by setting out workflows or pseudo-code on a piece of paper and translating it to a PowerShell script.
If [the scripts] are considered potentially useful to the Exchange community, I work to make them general-purpose and fool proof before publishing. Note that developing a robust script shouldn't be underestimated; it requires lots of testing and additional code.
What are you excited to work on this year and why?
I'm looking forward to all the challenges that are sure to arise after the Exchange 2013 Cumulative Update 1 release. Besides that, I'm working on some exciting side projects, like PowerShell-related workshops. I also plan on continuing to contribute to the Exchange communities and projects like the UC Architects podcasts. I also hope to to finally meet some overseas peers in person this year as well.
Please join me in congratulating Michel by tweeting this post. And don't forget to mail your nominations for our March (and onwards) winners.
Until next time,
-Matt
---
February 19, 2013 6:45 PM
Back in July, I blogged that the Outlook.com release freaked me out. Fast forward about six months and I'm finally an Outlook.com user. The truth is, I don't hate it as much as I thought I would.
This morning I was explaining the impending wholesale change from Hotmail.com to Outlook.com to a colleague and wanted to show him the difference. I logged into my Hotmail.com account as I do every day to show him the interface. I then logged out and logged into Outlook.com with my Hotmail address to show him the Outlook.com interface. I didn't realize I'd be waving goodbye to my Hotmail interface forever.
We both noted the semi-cleaner Outlook.com interface and change to a blue task bar. I'd seen this all before. When I went to switch back to the Hotmail.com interface (sorry, I'm a creature of habit), I noticed that the option was no longer there: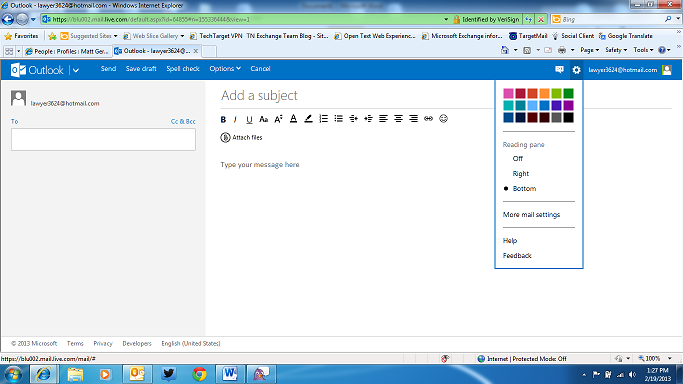 From there, I Googled – sorry, I mean Binged — "how to switch outlook.com interface back to Hotmail.com" and quickly found out that it was no longer an option.
While I don't like the fact that I was no longer given the option to use Hotmail, nor a heads up as a Hotmail.com user, I understand that it's part of Microsoft's plan to get all their services under uniform product names.
Faced with my new life as an Outlook.com user, I decided to send some messages to test it out. I must admit, though it's much different, I really like the new mail sending interface.
As you can see above, it takes up the majority of the screen. You can enter recipients' email addresses in the To: field on the left-hand side of the page and autofill is still an available and much appreciated option here.
I'm sure it will take some time to get used to this new way of doing things, but I'm looking forward to it, as I'm looking forward to the Office 365 rollout next week. It's certainly an exciting time to be a Microsoft customer.
And I always have my Gmail account to turn to if things don't work out.
What do you think about the upcoming Office 365 rollout or the Outlook.com change? Write and let me know.
Until next time,
Matt
---
February 12, 2013 6:41 PM
Earlier today, the Exchange team released Exchange 2010 SP2 Rollup 6 and Exchange 2007 SP3 Rollup 10 to the Microsoft download center. These rollups come just a few days after the announcement it would do away with rollup updates in favor of cumulative updates in Exchange 2013.
The Exchange 2007 SP3 RU 10 release includes the following fixes:
New Daylight savings time for Exchange 2007 SP3,
An issue where a hidden user is still displayed in Organization info of the Address Book in OWA in Exchange 2007,
The security vulnerabilities addressed in Microsoft Security Bulletin MS13-012, which are marked as "critical."
The Security Bulletin also applies to Exchange 2010 SP2 RU 6, but there are a number of other issues the update fixes as well, including:
An issue where admins can't move or delete a folder using Outlook in online mode,
The AutoPreview feature does not work in Outlook online mode,
Synchronization fails when attempting to sync an external device to a mailbox via Exchange ActiveSync,
A mailbox on a mobile device is not updated when Exchange ActiveSync is configured,
You cannot perform cross-premises searches of a mailbox in a hybrid environment, and
You cannot use the Search function to search for mailbox items in Exchange 2010
And don't forget, we're still waiting on Exchange 2010 SP3 to drop. When it does, shops can achieve coexistence between Exchange 2010 and Exchange 2013 and finally start migrating to Exchange 2013.
Update: It was later revealed that Exchange 2007 SP3 RU 10 also paves the way for coexistence with Exchange 2013. That said, coexistence is not possible until the first cumulative update for Exchange 2013 is released.
Until next time,
Matt
---
February 1, 2013 6:12 PM
Around 8:30 AM eastern time this morning, Office 365 customers in the US and Europe (at the very least) experienced an outage that affected the Office 365 portal, Exchange Online, SharePoint Online and Lync Online.
Back in November, there were two Office 365 outages in a span of five days. While IT folks are never happy about outages, it seems they're going to be inevitable as Microsoft continues its transition to a services company.
"To think that any online service could have 100% uptime is not realistic," said Dave Stork an IT architect based in the Netherlands.
As many have pointed out on Twitter, the outage appears to be the result of networking issues that led to Identity Services problems. Stork points out that a problem of this magnitude could not have been fixed so quickly if it happened in an on-premises deployment (assuming they are generally significantly smaller environments).
"Within an hour, [Microsoft] detected something was wrong, then investigated and mitigated the immediate problem so that users could login again," Stork said. "When I think of most of the on-premises environments I've designed and/or deployed, I'm not sure whether I could do that within the same timeframe."
The problem not only affected Office 365, but also Microsoft's support site, Windows Azure and SkyDrive. The fact the outage was addressed so quickly points to the benefits of hosted services.
"Here we see another benefit of using a big services provider; the issue is probably still present but Microsoft could implement a workaround due to the scale of its service," Stork said.
"[When we] see the impact of the problem and how much time it took to restore functionality, I think Microsoft did a pretty good job. That's something that counts."
* Update: Microsoft has reported that the outage was due to "routine maintenance."
What's your opinion on Office 365? Feel free to share in the comments below or email me.
---
January 25, 2013 3:45 PM
I'm very happy to announce the third winner of our monthly "Profiling the best Exchange Server professionals" program, and the first recipient of 2013 – Frank Carius!
Frank was described by the person who nominated him as "legendary." If you take a look at Frank's credentials, you'll understand why.
Frank was named a Microsoft Exchange MVP every year from 1999 through 2011 and was recently named a Microsoft Certified Master (MCM) in Lync. Frank also runs a terrific Exchange FAQ site. While it may be in German, it's easily translated via Google Translate. A quick look and you'll see that he's a prolific poster, with entries almost daily on Exchange, ActiveSync, Lync and much more.
I was fortunate enough to catch up with Frank to congratulate him on his award and ask him a few questions:
Can you give a brief description of how you began working with Exchange Server and related technologies?
I started working with "email" with FIDO-net and NetWare-MHS and MSMail 2.x. My first migrations were MHS or MSMail to Exchange. My company's messaging system began with Exchange 4.0 on Win NT 3.51 and we have since upgraded to every version since. Also, we will be on Exchange 2013 very soon.
Around 2004, I became increasingly frustrated with the notion of spam. I was not interested in the idea of using quarantine, so I started building an alternate solution using "reject" as a core concept.
What's your favorite part of working with Exchange Server and technologies?
Microsoft has done a great job of making Exchange both scalable and highly available. I also like the fact that manageability has been enhanced with PowerShell and the Exchange Control Panel.
Many companies are also looking at migrations now. I'm really interested in the idea of migrations, mergers, acquisitions, splits.
What are you excited to work on this year and why?
I've seen many companies like Facebook, Ebay and Paypal sending "unsigned" mails. SMIME is really cheap and nearly every client can validate the certificates by default. I don't understand why more companies don't protect their brand by signing email. Companies and people must understand that messaging must be extremely secure. My company has introduced a product called enQsig to secure SMTP on a per-recipient level.
I'm also quite excited with all the growing interest in Lync as well.
Please join me in congratulating Frank Carius by tweeting this post.
-Matt
---