---
July 7, 2014 9:05 PM
Yammer
Microsoft is taking a step this week to continue its push to integrate social capabilities into the enterprise.
The Office team will add Yammer Enterprise to all of its Office 365 Education and Office 365 Midsize Business plans, a move the team said would help "support its vision" for enterprises having Office 365 and social capabilities grow more closely together, the company said in a blog post.
Customers using these plans will now receive a license to use Yammer Enterprise, meaning they no longer have to purchase licenses for Yammer Enterprise for external users to take advantage of in their external networks. The licensing change could reduce the cost of collaboration across organizations, Microsoft said.
The move follows the company's trend of creating a more social workplace, a concept that it first introduced during this year's SharePoint and Microsoft Exchange conferences.
What do you think of the licensing change for Yammer Enterprise? Let us know in the comments or on Twitter @ExchangeTT.
July 2, 2014 8:54 PM
Exchange Virtualization
,
Microsoft Exchange 2013
In our monthly feature, we round up the most popular content with Exchange admins from the previous month.
For June, Exchange admins wanted to explore the idea of virtualizing Exchange 2013, creating the best monitoring setup for their enterprises and multifactor authentication in Office 365. Read on to learn more about this content.
Exchange 2013 virtualization: does it make sense?
If your enterprise is considering the option of virtualizing Exchange 2013, you'll have to include how resource and storage allocation in your discussions.
…But you aren't required to virtualize Exchange 2013
As you discuss the possibility of virtualizing your Exchange 2013 deployment, keep in mind how high availability and data dedupe will fit in. But at the end of the day, it might be better to run your deployment physically rather than virtually.
Build the best Exchange monitoring option for your enterprise
When you start designing an Exchange monitoring system for your enterprise, end users are the most important component in having a successful system. This can be accomplished with the combination of passive and active monitoring, among other factors.
Sort through the fluff about hosted Exchange services
You'll be bombarded with marketing fluff when it comes to comparing hosted Exchange services, but there are important considerations to make as you research your options and six steps to have a more secure hosted deployment.
Learn how to configure Office 365 MFA
Accounts based in the cloud must take advantage of multifactor authentication, and the easiest way to have it be successful in your enterprise is by helping your end users navigate the process of setting it up.
What content was most helpful to you last month? Was it something we didn't include in our list? Let us know in the comments or on Twitter @ExchangeTT.
---
June 24, 2014 7:49 PM
Exchange Online
,
Microsoft Lync
Updated at 4:45 p.m. ET: Microsoft is now reporting that its engineers have rerouted traffic to improve mail flow and that service recovery should shortly follow.
Just one day after Microsoft Lync customers experienced an outage, Exchange Online customers in North America are currently reporting a service disruption.
A number of customers took to Twitter and said they weren't receiving email from the hosted email service. It's unclear how many end users are affected by the outage as some say they still have a functional service, said Mary Jo Foley. Other end users experiencing the outage say the service health dashboard for Exchange Online has not shown any problems, she added.
As of 2:30 p.m. ET, Microsoft said it was aware of the outage and that its engineering team is working to resolve it, Foley said. There is no official word on what is causing the outage or why it appears to be affecting some customers and not others. One user noted that his dashboard says Microsoft will provide an update at 5 p.m. ET.
The Exchange Online outage comes on the heels of a widespread outage with the Lync service.  Microsoft released a statement about yesterday's service disruption and said that the issue had stemmed from "network routing infrastructure issues."
We'll continue to follow this story and update this post with additional developments.
Have you been affected by the recent Lync and Exchange Online outages? What do you think? Let us know in the comments or on Twitter @ExchangeTT.
---
June 19, 2014 5:47 PM
Microsoft
Administrators who have been asking questions about the future plans for Office 365 for Business now have some answers.
Microsoft made a roadmap for the business version of Office 365 available to the public today that includes detailed information about upcoming updates. The roadmap includes updates that have already been released as well as updates that will soon roll out, updates currently in development and updates that have been canceled. The roadmap applies to only Office 365 for Business, not the versions for home or personal use.
In a blog post detailing the release, Microsoft officials said the roadmap offers subscribers a look at what to expect in the next few months as well as insight into what they call "long-term investments" for Office Graph and the service codenamed "Oslo."
Microsoft is also rolling out a new program called First Release, which will give customers who opt-in access to Office 365, SharePoint Online and Exchange Online changes at least two weeks prior to customers in the standard release group. Office 365 ProPlus, Exchange Online Protection and Lync Online don't apply to the First Release program, the company said.
What do you think of the Office 365 or Business roadmap and First Release plans? Let us know in the comments below or on Twitter @ExchangeTT.
---
June 2, 2014 6:03 PM
Microsoft Exchange Server
In this feature, we round up the content that was most popular with our readers in the previous month.
For May, Exchange admins were interested in learning more about the value of PowerShell, Office 365 migrations and fixing corrupted files.
New tool simplifies migration to Office 365
This news story highlights a new tool aimed at easing Office 365 migrations. The tool may be an option for enterprises looking for an efficient way to carry out a hybrid migration, and it can also handle cutover migrations.
Easy ways to fix corrupted PST files
If you're having issues with broken or corrupted PST files, there are options for repairing them and getting everything to work normally again. The best place admins can start is with the ScanPST.exe program.
Simplify how you learn PowerShell
Although starting from scratch is a good way for admins to increase their PowerShell skills level, another option to consider is using or tailoring scripts that have already been written to complete certain tasks.
Why it's time to take on PowerShell scripting
Now that GUI is out of the picture for managing Exchange Server, admins need to up their scripting skills in PowerShell. Getting hands-on experience with the Exchange Management Shell is one of the keys to success.
Choose the best Office 365 migration approach
Businesses with complicated setups are warming up to Office 365, but they still have to decide the best way to migrate to Office 365. It helps to know how complex Active Directory environments fit in to Office 365.
What content was most helpful for you last month? Was it something we didn't include on the list? Let us know in the comments below or on Twitter @ExchangeTT.
---
May 19, 2014 7:02 PM
Microsoft delivered a fix for an issue affecting the front-end Hub Transport service in Exchange Server 2013 SP1.
The fix addresses a problem with the Transport service that stops and doesn't restart after an upgrade to SP1. The issue occurs if the Exchange server has front- and back-end roles and if the front-end Transport service runs on the server.
The receive connector for the HubTransport Transport type with the binding set to port 25 causes the issue, Microsoft said. Only the receive connector for the FrontendTransport type should have the binding set to port 25 if the server has front- and back-end roles, the company added.
The KB details two possible fixes. One fix requires running a command, and the other requires deleting and recreating the receive connector.
We'll continue to follow this and update if there are any new developments.
What do you think of the fix for the front-end Hub Transport service? Let us know in the comments below or on Twitter @ExchangeTT.
---
May 1, 2014 6:11 PM
At the top of each month, we round up the most popular content with our readers from the previous month and share it with you.
For April, our readers were most interested in learning about Exchange 2013 migrations, news that came out of the Microsoft Exchange Conference and the features in Exchange 2013 SP1 admins have been waiting for.
These Exchange 2013 SP1 features should make admins be happy
With Microsoft's recent release of Exchange Server 2013 SP1, admins are curious about its features because the release typically signals the start of migration projects. Thankfully, this Exchange MVP says the release includes features that make the upgrade worth it.
OWA upgrade will 'Clutter' Office 365 users
At the Microsoft Exchange Conference, the company said it would deliver three new features — including long-awaited support for Android to let users access Exchange mailboxes — and a new capability called Clutter for managing high volumes of email.
Office 365 gets first dibs on features over on-premises Exchange
Also coming out of MEC was the news that Microsoft would deliver new features to Office 365 first in its cloud-first, mobile-first strategy. This presents organizations with the migration question of staying on-premises versus a move to the cloud.
Essential guide covers three important steps for Exchange 2013 migrations
Organizations are interested about what an upgrade to Exchange 2013 could mean, so we created this essential guide to cover three important steps in the migration process for organizations to use as a jumping off point for planning.
IBM Domino hopes someone will ask it to dance at the enterprise social
Although some argue IBM has done a good job of bringing its products into the social enterprise, it still lags behind Exchange and SharePoint. But in an interesting twist, Microsoft may have inadvertently built a case for Domino and Notes.
What content was most helpful for you last month? Was it something we didn't include on the list? Let us know in the comments below or on Twitter @ExchangeTT.
---
April 7, 2014 3:59 PM
Tomorrow marks the end of support for a number of Microsoft products, including extended support for Exchange Server 2003. At last week's Microsoft Exchange Conference in Austin, attendees wrote messages to the retiring version of Exchange. These are some of our favorites.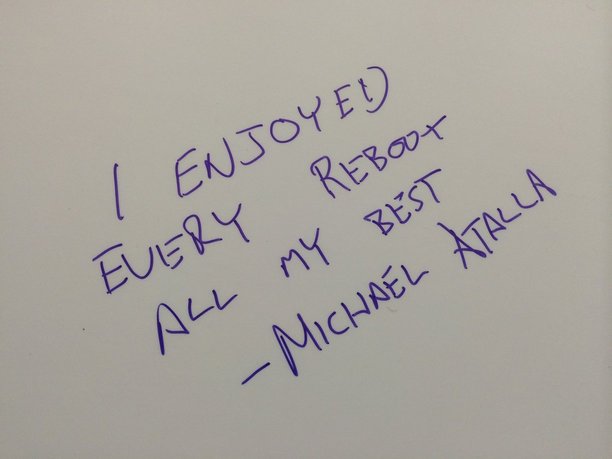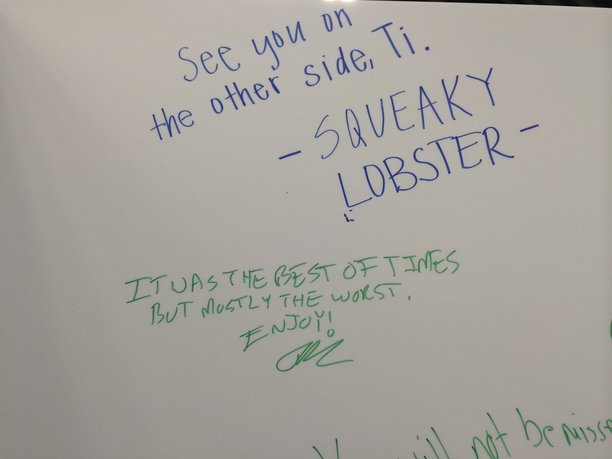 For a recap of other highlights from MEC, read more about Microsoft's new 'Clutter' feature for Outlook Web App users and how Office 365 will get first dibs on features over on-premises Exchange.
What are your thoughts on the retirement of Exchange Server 2003? Let us know in the comments below or on Twitter @ExchangeTT.
---
March 31, 2014 7:05 PM
The cloud, OWA for Android and Yammer received a lot of attention during the Microsoft Exchange Conference keynote address. Here's a look at some of our favorite reactions from conference attendees.
---
March 5, 2014 6:13 PM
One week after releasing Exchange Server 2013 Service Pack 1, Microsoft released a fix for a bug after receiving customer complaints.
The bug, which prevents third-party or custom-developed transport agents from working with Exchange 2013 SP1, is caused by invalid XML code in global assembly cache policy configuration files. The company released a new PowerShell script that corrects the formatting error in the built-in Exchange 2013 configuration files that govern transport extensibility.
Microsoft says admins should be able to just run the script if they're upgrading existing Exchange 2013 installations with third-party agents installed in Exchange 2013 SP1. However, if they're installing Exchange 2013 SP1 on a new server, it'll require a few more steps.
Exchange experts have taken notice of the bug and how it affects Microsoft's image. Exchange MVP Tony Redmond wrote in his blog about how the bug brings Microsoft's testing processes into question, and this isn't the first time they've been questioned. Back in August, the company's testing processes were in question when it pulled an Exchange update after revealing it didn't test the update in its own environment.
We'll continue to follow additional developments about Exchange 2013 SP1.
Have you had firsthand experience with the bug affected Exchange 2013 SP1? Let us know in the comments below or on Twitter @ExchangeTT.
---