Aug 6 2008 3:31PM GMT

Profile: Mark Fontecchio
Tags: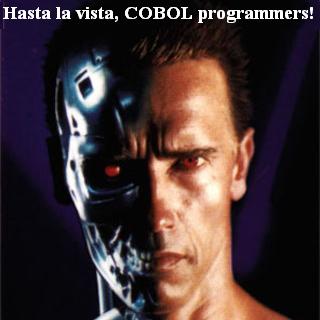 In an effort to pare down the state budget, California Governor Arnold Schwarzenegger wants to start paying 200,000 state workers the minimum wage, which is $6.55 per hour. The only problem: To make that change, he's going to need COBOL programmers, many of which he fired last week.
The payroll system is built on COBOL. And as a public-sector consulting firm CEO says in the Sacramento Bee story, COBOL programmers are hard to find. Some of those who came out of retirement to program COBOL part-time for the state were laid off. Others might ditch the state job and go looking for real money. From the Sacramento Bee story:
"COBOL programmers are hard to come by these days," said Fred Forrer, the Sacramento-based CEO of MGT of America, a public-sector consulting firm. "It's certainly not a language that is taught. Oftentimes, you have to rely on retired annuitants to come back and help maintain the system until you're able to find a replacement."

Retired state employees who have returned to work part-time for the state were among thousands of workers laid off last week.

Forrer said the system has tens of thousands of lines of code, so it is time-consuming to find and replace salaries for each job classification on an individual basis.
If Schwarzenegger wants the changes in payroll to be made, he's going to have to start rehiring some of the COBOL programmers he fired. And I doubt they'll be accepting minimum wage. Here are some selected comments from Slashdot:
There are plenty of COBOL Programmers out there, the problem is nobody in IT wants to hire old people.
And a response:
no – the problem is that no one wants to be paid minimum wage to program COBOL
And another response:
no the problem is social security pays more so why go back to 40 hours weeks of coding at that rate!