Jun 30 2009 11:54AM GMT

Profile: Mark Fontecchio
Mainframe vendor DataDirect and analyst firm WinterGreen Research have developed an online calculator tool for users to determine how much they could save by offloading Web services work to the zIIP engine.
The zIIP, short for (System) z Integrated Information Processor, is an extra mainframe engine designed to run database workloads. The zIIP's benefit comes from being able to free up the central processors — and therefore avoiding the possibility of having to buy a new mainframe — as well as avoiding software licensing costs, as some vendors don't charge for work on the specialty engines.
DataDirect's Shadow, a services-oriented architecture (SOA) software product for the mainframe, can be offloaded to the zIIP. In fact, the company claims that more than 90% of the integration processing for Web services supporting SOA or large data queries can be offloaded to mainframe specialty engines.
DataDirect's claims are one thing. Now it has the online calculator so mainframers can figure out hypothetically how much they could save by offloading Web services to the zIIP. The company calls it the DataDirect Shadow TCO Calculator. Here's a sample screenshot: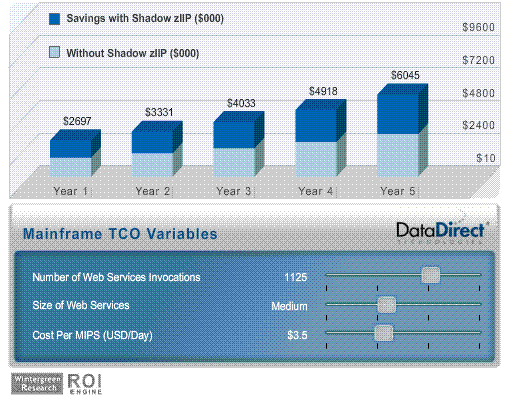 As you can see, the calculator has three major variables, which you can slide back and forth to see your estimated savings. Gregg Willhoit, the chief software architect for mainframe software at DataDirect, said his company and Lexington, Mass.-based WinterGreen Research developed internal constants such as one called "service units per byte processed," as they found that there was a "repeatable relationship in regards to size of their payloads and service units consumed." They also take into account network, administrative and electric costs in relation to the cost per MIPS figure that the user provides.
Willhoit said DataDirect is willing to have its "more than 90%" claim tested by an objective body, too. In a recent blog post, Willhoit called for an independent body, much like the Transaction Processing Performance Council (TPC), to verify vendor claims about how much mainframe work they're able to offload to specialty engines.