---
July 7, 2009 6:14 PM
According to a recent analyst report on Neon Software's zPrime, mainframe users may soon be able to run traditional mainframe workloads like CICS, DB2, IMS, TSO/ISPF and batch on the IBM mainframe zIIP and zAAP specialty processors, lowering billable MIPs on the central processor.
According to the report from Ptak, Noel & Associates (PNA), one Fortune 500 mainframe customer said he'd save $1.5 million in three months by shifting workloads. PNA suggests mainframe users can expect to drastically cut software licensing costs by implementing this new software, but their are risks — including the reaction from vendors like IBM, which could buy Neon and shut this technology down.
June 30, 2009 4:56 PM
Expect IBM to talk up the concept of "hybrid mainframe computing" over the next year.
The idea is allowing easier, more fluid connections between mainframe hardware and other platforms. First on the list: blade servers.
Earlier this year, you may remember Karl Freund, IBM System z VP of strategy, talking about being able to run your blade servers like they're a mainframe LPAR.
Though there is little comparison between the hardware of a mainframe and an Intel blade, Freund said management will be easier, being able to handle one systems management console, and having failover going to the same sysplex, rather than using different backup platforms.

Presumably this would make it easier for your front-end apps on your blade servers to communicate and get along with back-end database and ERP applications on the mainframe.
At the time, Freund wouldn't divulge when this kind of technology would come out, but the details are starting to trickle out now. I just spoke with Jim Porell, the chief architect of System z software, and he said the company expected to be beta testing the technology by the end of this year, with it coming out in general availability sometime next year.
Porell also described in some detail how the connection would work. He said one feature engineers are working on is a data warehouse capability. Let's say a user does transaction processing on the mainframe and writes to a DB2 database, also on the mainframe. Well, if you add query processing on top of that, "everything gets expensive."
So let's say the user wants to extract that query processing capability to a distributed platform. Currently what they'll probably do is burn mainframe MIPS by building a copy of the DB2 database, burn MIPS by transferring, and even then, the database is "never completely up to date," Porell said.
With the new capability, the BladeCenter would be connected to the mainframe in such a way that the query processing could happen on the blade servers, which could tap directly into the DB2 database on the mainframe.
"We want to change it so the customer is getting the benefit right out of the box," Porell said. "Right now the customers would have to do it themselves, and I'm not sure they would have the capability to do it."
---
June 30, 2009 3:22 PM
From The Wall Street Journal:
The Computer & Communications Industry Association has pursued Big Blue for decades in an effort to rein in the technology giant's allegedly unfair behavior.
The CCIA now has added encouragement from a tiny firm backed by IBM rival Microsoft Corp., which has lodged an antitrust complaint in Europe, while pressing a related lawsuit in federal court in New York and sounding out U.S. regulators. T3 Technologies Inc. argues that IBM unfairly has sewn up the market for mainframes, the powerful machines relied upon by virtually every Fortune 500 company to crunch data.
The CCIA is also responsible for promoting antitrust action against Intel for trying to push AMD out of the x86 server market.
You can read more about CCIA's position on the mainframe here.
---
June 30, 2009 11:54 AM
Mainframe vendor DataDirect and analyst firm WinterGreen Research have developed an online calculator tool for users to determine how much they could save by offloading Web services work to the zIIP engine.
The zIIP, short for (System) z Integrated Information Processor, is an extra mainframe engine designed to run database workloads. The zIIP's benefit comes from being able to free up the central processors — and therefore avoiding the possibility of having to buy a new mainframe — as well as avoiding software licensing costs, as some vendors don't charge for work on the specialty engines.
DataDirect's Shadow, a services-oriented architecture (SOA) software product for the mainframe, can be offloaded to the zIIP. In fact, the company claims that more than 90% of the integration processing for Web services supporting SOA or large data queries can be offloaded to mainframe specialty engines.
DataDirect's claims are one thing. Now it has the online calculator so mainframers can figure out hypothetically how much they could save by offloading Web services to the zIIP. The company calls it the DataDirect Shadow TCO Calculator. Here's a sample screenshot: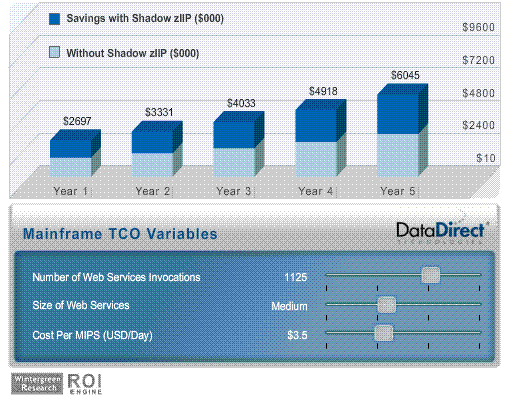 As you can see, the calculator has three major variables, which you can slide back and forth to see your estimated savings. Gregg Willhoit, the chief software architect for mainframe software at DataDirect, said his company and Lexington, Mass.-based WinterGreen Research developed internal constants such as one called "service units per byte processed," as they found that there was a "repeatable relationship in regards to size of their payloads and service units consumed." They also take into account network, administrative and electric costs in relation to the cost per MIPS figure that the user provides.
Willhoit said DataDirect is willing to have its "more than 90%" claim tested by an objective body, too. In a recent blog post, Willhoit called for an independent body, much like the Transaction Processing Performance Council (TPC), to verify vendor claims about how much mainframe work they're able to offload to specialty engines.
---
June 19, 2009 2:29 PM
DataCenter
LAS VEGAS – There was a big push at this year's HP Technology Forum to convince end users to migrate off other systems to HP servers. This was my first year at the event, so I'm not sure if it was something new or not, but it was readily apparent.
For example, on all the computers at the event where attendees could check the conference agenda and make a schedule for themselves, the screen saver was migration savings numbers. The average savings for moving off the mainframe is $22.1 million, it claimed. Moving of Sun was 8.1 million. Take these claim numbers for what they're worth, coming from a company who could benefit from those numbers being larger. The point is that HP has its scope sight on, aimed at migration.
One of the big services HP was offering was for users to take the "TCO Challenge," which provides an assessment of your current environment and how much you could presumably save by moving to HP. The TCO Challenge is built off a calculator built by Alinean, and HP is working with them.
IBM is the biggest target in HP's crosshairs. At one of the booths inside, I snagged a wheel-like device that allows one to see alleged savings in various categories for migrating from the mainframe to HP Integrity servers. Administration costs: $4.6 million. Hardware costs: $7.1 million. Software costs: $14.2 million.
I looked at the fine print on the wheel to see if there were more details on the migration. It said the scenario was a migration of SAP applications on an IBM z9 EC 2094 Model 720 mainframe to two HP Integrity rx8640s and two HP Integrity rx7640s running Microsoft Windows Server 2003. I'm not sure myself if that's an apples-to-apples comparison. Maybe some of my mainframe friends out there can chime in, in the comment section.
Lastly, I met up with Cameron Jenkins, the chief operating officer for Clerity, at the show. Clerity provides software to help users migrate off the mainframe and do application rehosting on other platforms. The small company made a name for itself when the New York Stock Exchange migrated off the mainframe to Unix and Linux, and tapped Clerity to help them do it.
Now, Jenkins said, a lot of other companies are interested in their software. The company just announced that it will be able to run its solution on Windows in addition to Unix and Linux. Thus far, Jenkins said most of the interest in Clerity's software has been migration toward Unix (rather than Linux). In the past, he said, interest was huge in migrating from the mainframe to IBM AIX, presumably because it's a smaller step. Now he's seeing customers more willing to look at other platforms such as HP-UX. It will be interesting to see if the company gets any serious traction on encouraging users to migrate from the mainframe to Windows.
---
June 9, 2009 8:54 PM
Telstra, one of the largest telecommunications company in Australia, has signed IT service agreements worth more than a billion dollars with HP EDS, Infosys and IBM.
The $745 million contract with IBM over the next five years covers data center and mainframe infrastructure management, as well as services for its midrange platforms and maintenance.
The Aussie company analyzed all its IT contracts and systems and decided to consolidate them all into two key areas: application development and maintenance; and infrastructure build, management and support. The application development and maintenance contracts are worth $450 million and will go to EDS and Infosys, while the infrastructure support contract goes to IBM.
Telstra says they want the IBM contract to lead to greater automation and remote management of IT systems, as well as reduced infrastructure build time.
---
June 2, 2009 5:54 PM
CA is pushing for users to take advantage of zIIP, a mainframe specialty processor built to run data-intensive applications, with its latest release of CA Datacom, its relational database management system.
The zIIP, which stands for (System) z Integrated Information Processor, is often used to run DB2 and other database workloads, and can be beneficial to end users because it can take MIPS away from the central processors and reduce licensing costs. CA Datacom r12 is now one of 14 CA products that can take advantage of the zIIP. Other products include its tape encryption and network management products for the mainframe.
CA Datacom r12 allows customers to shift production database workloads – including those generated by online transaction systems, batch jobs and distributed server requests – to the zIIP.
The new version also has improvements in index processing and performance monitoring and tuning. It is being integrated with CA's Mainframe 2.0 initiative.
---
June 1, 2009 2:18 PM
IBM has announced new services and programs to entice users to migrate from Sun and HP servers over to the IBM System z mainframe, particularly while running Linux.
Part of the announcement is a program called z Rewards that gives users financial incentives to migrate. Under the program, companies that purchase or upgrade to a new qualifying z10 Enterprise Class or Business Class mainframe in order to consolidate competitive Sun and HP systems can earn points that can be applied to IBM migration services.
I took a look at the details of the z Rewards program, and this is what I found. All z10 Enterprise Class models qualify, but not all Business Class models do. Here are the details:
certain models of z10BC will not be eligible. IFLs (FC 6650) are not eligible for z Rewards on the following machine type / models or on upgrades from 2086 or 2096 to these 7 models:

2098-E10-A01 (processor feature code 5014)
2098-E10-B01 (processor feature code 5019)
2098-E10-C01 (processor feature code 5024)
2098-E10-D01 (processor feature code 5029)
2098-E10-A02 (processor feature code 5015)
2098-E10-E01 (processor feature code 5034)
2098-E10-B02 (processor feature code 5020)
The eligible upgradeable models include:
2098-E10 with new or incremental IFLs, Feature 6650
2097-E12 with new or incremental IFLs, Feature 6811
2097-E26 with new or incremental IFLs, Feature 6811
2097-E40 with new or incremental IFLs, Feature 6811
2097-E56 with new or incremental IFLs, Feature 6811
2097-E64 with new or incremental IFLs, Feature 6811
Reward points per processor core are 4,000 if migrating from PA-RISC, 8,000 from Sparc, 1,000 from Itanium, MIPS or Alpha; and 500 for HP ProLiant, Sun Fire, Dell System zEdge and whitebox systems running Linux, Windows or Solaris.
Linux has become a big success story for the mainframe. More than half of the applications on System z are now Linux-based, and more than 40 percent of new System z mainframe customers last year installed Linux. The mainframe has clearly become a big Linux engine.
---
May 27, 2009 1:29 PM
Unisys has announced five new servers, ranging from Intel-based entry-level servers to multimillion-dollar mainframes based on its own processor technology.
Mainframe users will probably be interested in the ClearPath Libra 780 and 790 servers, which the company claims brings improvements of 10% in processor performance and 15% in I/O performance over the previous 600 line of Libra machines. The servers run the Unisys MCP operating system and contain 16 Unisys-developed, dual-core processors, each of which is able to handle its own hardware partition in the box.  They cost more than $3 million, according to Bill Maclean, the vice president and general manager for ClearPath. The Libra servers are also available on a pay-per-use model, though Maclean didn't state any base price for that.
The ClearPath Dorado 740 and 750 are also based on Unisys processors. Starting at $2 million, the Dorado servers run the Unisys OS 2200 operating system and have Unisys-developed processors, and are targeted at the midrange.
Finally, the ClearPath Dorado 4050 uses Intel Xeon processors, runs OS 2200 and starts at about $400,000.
Unisys also released new versions of its MCP and OS 2200 operating systems.
---
April 21, 2009 1:22 PM
IBM announced yesterday that its System z mainframe revenue had dropped almost 20% in the first quarter compared to the first quarter of 2008. Still, during a conference call with investors yesterday, IBM Chief Financial Officer Mark Loughridge claimed that IBM "continued to have strength in the high end" of its servers due to virtualization, increased efficiency, and good returns on investment.
It's hard to find a bright spot in a 19% revenue decline. Needless to say, Loughridge tried. He said the first quarter was the fifth consecutive quarter that there was double-digit MIPS growth on the mainframe. Numbers were particularly strong on the mainframe's specialty engines, especially the Integrated Facility for Linux (IFL).
"MIPS grew 18%," he said. "MIPS from specialty engines were up nearly 20%, driven by over 50% growth in Linux MIPS."
The growth of Linux on the mainframe is nothing new. Last year there were estimates that more than half the MIPS that IBM sold since rolling out the System z10 mainframe have been on Linux. With a more than 50% growth in Linux MIPS since last year, those estimates are becoming more and more plausible.
---