---
August 23, 2010 5:17 PM
Cloud computing can be a touchy area for some IT admins – especially when mainframes are brought into the equation – because of security concerns. But if security issues weren't a concern, would companies be willing to run mainframe workloads in the cloud to reduce mainframe costs? Enter Cloud Compiling.
The St. Paul, Minnesota-based startup is promoting a private cloud for mainframe shops, as well as an externally hosted Software-as-a-Service model for COBOL and z/OS compilers.
Check out the Cloud Compiling presentation from the recent SHARE conference:
[kml_flashembed movie="http://static.slidesharecdn.com/swf/doc_player.swf?doc=cloudcompilingatshareaugust2010-100727122649-phpapp01&stripped_title=cloud-compiling-at-share-august-2010-4850911" width="477" height="510" wmode="transparent" /]
Charles Mills, the Chief Development Officer at Cloud Compiling, LLC, explained that his company's technology saves companies money on their mainframe software licenses by moving compiles from individually licensed LPARs to a single cloud mainframe, either in a pre-existing private cloud or in the company's software-as-a-service (SaaS) public cloud. Cloud computing-wise, the program reduces the number of platforms needed to maintain compilers, and improves standards enforcement. In addition to the cloud computing benefits, Mills noted the cost savings is a key selling point of the product.
"Customers pay a license fee for every version of every compiler in their environment, on every mainframe in their environment. This is how IBM licenses compilers," said Mills. "So, if the customer has multiple versions of COBOL compilers in their environment, they are paying a fee for each one on each of their mainframes, based on MSU rating. With Cloud Compiling, the customer keeps the native compiler or compilers on one designated mainframe, installs Cloud Compiling on the other mainframes, and from there, the technology virtually leverages the native compiler across the enterprise. Programmers compile just like they do today, using the same compilers. We then split the monthly cost savings with the customer – they save 50% and pay us 50% of their total monthly savings."
For customers with just one mainframe, notes Mills, the SaaS or public cloud model is utilized to similar effect in regard to savings – they split the 50% saved on their mainframe license fees with Cloud Compiling, LLC. The only difference here is that the cloud is created using Cloud Computing's mainframe – they maintain the native compiler on their mainframe, the customer installs Cloud Compiling on theirs, and then virtually compiles as a service model – in the vein of salesforce.com. Mills also notes that there is no up-front investment in Cloud Computing, so ROI is essentially immediate.
I also talked with Mills about any security issues related to the product. Public and private cloud-wise, Mills noted that security options offered include SFTP, or FTP with TLS; VPNs; and PassTickets – IBM's technology that safeguards passwords. In addition, for mainframes, Cloud Compiling operates on the customer's in-place security subsystem – either RACF or others. The Cloud Computing technology excludes the use of security credentials for interactive access.
So saving money on mainframe costs sounds good, right? But lots of folks with good ideas have ended up on the wrong side of Big Blue's legal team lately. I asked Mills if IBM might react negatively to Cloud Compiling and he did not think it would be an issue.
"We are helping IBM customers to optimize their licensing and maximize their use of Z technologies," said Mills. "Unlike many other companies, we are advocating the continued use of both IBM Hardware and IBM software. Our Cloud Compilers ensure you get the greatest amount of value and flexibility from the platform in general. Any technology that improves the customer's environment has the side effect of possibly diminishing IBM's revenues. For example, performance monitors postpone the need for CPU upgrades. For our public cloud customers, our IBM licenses allow us to offer compiling as a service –- we are really no different from any other service bureau."
For more on Cloud Computing, here's a video:
[kml_flashembed movie="http://www.youtube.com/v/puRFn-6-tSk" width="425" height="350" wmode="transparent" /]
August 12, 2010 5:15 PM
Now, more conveniently than ever, you can check your z/OS network performance from your daughter's ballet recital.  Or while you're watching Jay Leno.  Or while you're even sitting on the toilet.  The sky's the limit now that a network suite has been ported to the iPad.  Just make sure there's a good cell phone signal or Wi-Fi connection.
William Data Systems just announced that its ZEN z/OS network monitoring software has been ported to the Apple iPad.  According to the company, the technology was shown at the SHARE conference in Boston last week by walking the iPad around the Hynes Convention Center to demonstrate its mobile monitoring prowess.  In speaking with Simon Cooper, ZEN Business Development Manager, on the ZEN on the iPad technology, I asked him if there would be future mobile support for items such as smartphones.
"We think touch screen capability, such as that provided by the iPad, will rapidly increase in popularity in enterprise computing," Cooper noted.  "ZEN development will focus on supporting mobile user interfaces, regardless of architecture or brand, so in the future you can expect to see ZEN on Blackberry, Android and the iPhone."
I also spoke with Cooper about how the technology works, and he explains that the core ZEN product is installed right on the mainframe.  The user can view and manage this mainframe network, in the case of the iPad, by starting its Safari browser, navigating to the ZEN site URL, and logging in securely.  ZEN on the iPad's framework is based on AJAX and XML, which allows for optimal porting to new interfaces such as the iPad and future smartphone platforms.  According to Cooper, the port will be available at the end of the month.  Buy your iPads now.  All the cool IT admin kids will be monitoring their mainframes from Starbucks.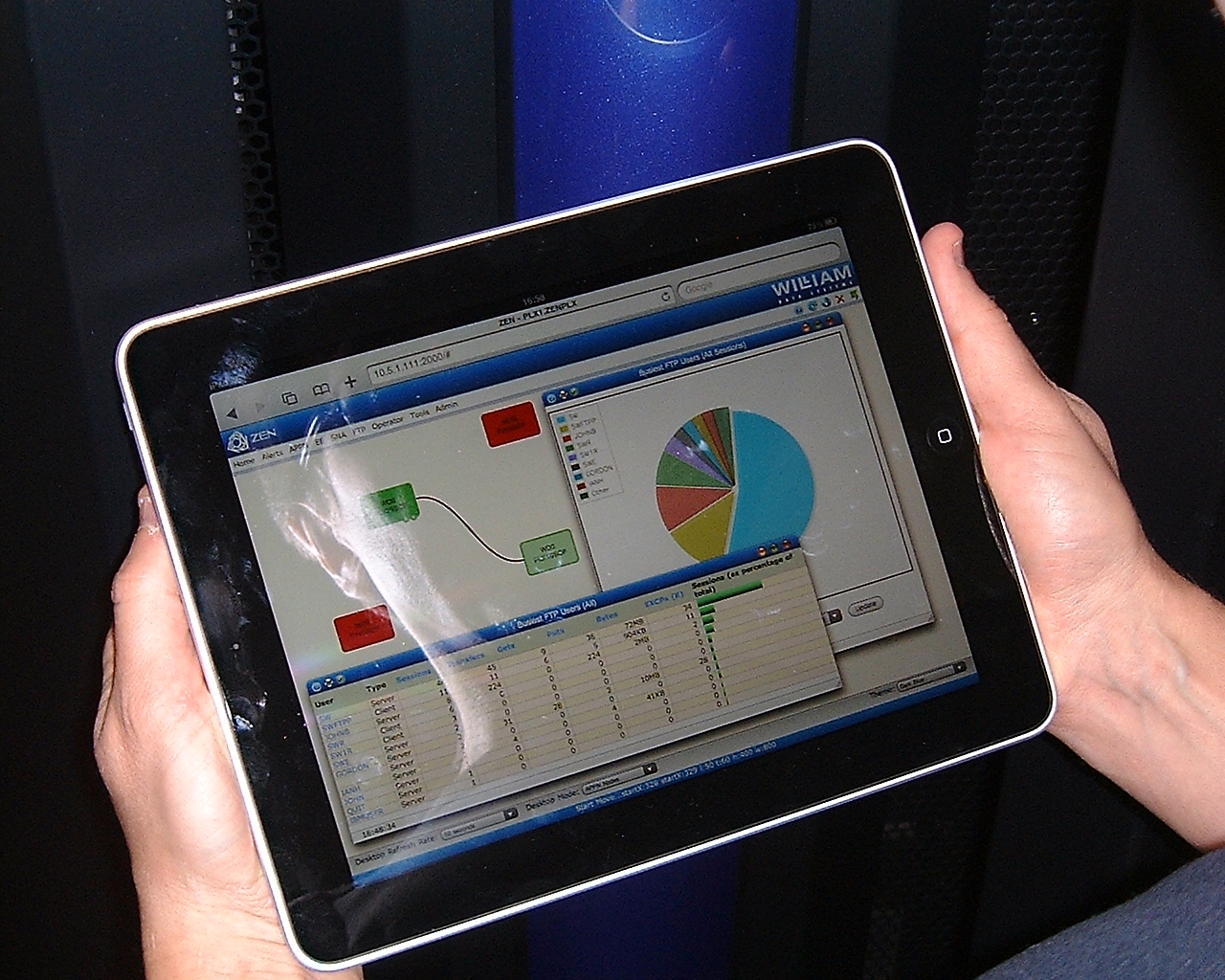 ---
August 10, 2010 4:26 PM
Business Week recently took up the old saw about the aging mainframe workforce, and while the article didn't cover any new ground (IBM and CA claim companies need more mainframers so they have advocates to drive huge mainframe revenues), the real value of the article was comments from readers.
There were a handful of people defending Big Blue's position "Mission critical applications are run on mainframes. So are high volume transaction appls. Systems programmers make good money and good job security too. Java and C++ programmers are a dime a dozen."
But many more took offense to IBM's crocodile tears about the dearth of mainframe talent, when Big Blue had no problems laying off higher paid, senior mainframe experts in the past.
"Young people, please don't drink the IBM/CA Koolaid! These companies and the other institutions that use IBM mainframes will dump you in a second when they don't need you any more. Go to indeed.com and see how many mainframe jobs are really in your area," wrote one commenter.
"The article should have been titled 'IBM and CA Having Trouble Finding Mainframe Skills for $35,000 a Year.'"
One thing the article did not include any of the financial institutions or hospitals that IBM claims will be hamstrung by the pending mainframe brain drain. In fact, I've yet to hear from anyone aside from IBM, CA and a couple analysts actually mention this situation. Which begs the question, is this manufactured demand? Is your company facing shortages of mainframe talent? Weigh in on the comments.
---
August 6, 2010 3:49 PM
As I spoke with Share President Al Williams a couple of weeks ago, and even this week as I was at the Boston Share conference getting z196 reaction, the wheels were already in motion for his replacement. 
At its Boston conference on Thursday, the mainframe user group announced the election of its new President – Janet Sun.  Sun has been a Share volunteer for 26 years and served as Treasurer and Secretary of Share prior to coming on as President.  Sun is also Product Manager at Rocket Mainstar.  According to the announcement, Sun's goals as President include not only expanding Share's name throughout the IT community, but also supporting the next generation of IT professionals.  This latter goal echoes what I heard at the zEnterprise keynote in Boston on Monday, as Karl Fruend of IBM indicated that there were professors on hand from several universities at the Share conference as part of a program to train "new" mainframers on zEnterprise and other technologies.  Sun will certainly have her work cut out for her — the "green screen" generation is becoming more sparse with each new day.
---
July 28, 2010 4:16 PM
In the latest chapter of the IBM is a big bully campaign (previous ongoing suits include Neon's), the European Commission (EU) officially launched two investigations into complaints filed by T3 Technologies and TurboHercules last year and March, respectively, against IBM, that allege discriminatory mainframe practices. 
On Monday, the first investigation of the EU announcement was in regard to complaints to the EU from T3 and TurboHercules that allege IBM is unfairly tying its mainframe hardware products to z/OS.  Another investigation in the announcement stems from EU's own plans to look into alleged discriminatory behavior on IBM's part to competing mainframe suppliers.
With its statement, IBM is staunch in its denial of any silencing of the competition.  "IBM is fully entitled to enforce its intellectual property rights and protect the investments we have made in our technologies," said the company. "Competition and intellectual property laws are complementary and designed to promote competition and innovation, and IBM fully supports these policies. But IBM will not allow the fruits of its innovation and investment to be pirated by its competition through baseless allegations."
It certainly is interesting, though, that there are no specific details in the statement of what exactly they're trying to protect, and what the "intellectual property rights" actually are, along with how they've violated those laws.  Vague statements sometimes allow people to fill in the blanks and question a company's real motives.  Put Florian Mueller, a software developer and government affairs professional, into that category.
"I'm convinced that customers are locked in and milked shamelessly by IBM," said Mueller in a blog post that he shared with SearchDataCenter.com.  "I hope that the outcome of the process will result in more customer choice."
What do you think of IBM's case?  Is they trying to "enforce their intellectual property rights," or are they trying to make it impossible for others to penetrate the mainframe market?
---
July 26, 2010 3:19 PM
IT information group Share recently announced results of its survey to members, and later on next week will be holding its bi-annual conference in Boston.  Share sent out the survey to 160 of its members, asking for their feedback on the current state of enterprise IT, and the participants' top 5 concerns in the area.   I spoke with Al Williams, Share president, on some of the major issues making up the survey, and on how they relate to the mainframe.
Are older mainframe programmers actually paying attention to the "new" technologies like cloud computing and virtualization? Are IT admins "cloudy" or weary on cloud computing in general and how their mainframes factor into the equation?
End users may not even know they are using a mainframe.  Programmers on the mainframe are typically using Java or other web-focused languages to deliver applications as web services. So to them, there may not be a difference between programming for the mainframe and programming for a different server platform.  We have lots of sessions at Share in Boston about these topics, and many of them will also be webcast on the Share Online from Boston site.  We also have a complete series of sessions, our Architecture Summit, which will be webcast live on Share Online from Boston.  Cloud can be a confusing topic.  Technology-wise, you will hear people saying that we have had that technology since 1980 (or before).  The cloud paradigm is not really about technology – it's about a new service delivery paradigm. It's about delivering virtualized servers on demand, as needed, for example.  There will be over 20 sessions on the cloud at Share in Boston.
Can you talk a little bit about the survey to Share members, and what some of the major findings were?
It was administered by Share for its members who also tend to be IBM customers.  Of the 20 choices offered, the top five concerns were:
1. Cost management: Reduction and/or avoidance
2. Virtualization: Of those ranking virtualization as a top issue, the server is their primary focus in this area, followed by storage and networks
3. Improving value of IT to the business and/or deriving competitive advantage from IT
4. Enterprise security
5. Aging/demographics of current IT staff
Share identifies "managing and deriving a competitive advantage from social media" as one of the issues mentioned on the survey – from a marketing standpoint this makes sense, but why should IT admins/professionals be interested in Twitter or Facebook?
Actually, that key topic did not score highly.  It came in 18th out of 20 choices.  So maybe they don't care – yet.
Is the mainframe fading away based on the results? Do you see IBM's new mainframe adding a boost to the market?
I do not think the mainframe is fading away.  That was supposed to happen in the early 1990s, but still hasn't.
What will be the emerging trend coming out of the Boston Share conference that mainframe programmers should be looking at?
As you can see from the survey results, the heat is on for managing IT cost and for making sure that IT is relevant to our home business.  IT/the bottom line is one of the two main themes of Share in Boston.  The other is enterprise virtualization/cloud computing.  The point of IT/the bottom line is that IT is not about technology.  It's about delivering services that are relevant to the business strategy of your employer.  If you fail to do that, you are merely an overhead expense to your employer.  This isn't just a mainframe issue – it really applies to all IT service providers, or employees.
---
July 20, 2010 6:13 PM
Compuware today announced the Compuware Workbench 3.0 for mainframe application development, scheduled for release in August, which at its core contains an Eclipse-based graphical user interface (GUI).  The GUI is sort of a bridge between the previous "mainframer" generation and the new "point-and-click" generation. Many IT organizations already use Eclipse for their Java development, and it is also ubiquitous in the college world. Compuware also isn't totally abandoning the old way of doing things, by allowing programmers a choice between the GUI and the green screen or TSO/ISPF interface.  In its press release though, Compuware made it pretty clear what it thinks of the green screen by referring to it as an "outdated character-based development environment." 
Is there a future in training new programmers with the nuances of a TSO/ISPF environment?  What do you think? Will the green screen be ditched completely?
---
July 19, 2010 2:39 PM
Last Monday at the Microsoft Worldwide Partner conference 2010, enterprise application software provider Micro Focus announced the ability to run COBOL, CICS and DB2 applications as .NET components, as part of the new version of its mainframe migration and application modernization solution for the Microsoft Application Platform including Azure. 
Micro Focus touts that migrations to the platform in the new release are accomplished without any changes to the application code or data, and that it provides an ideal environment for migrating to and developing new mainframe applications on the Windows Application Platform.  The migration of CICS apps, among others, is aimed at mitigating risk and slashing data center costs.
"The Microsoft Application Platform offers our customers unrivalled cost and performance benefits," said said Peter Duffell, Vice President of Strategic Partners at Micro Focus, in the announcement.  "And together Micro Focus and Microsoft have created the best solution for the migration of mission-critical mainframe applications."
Others, though, aren't so sure that the migration will even happen.
"The likelihood is pretty small," said Joe Clabby, President of Clabby Analytics, an IT research and analysis firm.  "It's a completely different type of system you're asking people to move to."
---
July 15, 2010 4:59 PM
According to Timothy Prickett Morgan at The Register, IBM is releasing the next version of its mainframe hardware, the z11, as early as next week. We're still waiting on details about the date and specific configuration info, but TPM said sources have told him the following about the new mainframes:
The System z11 design will keep the four-book design, but boost the number of sockets from five to six per book. The z11 engine will stay at four cores as well. That means the top-end System z11 machine will have 96 processing units, and it looks like a maximum of 80 of them will be usable by z/OS or Linux.
Click here for the full preview of the z11.
---
July 8, 2010 5:46 PM
Neon Enterprise Software last week announced that it is offering its Neon zPrime for IMS for US$1.  The catch is that you're essentially committing yourself to the technology: you have to make a two-year pact at US$1 a year and install a new version of Neon zPrime in production by the end of 2010.
zPrime is designed to keep mainframe/IMS costs down and makes only IMS workloads run on and take advantage of cost-effective specialty processors.  The software also utilizes zPrime 2.1's base.
Some are thinking that the announcement has a lot to do with Neon trying to gain the upper hand in its suit against IBM, originally filed in December, which alleges IBM engaged in unfair business practices by warning Neonand potential Neon customers against using zPrime software. 
"It sounds like they're [Neon] trying to get as many zPrime users as possible, as soon as possible," said one mainframe industry expert, speaking with SearchDataCenter.com.  "I figure that more zPrime users gives Neon more leverage in their ongoing dispute with IBM.  It also means they can go into court claiming there's a groundswell of protest against IBM's unfair trade practices."
Neon, though, may have sold itself short in trying to gather momentum against IBM by limiting the software to just IMS workloads.
"IMS is CPU hungry which means a big payback for shops that use it," said the same mainframe industry insider.  "In addition, the shops that run on IMS tend to be the larger ones.  Maybe Neon is walking a fine line between getting new customers while not provoking IBM too much."
The software is available now from Neon.  In regard to the suit, it's still an ongoing story, with Neon recently taking its issues overseas by filing a complaint with the European Commission.  
---