Oct 11 2010 8:41PM GMT

Profile: Matt Stansberry
According to data from The Aberdeen Group, IT organizations running newer mainframe hardware are less intimidated by complexity than shops running older versions of big iron.
Russ Klein, VP and technology research director at Aberdeen said calling the mainframe simple might be an overstatement, but mainframe management is starting to look more like management processes in distributed computing systems.
"If you're maintaining a farm of Dell servers, you're encountering a lot of the same challenges with issues like virtualization and redundancy," Klein said. "And managing a mainframe may even be simpler because you're not looking at the network running across multiple networked PC servers."
Aberdeen asked mainframe users whether or not they considered the platform complex, and shops running newer hardware were more likely to rate the mainframe as "not complex." Around a quarter of respondents said the IBM zSeries and IBM z9 (launched Feb 2006) were not complex, versus 45% of z10 owners (launched Feb 2008). No word from zEnterprise shops (launched in July 2010). Check out the report here.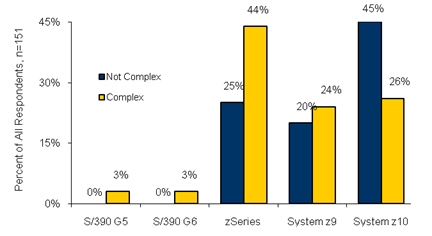 "It's not like the WOPR from War Games or the Xerox whole-building computer anymore," Klein said. "I don't think thirty years of mainframe experience helps at all with the maintenance and upkeep of current mainframe technology. It's not the same set of skills it was ten years ago."
Mainframe programmer and SearchDataCenter.com expert Robert Crawford disagrees.
"Actually, 30 years of experience with mainframes is a great asset. The complicated things mainframes do now started off as relatively primitive features years ago," Crawford wrote in an email. "To know how things evolve leads to greater understanding for how the systems fit together. IBM is developing mainframe wizards and GUI's. They have made it possible to keep an application programmer from every seeing a green screen again. But, full adoption is years away and, push come to shove, we may see a problem some day that will require someone to log onto TSO and edit a parameter file."
The study was funded by financially struggling Novell. The company has a significant mainframe Linux business, but has been hovering on the brink of acquisition for the last year. "I'm not going to comment on whether Novell is a stable organization," Klein said. "But in terms of Novell's role going forward, they see themselves as the company that is going to bring the enterprise applications to the mainframe."