Nov 12 2008 9:39PM GMT
Today as I was looking for a new workstation it occurred to me that I didn't know which of them had the HVM or hardware assisted technology that I require. As an administrator I like to have this technology on my workstation so that I can test various builds, updates and so on before putting them into production. Since I run CentOS 5 with Xen on my workstation and have to occasionally test something with a Windows machine, I require the HVM technology.
And so began my hunt for what I knew would be a valid source of lists for the processors that have this technology. I could then pick my machine based on the processors in this list.
Finding this list was unbelievably difficult. Remember I said that I wanted a valid list. I did all sorts of google searches with every keyword that I could think of all to no avail. After an hour or so of this I decided to have a look on Intel's site. About 30 minutes later I had what I wanted.
For the Intel processors you can go to this page. Here you will see two tabs. Click on the tab "View Processor Number Details". On this tab you will see a table titled "Select Processor Brand". After clicking on one of the processor brands another table will come up. Find the column that says Intel VT and Voila! you have found what you are looking for. If the processor listed has a check in this column then it is capable of hardware assisted virtualization.
Here is a screen shot of the last screen that I mentioned above.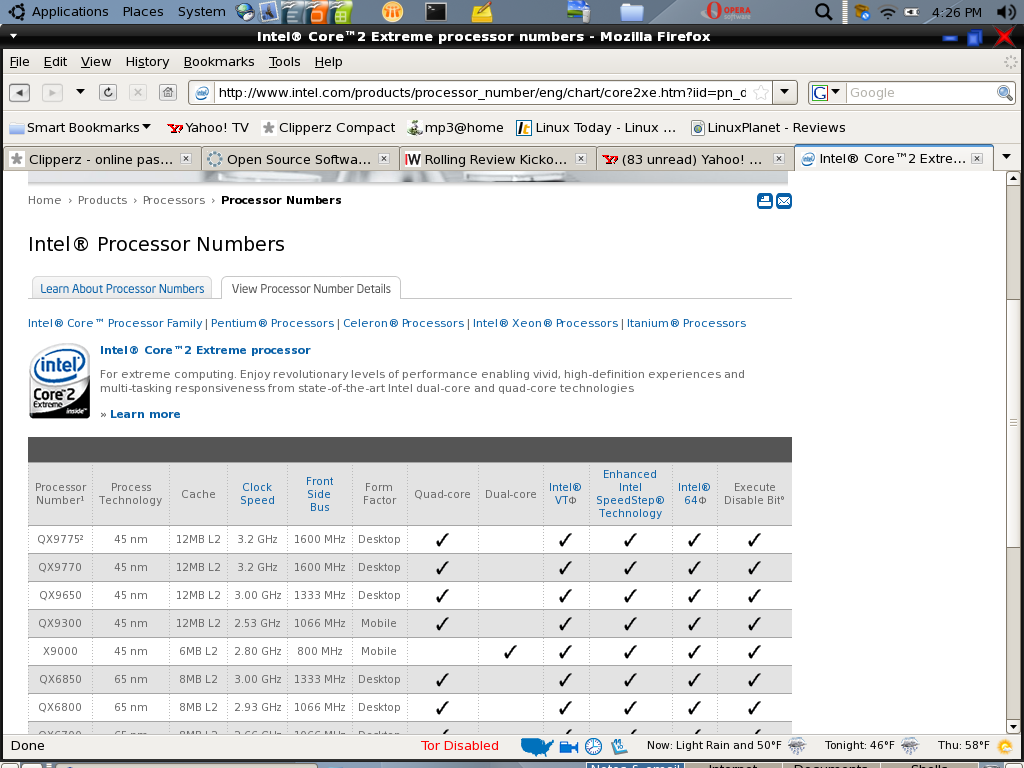 As you can see from the top of the screen shot we are looking at the Intel Core 2 Extreme Processor. Now look across the columns until you see Intel VT. Any of the processors listed in the first column that have a checkmark in the Intel VT column will support HVM technology.
I spent some time on AMD's website looking for the same thing. Unfortunately I did not find one. If I do I will post it here.
-j