Nov 30 2008 11:02PM GMT
I ran across UNetbootin after pulling out my old tablet pc and found the Windows OS full of viruses, malware and whatever someone could put on there.
After looking around for the most viable distribution to install on a tablet pc I landed on Ubuntu 8.10. I realised while I was downloading it that I would have to use a usb drive to get it installed. Enter UNetbootin. Which by the way stands for Universal Netboot Installer.
It took me all of five minutes to read the instructions and I was off and away! I downloaded UNetbootin for Windows to get started. I plugged in my 1GB usb stick and formatted it to FAT 32. I doubled clicked on the UNetbootin installer, pointed it to the Ubuntu iso file that I had downloaded, made sure it was installing to my usb stick and started the install.
Here is an image of the UNetbootin installer from their web site to set up and kick off your installation: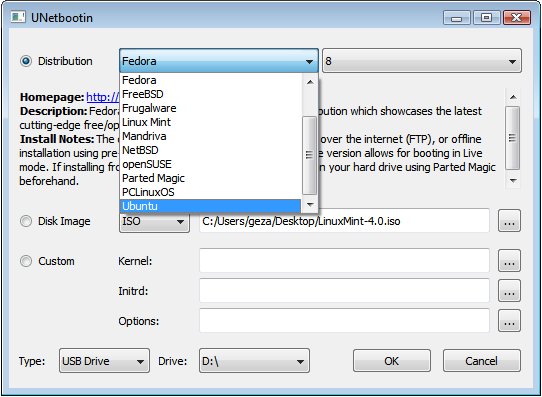 r
After Ubuntu was installed to the usb stick I rebooted and chose the usb stick as my boot media. Up pops the normal menu that you normally see from running a live cd. I chose the default option to run from the usb. One thing I noticed is that a live cd runs considerably faster from usb than it does from cd.
The nice thing about UNetbootin is that they did a thorough job on everything that needed to be done. You can install virtually any Linux or BSD distribution with this application. You can see a list of the built in Linux and BSD applications here. They also have a list of supported distributions here.
UNetbootin provides a Linux and Windows installer so that you can use whatever OS that you have available to create your live usb stick. It will work on almost any version of Windows or Linux.
UNetbootin is a very impressive application. Because of it's ease of use and wide range of distributions that it will install without any fuss I am writing this post from my newly installed Ubunty on my tablet pc. Start to finish UNetbootin took about 10 minutes to install to the usb stick. Another 30-40 minutes and here I am typing this post.
Try out UNetbootin on a distribution for which you've been wanting to try. Download time plus about 10 minutes and you should be playing with the live usb stick version.
-j