Sep 22 2008 7:56PM GMT
Tags:
Have you ever used the open source application Tux Paint? Tux Paint bills itself as "Tux Paint is free computer art software for children" or "Tux Paint is Open Source Drawing Software for children". While that may be the market the Tux Paint developer's are targeting don't be fooled into thinking that this is an application that only children will enjoy.
My daughter started using this software when she was five (she just turned 8). Within a couple of months she had over 200 original drawings saved on my hard drive. Some of these I still use as my desktop background on occasion. It's not that they are that good, but like all parents I like to have something around that reminds me of the joy of my children.
I also firmly believe that this helped her develop in many ways. She has excellent hand eye coordination, since she was using a notebook with a touchpad and keyboard. The application has a text box. Using this she learned how to spell her name and a few other words. She now makes drawings at school that are colorful, well drawn, detailed and tell you exactly what was on her mind when she drew the picture. For instance we recently adopted a dog. He is very well trained except that he likes to chase our cat that we've had for several years. She came home from school the other day with a picture of this that included the grass in the yard, the blue sky, the sun and of course the dog, with it's mouth wide open chasing the cat.
Along with all of that I found that watching her draw all of this with Tux Paint was quite enjoyable. Enjoyable enough that I started drawing with it myself. I'm no artist and don't even really mix colors well let alone draw shapes and sizes. Because of the many different tools that Tux Paint provides I found that even I could draw something reasonable. – at least by the standards I set for myself 🙂 Looking at some of the drawings on the Tux Paint Gallery I get the feeling that I am not the only adult who likes to draw with this excellent application.
Start Page for Tux Paint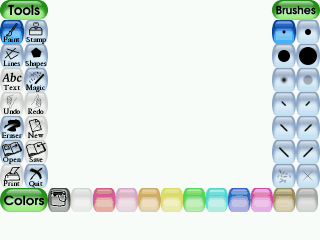 Coloring book page from Tux Paint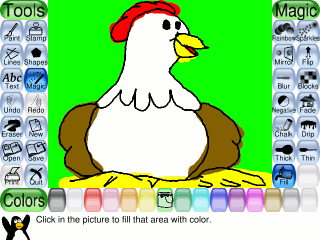 Using stamps from Tux Paint – You can even add your own!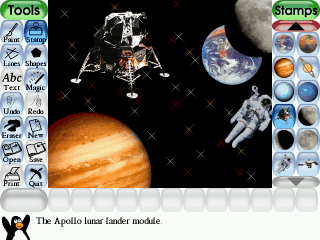 Tux Paint provides a plethora of tools to use to get exactly the drawing that you want. Not only do you get the standard assortment of brushes to use but you can create your own, make them change shape depending on which direction that they are used but you can even animate them! Tux Paint provides sound effects when tools are selected and used. They have rubber stamps, line tools and text tools. My favorite though are the Magic tools. With these tools you can make ripples in the water, make clumps of grass, make part of your drawing look like a cartoon or even draw bricks.. On almost all of these it is possible to add depth to your drawing since they can be drawn in different shapes and sizes.
So go on have some fun with your kids! Have some fun for yourself! Tux Paint is a truly enjoyable open source application that you and your family will love to use!
-j