Sep 17 2008 12:34PM GMT
Tags:
TheBrain is highly visualized mind mapping software. I tried out this software using the PersonalBrain. The PersonalBrain is a free version of TheBrain software available for personal use. TheBrain software is cross platform and available for Linux, Windows and Mac.
Webster's dictionary defines a mind map as
a diagram used to represent ideas or information branching from a central key word or idea and used as an aid in study, organization, problem solving, decision making, and writing
"mind map." Webster's New Millennium™ Dictionary of English, Preview Edition (v 0.9.7). Lexico Publishing Group, LLC. 14 Sep. 2008.
This first thing that I noticed about TheBrain is the visualization of the mind map. The graphics for this application are outstanding.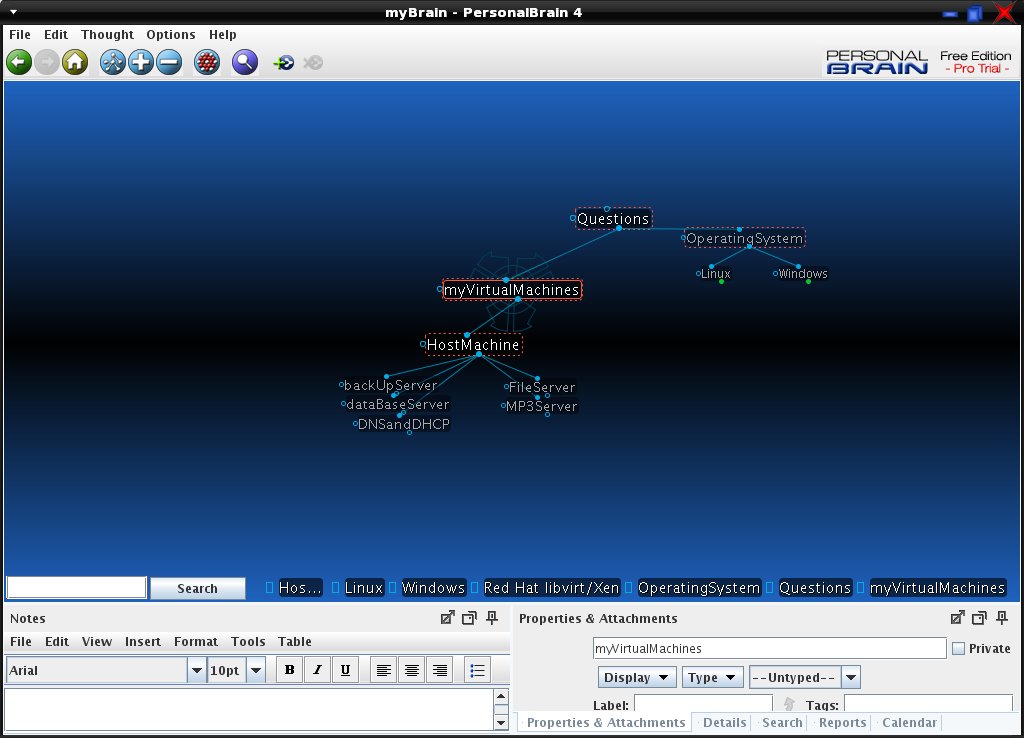 The 2nd thing that I noticed is the ease of use of this powerful software. To start you create a new brain by clicking on File=>New Brain and naming it. Once you have your brain started right click on it to create a Parent and Children for the subject of the your brain.
TheBrain software is animated. Once you have the Parent(s) and Children of your brain created you can click on any one of these to bring it into focus. This will expand all associations with that particular part of you brain.
TheBrain goes even further in making your ideas and concepts into an integrated knowledge base. You can attach supporting documents and links to web pages to any thought or process in your brain.
TheBrain is an excellent tool for collaboration between individuals and groups. Your brain can be exported as a static html page. If you have a web server you can export it complete with it's xml files for the complete animated package. You can also zip it and send to colleagues.
The developers of TheBrain software provide many tools for making TheBrain as useful as possible to you. In addition to the typical forums every Friday they have a free Getting Started webinar from 10am to 11am PDT.
TheBrain software does an excellent job of putting the information together described in Webster's definition of a mind map. It has won several awards including one of KMWorld's 100 Companies that Matter in Knowledge Management for its 6th year.
So go put your thoughts together with your new visual brain. You'll be glad you did!
-j