Oct 4 2008 1:29AM GMT
I have often wondered what is the difference between Cloud Computing and SaaS (Software as a Service). Tonight I decided to look into this and see if I could come up with some clear definition. Let's see what we can find.
According to Wikipedia "Cloud computing is Internet ('cloud') based development and use of computer technology ('computing')." Well that makes sense. The internet has always been depicted as a cloud in network diagrams. Development of computer applications and the use of computer technology to use those applications makes up the 'Computing' part of our question.
So let's take a look at the definition of SaaS from Wikipedia. "Software as a service (SaaS, typically pronounced 'sass') is a model of software deployment where an application is hosted as a service provided to customers across the Internet." Uh oh. It seems to me that 'an application is hosted as a service provided to customers across the Internet' is pretty much the same as 'an application is hosted as a service provided to customers across the Internet' through the internet cloud of Cloud Computing.
I could have stopped here and decided that they mean the same thing. But what kept nagging at me are some companies selling SaaS services and some selling Cloud Computing services. Let's take a look at some of these and see if we can come up with some differentiation.
So that we have a picture of what Cloud Computing architecture looks like I borrowed a graphic from Citrix. This graphic represents what Citrix calls it C3 or Citrix Cloud Center architecture.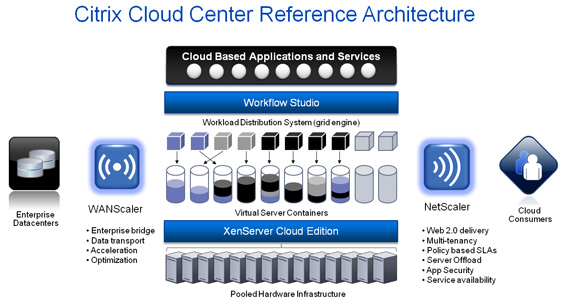 One of the most well known of either of these terms appears to be Google Apps. On their home page they bill themselves as 'Software-as-a-service for business email, information sharing and security'. Their applications provide the listed services on Google owned servers. Google is responsible for the hardware and software updates so that burden is lifted from the user organization. Ok so that covers SaaS. Now let's look at Cloud Computing.
Amazon comes up on the radar as a Cloud Computing provider. On their service page they bill themselves as 'The cloud you can depend on…At Amazon, we run one of the world's largest networks of web sites, serving millions of customers every month, and executing millions of transactions for our customers and sellers. Over time, we've developed significant expertise in building, operating, and maintaining the worldwide infrastructure required to power this business. With Amazon Web Services, you benefit from our expertise.' Amazon Web Services (AWS) is the marketing name of Amazon's cloud services.
Amazon provides backup services, real time database transaction services, resizable compute capacity, queue for storing messages as they travel between computers.
There you have it. While the services are different the idea is the same. The Cloud Computing or SaaS organization provides a technology over the internet cloud as a service. Whether it is a backup or word processor application the customer is still using software and hardware resources of servers maintained by someone else. Ultimately it appears that they are both the same. It just depends on what service you need and whether the provider calls itself a Cloud Computing vendor or a SaaS vendor.
-j