Aug 28 2008 4:34PM GMT
Tags:
The first question most Windows users want to know is how to retrieve, move or put files from their Windows machine to a Linux box or, conversely, how to retrieve them. The first thing most people think about is Windows file sharing. This, of course, requires setting up a Samba server just as FTP requires an FTP Server. So what is the quick and easy way for Windows users to get and put files from/to and Linux machine? Enter WinSCP.
WinSCP is an open source application built by Martin Prikryl. It let's you securely connect to other machines using the SSH or SFTP protocols.
WinSCP is the answer to every Windows lovers dream. It's graphical and very easy to use. If you have the ability to drag files from one window to another you can securely drag and drop files to a Linux machine and back to your Windows machine. All that is required is a username and password on the Linux box. Since the SSH daemon is setup by default on most Linux distributions it is not necessary to install any software other than WinSCP on your Windows machine.
WinSCP offers two graphical interfaces. I prefer the Norton Commander interface as it shows both the remote and local directories. I can also use my keyboard or mouse to move and copy files. The Windows Explorer interface shows just the remote folder. This interface is designed primarily for using your mouse. You can choose which interface that you prefer during installation. If you decide later that you prefer the other interface you can easily change it in the preferences dialog.
When you first open WinSCP you are presented with a login dialog. This is where you enter your username and password for your Linux box. You are given the opportunity to save the logon profile with or without the password. I recommend not saving the password.
On connecting it will open My Documents on your Windows machine and your home directory on the Linux machine.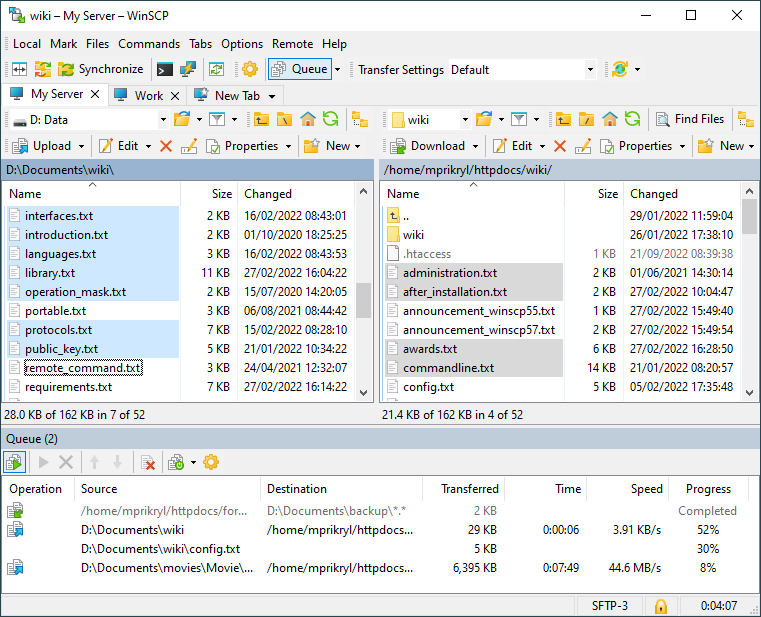 Here you can easily change directories on the local or remote machine for placing and retrieving documents or folders where you want them.
WinSCP is a very powerful application with many features. Some these include a command line interface that is scriptable. This can be automated through the use of the commands in a script file. WinSCP can also execute remote commands using a separate shell session much the same way you would use SSH to execute remote commands. You can also have several sessions open simultaneously if you need to connect to different servers.
This is a very basic overview of WinSCP. If you are looking for a way to connect yourself or your users quickly to a Linux box this is the way to go. For more information or to get and install WinSCP please visit their website at WinSCP.
Full disclosure: I have no ties at all with WinSCP other than being a very satisfied user.