Aug 29 2008 3:35PM GMT
Tags:
Do you find yourself wanting to script repetitious tasks in a GUI? Wish there was a way to automate it? There is now.
Unlike shell scripting where many tasks can be automated this is generally more difficult in a GUI. You have mouse clicks and keyboard entries to make in a GUI. AutoIT is the answer to your problem. AutoIT is designed to script repetitious tasks in a GUI, specifically the Windows GUI and Windows applications.
AutoIT is freeware – not open source – designed to automate the Windows GUI and perform other general scripting tasks. I use it at work for setting up users in Active Directory and Lotus Notes. The Active Directory part I send to the Windows command line. The Notes part is done inside the Notes client. I even have it send the New User documentation over to my Linux workstation via SCP. There I have a Bash script convert the documents to PDF to be sent to HR. Pretty cool. It saves me hours of work every Friday. Which is why I can write this post and tell you about it 🙂
The AutoIT download comes with a lite version of the SciTe IDE. You can download a full blown version customized to work with AutoIT here. With the IDE you get syntax highlighting, script tidying, debug, the ability to compile the script to an .exe file and more. AutoIT even integrates into the right click text menu so that right clicking on the script gives you the ability to run, compile or edit the script.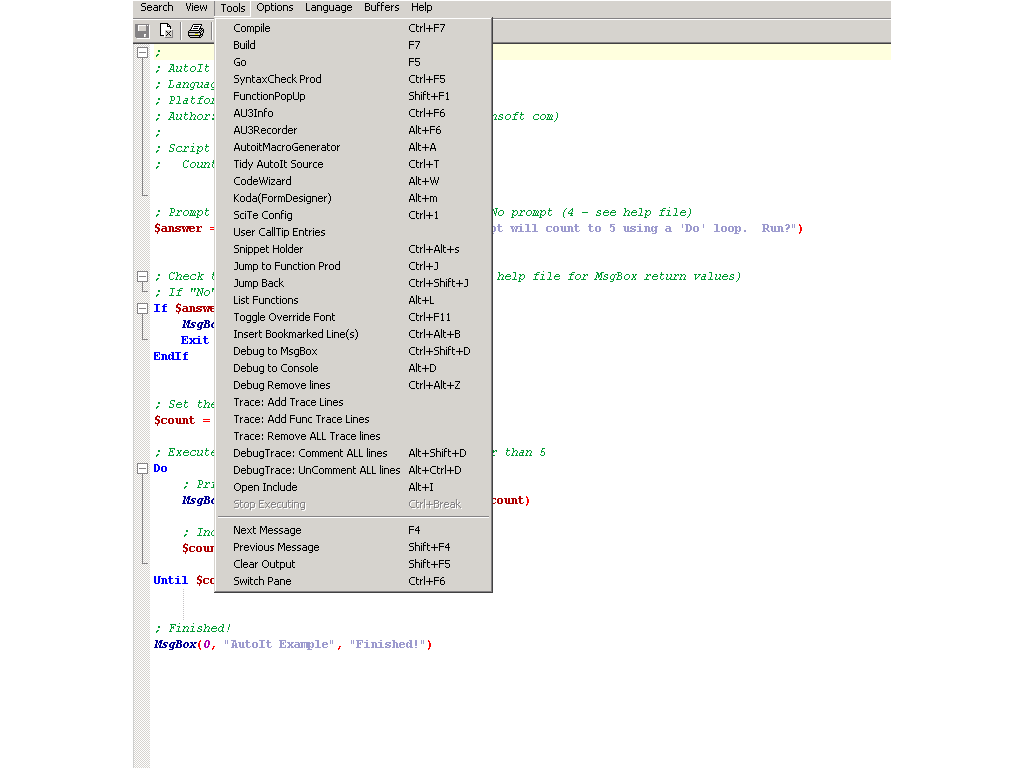 If you need to send your scripts out to users, for instance to have them perform some task or installation on their machine, the compile function is a real life saver. We use it to compile the script that installs and sets up the VPN and then send it to remote users. Just burn it to a CD along with the necessary files so that it will autorun and Voila!..no more trying to do it over the phone. Or you could just send all of the files zipped up in an email and have them put it in a folder for running..but that does require relying on the user to do something.
AutoIT also provides AU3Info. AU3Info is a tool that will help you find window titles, mouse coordinates and much more window information that will help in writing your script. You need the active window titles and mouse coordinates so that AutoIT knows when a certain window is active. Once the window is active you tell the script where to place the mouse, left or right click if necessary and what keystrokes to send.

AutoIT comes with a full complement of everything required to write any sort of script whether you need to manipulate a GUI or something that you need to run from the command line. These include datatypes, functions, macros and many others.
The documentation is excellent and very easy to understand. The forums are active and friendly to new users. So if you're tired of doing that repetitious Windows task why not give AutoIT a spin! It's a great tool for any administrator.
Full disclosure: I am in no way associated with AutoIT other than being a satisfied user.