---
October 11, 2008 12:38 AM

The developers over at Fedora are hard at work getting Fedora 10 ready for it's November release. They have frozen all major features and from the looks of things this is going to be a very nice release. If you want to try it out the beta is ready for download here.
One of the things that I am looking forward to with Fedora 10 is the improved Network Manager that will provide connection sharing and ad-hoc setup of a wi-fi network. Network Manager has already made connecting to a wireless network much easier and for it to set up ad-hoc will be a much appreciated improvement. This will make every notebook user happy.
Another cool feature is going to be streamlined printer management and handling. This is an area that many Linux distributions have struggled with for years. Most of the time I find myself using the CUPS web interface to setup and manage my printers.
If you are a virtual machine user as I am you are really going to like the Fedora 10 new remote guest creation. With this feature a central box can be used for all guest provisioning. This will also allow users to manage their storage and installation media using the libvirt virtualization API that Red Hat uses.
Finally! Somebody got serious about fast boot times. The new Fedora 10 promises to boot to the login screen in less than 30 seconds. This always makes for happy users! They are also working on making the login faster but not quite there yet.
So here you have a small number of Fedora 10 features that will provide huge benefits to your computing requirements. Whether you are a home user or system administrator the new Fedora 10 has something for you. Get the beta today and try it out or wait until November for the stable release. Either way you'll be happy.
-j
October 10, 2008 10:54 AM
A few days ago we had this quote from all over the Internet regarding Netbooks;
"They start playing around with Linux and start realizing that it's not what they are used to," MSI's Director of U.S. Sales Andy Tung said in the Laptop mag interview. "They don't want to spend time to learn it so they bring it back to the store. The return rate is at least four times higher for Linux netbooks than Windows XP netbooks."
And now there is this from SuSE:
" People typically don't care what operating system is on the netbooks, because they don't buy them to run a suite of applications like Microsoft Office, but to be on the Web using a Web browser," Nat Friedman said in an interview with IDG Applications Service. Novell's SUSE Linux is already being pre-loaded with laptops from vendors including Hewlett-Packard and Lenovo. The company is now in negotiations with Lenovo and HP to start offering its Linux distribution on their netbooks as well, he added.
That could be two very conflicting statements. If the marketing people will get it right though I believe that it should work.
It all comes down to the expectations of the users. The typical consumer, unless told several times over in bold print, is going to assume that he is getting a Windows machine. Much to his/her surprise when opening the box there is this strange beast that says Linux, no Windows logo, no notepad or wordpad, no Windows media player…do you get anything else with Windows?
The braver among them may try and make it work. However this is not the consumer's bag. He wants it to work with what s/he is familiar with. So what happens? The only natural thing that can happen-the consumer returns the Netbook.
Now picture this. The marketing people do their job and hype it up as Linux so the consumer knows what s/he is getting. The even go so far as to put usage videos on their website or YouTube. And yes they must point out that these things are available to the consumer. Now the new Linux user is more than willing to get his shiny new Linux netbook to work. Someone is showing him/her where the applications are located, which applications are used to perform various tasks such as play music, create document and spreadsheets and edit photos. Now the consumer has a Netbook computer, at a low cost and is happily running Linux on his new machine.
Do consumers care what operating system is on their computer? For the most part I don't think that they do. What they do care about is using the applications on the computer with ease. With the right marketing and hand holding and with videos showing the consumer how to use the new Netbook I think the consumers and sellers of the Netbook will be much happier. However if their expectations are different than what they are getting they are not going to be happy and the returns will continue.
-j
---
October 9, 2008 1:15 AM
I have often wondered when the thought processes of people would shift from equating Linux and Open Source as one and the same. I need not wonder any longer as that time is here. And this is a good thing.
In the past people, more often than not, spoke of Linux and Open Source in a way that would lead one to believe that they are one and the same. Until a year or two ago this was probably true as most open source applications were only available on Linux. Now though, open source applications are standing on their own and are becoming known as Open Source applications not Linux applications.
Kudos to the developers for causing this shift. Why? The open source developers, unlike Windows developers, are creating cross platform applications that will either run on Windows or run Windows software. They are doing this at breakneck speed as well. It is easy to understand why when you look at the economic business models of open source.
The business models of open source generate revenue by selling update and support services as opposed to selling licenses. It is the nature of open source to not sell licenses as the source code is open. There would be no point in it.
Now take a look at the economy. It's not rocket science to see that spending, even IT spending, is slowing down. Now, if I have a product that I will let you have for free and even give you the choice of whether or not to by updates and service with it, and it will run on Windows or Linux, what are you going to do? Go buy the Windows only application with all of it's license fees plus the annual "maintenance" fee that is 20% of the original license fee? Only if you don't have the sense God gave a baboon.
I'll give you some examples of open source applications that fill the need for productive and secure applications that can be done at an open source cost.
Vyatta open source routers. From their website: "Vyatta solutions combine the features, performance, and reliability of an enterprise router and firewall with the cost savings, flexibility, and security of open source to introduce new levels of economics, choice, and control into the network.". If you interpret "enterprise router and firewall" as Cisco or HP you are probably right on the money. No pun intended.
How about Jitterbit open source integration software? Jitterbit handles integration of data between heterogeneous applications so that the information is combined. With a customer list that includes NASA and Continental Airlines who would think that they shouldn't use open source software?
There are many others out there including Alfresco that competes with Microsoft's Sharepoint to the point of integrating with Microsoft Office and offering shared drives. Take the Zimbra Collaboration Suite that has seamless compatibility with clients like Microsoft Outlook, Apple desktop suite, and Mozilla Thunderbird, add in the connectors for Blackberry, Smartphone and Alfresco and you have a collaboration suite that rivals any on the market for functionality and beats them on cost whether or not you purchase their services.
So given today's economy and the fact the company needs to generate a profit to keep from laying off people, I believe you should strongly consider what open source has to offer.
-j
---
October 8, 2008 2:31 AM
I really can't believe this guy Michael Tan said this about Linux and Open Source:
The problem with Linux is that the backers of Linux distributions tend to be small little companies or at least not really famous ones. Funny names like Red Hat, Mandrake and Ubuntu don't help, either, not to mention "difficult to understand" business and profit models.
I certainly wasn't aware that Intel, IBM and many others are considered small little companies. Maybe in Singapore?
In December of 2007 IBM contributed it's Accessibility Tools Framework (ACTF) to the Eclipse Foundation:
"We are excited to have IBM's contribution and leadership to the Eclipse ACTF project," says Mike Milinkovich, executive director of the Eclipse Foundation. "This is another great example of organizations driving forward technical innovation through an open source project at Eclipse.
Not only that but the list of additional contributors is the Who's Who of the IT Industry:
Initial supporters of this initiative include Actuate Corporation (U.S.A.); Adobe Systems Incorporated (U.S.A.); BIRT Project, Eclipse Foundation; BrailleNet (France); Center for Mathematics and Computer Science (Netherlands); IBM Corporation; International Webmasters Association/HTML Writers Guild (U.S.A.); Japan Braille Library (Japan); Mozilla foundation (U.S.A.); Royal National Institute of Blind People (United Kingdom); SAP AG (Germany); SAS Institute Inc. (U.S.A.); SIG-Universal Access to the Internet, Internet Technology Research Community (Japan); State University of New York at Stony Brook (U.S.A.); The Carroll Center for the Blind (U.S.A.); The Paciello Group (U.S.A.); Technosite (ONCE Foundation) (Spain); Tokyo Institute of Technology (Japan); University of Manchester (United Kingdom); University of Toronto (Canada); University of Washington (U.S.A.); Vision Australia (Australia); and Web Accessibility Tools Consortium.
Or how about these folks at these small little companies that are not really famous:
Hewlett-Packard Co., Intel Corp. and Yahoo Inc. announced the creation of a global, multi-data center open source test bed for the advancement of cloud computing research and education.
Really Michael, how do you do a good job of "He is the responsible for all aspects of developing new businesses and sourcing new productlines for a regional IT distribution company. He also oversees the company's legal affairs as General Counsel." these things when you have no more insight than what is in your post?
-j
---
October 6, 2008 9:09 PM
I ran across this post from Ken Hess today. I usually hesitate to openly question what other people write and believe but I felt compelled to respond to this one.
Ken says (paraphrased)
1. Built-in Paravirtualization – I want a distribution that is paravirtualized–that is to say, a distribution that comes out of the box ready to give you the virtualization you need as a hypervisor OS
What's wrong with CentOS or Red Hat. They both come ready with paravirtualization. I am running on the laptop where I am writing this. And I firmly believe that they are considered a major distribution.
2. Applications on Demand – Instead of installing all the applications I want, or think I want, up front, I'd like to have the opportunity to install applications on demand. I want the icons already there as options but when I click the icon for the first time, the application installs, with all its damn dependencies and I have my application.
It is my opinion that Open Source Developers are some of the best in the world. I am sure that they could satisfy Ken's desire for this. Just one small problem-not everyone is going to want the same applications that Ken wants. The developers are good..but they are not mind readers.
3. Microsoft Office – No, I'm not selling out here and I know about OpenOffice.org but come on, think of the user base that would come from that port. Linux users are typically anti-Microsoft but how many would still use Microsoft Office? And, how many companies might convert to Linux if MS Office were available for it? I don't know, maybe it's just me.
Ken, I think it is just you. People are moving away from Microsoft Office for two reasons: licensing cost and open document format. Remember all of the hullabaloo a few months ago over open document format because Microsoft did not want to adhere to any standard that would allow people to translate their documents into another format? Besides if you really wanted it Crossover Office at less than $50 should fit your meager budget and allow you to use Microsoft Office-that is if the license cost did not drive it over your budget.
4. A Non-Windows-Looking-Acting-Emulating Window Manager – Every Window Manager with the exception of maybe XFCE (which looks like MacOS X) looks like, and tries to emulate, Windows. Can't someone come up with a different schema? Do we have to wait for Microsoft to come up with something so that we can copy it? Come on, get creative.
For the life of me I cannot get my Gnome desktop to look like a Windows desktop let alone act like it.
Plug in a peripheral and nothing happens–nothing visible at least. Why should I have to open a Terminal Window and mount a flash drive disk that I just stuck in my computer? Why can't Linux mount it and open it to show me the contents?
Are you using a recent version of Linux? My digital camera and thumb drives all open a window when they are plugged in.
As I said, Linux is fine for hackabee like me but we want regular people to want to use it too, right?
Using Linux, except in very rare situations is no different than using a new version of Windows. There is a learning curve about where things are placed, how to use the applications and so on. It bugs me a little that I don't use the command line as much as I used to. As an administrator it is definitely a skill that I do not want to lose.
You can edit photos, create documents and spreadsheets, listen to music, browse the web, get email and so on with Linux. And it takes no more work to do it than it does with Windows. All without the command line. This is more than suitable for most users, grandma and grandpa included.
-j
---
October 4, 2008 1:29 AM
I have often wondered what is the difference between Cloud Computing and SaaS (Software as a Service). Tonight I decided to look into this and see if I could come up with some clear definition. Let's see what we can find.
According to Wikipedia "Cloud computing is Internet ('cloud') based development and use of computer technology ('computing')." Well that makes sense. The internet has always been depicted as a cloud in network diagrams. Development of computer applications and the use of computer technology to use those applications makes up the 'Computing' part of our question.
So let's take a look at the definition of SaaS from Wikipedia. "Software as a service (SaaS, typically pronounced 'sass') is a model of software deployment where an application is hosted as a service provided to customers across the Internet." Uh oh. It seems to me that 'an application is hosted as a service provided to customers across the Internet' is pretty much the same as 'an application is hosted as a service provided to customers across the Internet' through the internet cloud of Cloud Computing.
I could have stopped here and decided that they mean the same thing. But what kept nagging at me are some companies selling SaaS services and some selling Cloud Computing services. Let's take a look at some of these and see if we can come up with some differentiation.
So that we have a picture of what Cloud Computing architecture looks like I borrowed a graphic from Citrix. This graphic represents what Citrix calls it C3 or Citrix Cloud Center architecture.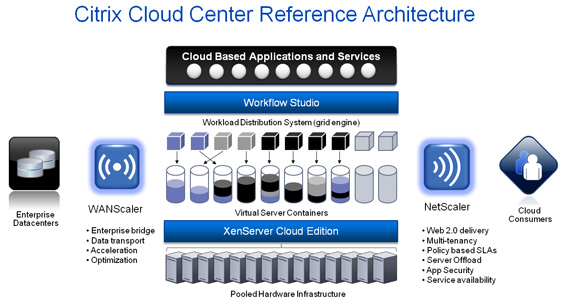 One of the most well known of either of these terms appears to be Google Apps. On their home page they bill themselves as 'Software-as-a-service for business email, information sharing and security'. Their applications provide the listed services on Google owned servers. Google is responsible for the hardware and software updates so that burden is lifted from the user organization. Ok so that covers SaaS. Now let's look at Cloud Computing.
Amazon comes up on the radar as a Cloud Computing provider. On their service page they bill themselves as 'The cloud you can depend on…At Amazon, we run one of the world's largest networks of web sites, serving millions of customers every month, and executing millions of transactions for our customers and sellers. Over time, we've developed significant expertise in building, operating, and maintaining the worldwide infrastructure required to power this business. With Amazon Web Services, you benefit from our expertise.' Amazon Web Services (AWS) is the marketing name of Amazon's cloud services.
Amazon provides backup services, real time database transaction services, resizable compute capacity, queue for storing messages as they travel between computers.
There you have it. While the services are different the idea is the same. The Cloud Computing or SaaS organization provides a technology over the internet cloud as a service. Whether it is a backup or word processor application the customer is still using software and hardware resources of servers maintained by someone else. Ultimately it appears that they are both the same. It just depends on what service you need and whether the provider calls itself a Cloud Computing vendor or a SaaS vendor.
-j
---
October 3, 2008 11:10 AM
This all started with the Novell-SuSE Linux and Microsoft deal a few years ago. Now, with Open Source virtualization coming on strong with many of the major players jumping on board, the lines are beginning to blur.
The blurred lines start as many of the newer Virtualization companies are absorbed into main stream players. Take the XenSource deal with Citrix for instance. With the acquisition of XenSource Citrix is now able to setup it's first XenServer and XenDesktop. Citrix touts that both of these are Microsoft license free. Really? TUp to a point maybe. They are also both optimized to run on Windows XP and Vista meaning license fees for Microsoft. This is where the lines start to blur. Citrix now has an Open Source product that to use efficiently is going to force you to purchase a Microsoft license for the application to perform optimally.
Take a close look Microsoft's Hyper-V product. This product, which they were originally selling for $28, is base on XenSource. They are now giving it away for free. Microsoft give an enterprise technology away? That's unheard of. The catch is that Microsoft and Citrix have agreed to work together to make sure that the Citrix applications will work smoothly with Microsoft applications. The answer to the question of why give it away is of course VMWare. They are the only logical target in something like this.
But wait you say, VMWare gives it;s products away as well. Not the high end products that contain the same functions as the Open Source products. They generate their revenues from selling high end virtualization software and management systems. And now that Microsoft is giving these away with Hyper-V, and if you don't want that you can use Citirix's XenDesktop and XenServer, who would pay for the high end VMWare products. Most likely no one.
As you can see from the above, the lines between Open Source and Proprietary (read Microsoft) are beginning to blur. Microsoft is offering a product for free that is built on XenSource. Citrix is offering the same core product to enhance it's remote desktop and server offerings and doing so with the sales pitch of it doesn't required a Microsoft license.
You can download the Citrix XenServer Express Edition for free. From a memory, CPU and number of guest machines you will get the same specs as the higher priced editions. What you won't get are things like Resource pools, XenMotion live migration, Shared IP-based storage, Resource QoS Controls and
Dynamic provisioning of virtual and physical servers.
This doesn't even get into the competition that is presented by Sun, Virtual Iron and Red Hat. However these are strictly proprietary companies that are starting to openly use Open Source in such a way that they are able to sell it as a licensed product. It remains Open Source because the code is available for the core product as is a download to use the core product.
-j
---
September 30, 2008 1:12 AM
Linux has the capability to use a large number of file systems. Generally you will find the ext3 file system on the Red Hat style operating system as the default.
The ext3 file system is a journaling file system. Journaling is process by which a file system logs changes to the file system during disk writing so that a corruption causing event such as a power outage will allow the data to be reconstructed so that the writes can be cleanly written to the disk.
Thetune2fs command is used to tune the ext3 file system. You can set parameters such as maximum mount count and different behaviors when an error is detected by the kernel on the file system.
The maximum mount count for an ext3 file system is set to 20 by default. To set the mount count to 0, which is useful when using the Red Hat Cluster Manager, you would issue the following command:

tune2fs -c 0 /dev/hda1

The file system has three error modes when the kernel detects an error on the file system. These are:
>continue Continues normally
>remount-ro Remounts the file system read-only ready to fsck
>panic Causes the kernel to panic which stops the system. This is not recommended unless you are a system tester.
An ext3 file has a reserved percentage setting. This is space that is only available to the root user. The root user can also associate this space with a system group. This is done with the -g option:

tune2fs -g admins /dev/hda2

To check your file system parameters use the dumpe2fs command:

[root@centos5-lt ~]# dumpe2fs -h /dev/mapper/laptop-root
dumpe2fs 1.39 (29-May-2006)
Filesystem volume name:
Last mounted on:
Filesystem UUID: c5167029-83e6-488a-98fa-400cc7932191
Filesystem magic number: 0xEF53
Filesystem revision #: 1 (dynamic)
Filesystem features: has_journal ext_attr resize_inode dir_index filetype needs_recovery sparse_super large_file
Default mount options: user_xattr acl
Filesystem state: clean
Errors behavior: Continue
Filesystem OS type: Linux
Inode count: 5124480
Block count: 5120000
Reserved block count: 256000
Free blocks: 637276
Free inodes: 4805027
snip

You can read about setting many more parameters for your ext3 file system by reviewing the man page "man tune2fs".
j-j
---
September 25, 2008 1:49 AM
Anyone who has used or administered Linux for any length of time has used the open source application Top. Now there are at least two others to help monitor different areas of your Linux machine. The are PowerTOP and mod_top.
Top is the application that provides information on the applications that are using the most CPU or memory. It shows the nice level of the application which really comes in handy if it is an application that you want to use but want it to have a lower priority. Beagle was one such application that I found on my machine at one time. Top is generally installed by default on most distributions.
Now in addition to Top for the operating system there is mod_top. mod_top is a module that works with the LAMP stack. mod_top monitors LAMP applications that are using PHP 4.4 and 5.x applications. The user interface is modeled after the standart Top applicaton mentioned above. mod_top can help locate application bottleneck and an applications using high memory.
mod_top is quite simple to install. Simply download and unpack the source, type make, create a symlink and add a line to your php.ini file.
The other Top application that is very useful is PowerTOP. This top is designed to help you find applications that are misbehaving when your computer should be on idle. PowerTOP combine information from various kernel and userspace sources so that you can see which applications are consuming power when they shouldn't be.
The PowerTOP website states that PowerTOP has four basic goals:
PowerTOP has these four basic goals:

* Show how well your system is using the various hardware power-saving features
* Show you the culprit software components that are preventing optimal usage of your hardware power savings
* Help Linux developers test their application and achieve optimal behavior
* Provide you with tuning suggestions to achieve low power consumption
To build the application just type make and then run the program…
tar -zxf powertop-1.9.tar.gz
cd powertop-1.9
make
make install
powertop
There you have it! At least three versions of the Linux Top applicaton to help you monitor, troubleshoot and keep your machines running in top condition. Enjoy!
-j
---
September 22, 2008 7:56 PM
Storage
Have you ever used the open source application Tux Paint? Tux Paint bills itself as "Tux Paint is free computer art software for children" or "Tux Paint is Open Source Drawing Software for children". While that may be the market the Tux Paint developer's are targeting don't be fooled into thinking that this is an application that only children will enjoy.
My daughter started using this software when she was five (she just turned 8). Within a couple of months she had over 200 original drawings saved on my hard drive. Some of these I still use as my desktop background on occasion. It's not that they are that good, but like all parents I like to have something around that reminds me of the joy of my children.
I also firmly believe that this helped her develop in many ways. She has excellent hand eye coordination, since she was using a notebook with a touchpad and keyboard. The application has a text box. Using this she learned how to spell her name and a few other words. She now makes drawings at school that are colorful, well drawn, detailed and tell you exactly what was on her mind when she drew the picture. For instance we recently adopted a dog. He is very well trained except that he likes to chase our cat that we've had for several years. She came home from school the other day with a picture of this that included the grass in the yard, the blue sky, the sun and of course the dog, with it's mouth wide open chasing the cat.
Along with all of that I found that watching her draw all of this with Tux Paint was quite enjoyable. Enjoyable enough that I started drawing with it myself. I'm no artist and don't even really mix colors well let alone draw shapes and sizes. Because of the many different tools that Tux Paint provides I found that even I could draw something reasonable. – at least by the standards I set for myself 🙂 Looking at some of the drawings on the Tux Paint Gallery I get the feeling that I am not the only adult who likes to draw with this excellent application.
Start Page for Tux Paint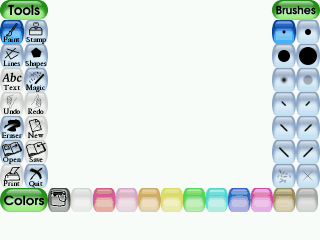 Coloring book page from Tux Paint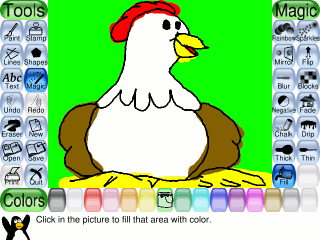 Using stamps from Tux Paint – You can even add your own!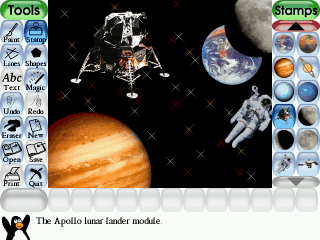 Tux Paint provides a plethora of tools to use to get exactly the drawing that you want. Not only do you get the standard assortment of brushes to use but you can create your own, make them change shape depending on which direction that they are used but you can even animate them! Tux Paint provides sound effects when tools are selected and used. They have rubber stamps, line tools and text tools. My favorite though are the Magic tools. With these tools you can make ripples in the water, make clumps of grass, make part of your drawing look like a cartoon or even draw bricks.. On almost all of these it is possible to add depth to your drawing since they can be drawn in different shapes and sizes.
So go on have some fun with your kids! Have some fun for yourself! Tux Paint is a truly enjoyable open source application that you and your family will love to use!
-j
---