Nov 26 2008 5:10PM GMT
KPlaylist is what I call an MP3 server although it can stream just about any format of music or video.
I have used KPlaylist for several years now. It is an application that I thoroughly enjoy using for listening to my music anywhere that I have an internet or network connection.
KPlaylist is a PHP based script. It requires Apache (or some web server) and MySQL to function properly.
Set up is a breeze with the exeption of running SELinux on your web server. See my previous post about working around these difficulties.
SELinux aside download and extract KPlaylist wherever your document root is for the web server that you plan to use. I have a virtual host setup for KPlaylist so that is where I extract the files. The virtual host DNS is provided by no-ipin case you are interested.
After you have extracted the file open the index.php file. You will need to answer a few questions here.

[root@web multimedia]# vi index.php
$db = array(
'host' => 'mysql0.home.local', # MySql server
'name' => 'kplaylist', # Database name
'user' => 'kplaylist', # MySql user
'pass' => 'kplaylist', # MySql password
'prepend' => 'KPL_' # To prepend before the table names
);
Once you have the questions answered simply browse to the directory on your machine where you extracted the files. You will probably need to make a host entry in your /etc/hosts file with your inside address. I would also use a server alias in your http document root or virtual host container that you will use for access your server when at home.
At this point all of the values should already be filled in for you so you simply need to click continue. Once the database is created you will need to tell KPlaylist where your music is located. You do this by clicking on settings=>File Handling and filling in the path where is asks for "Base Directory". The settings menu is found on the left hand side of the screen.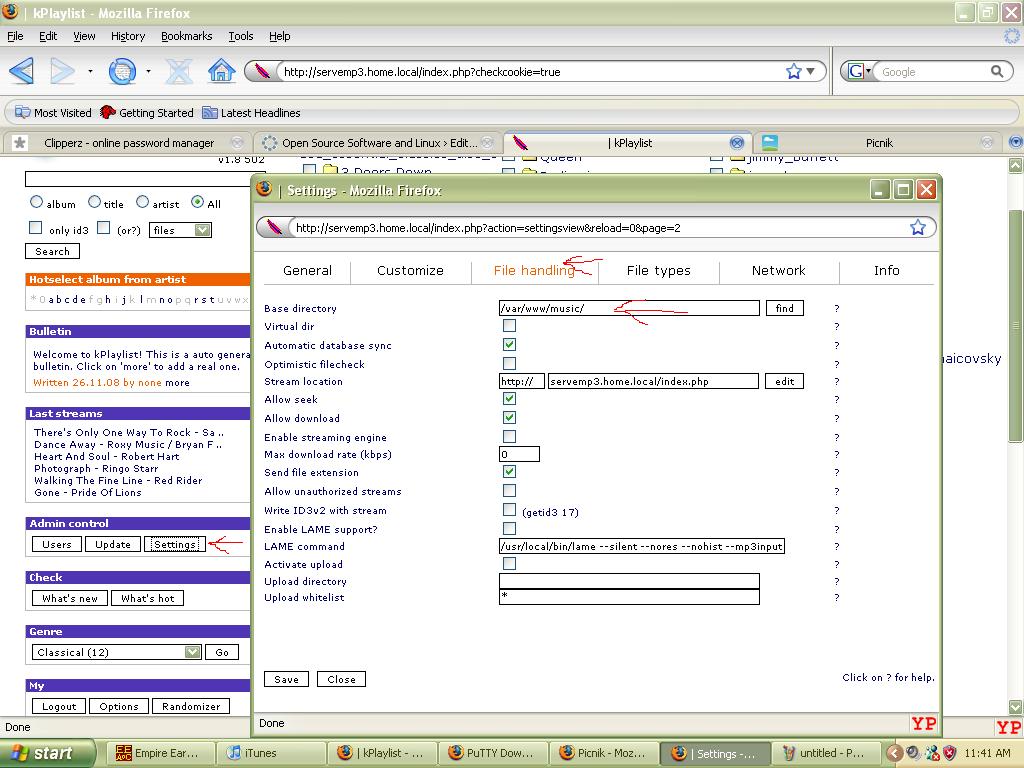 Once you set this path you should see the titles of your music show up in the right hand screen. Be sure and go through all of the admin and user settings so that you can define the look and feel of KPlaylist. You can also set it up so that it will only stream music or give your users the ability to download from your site.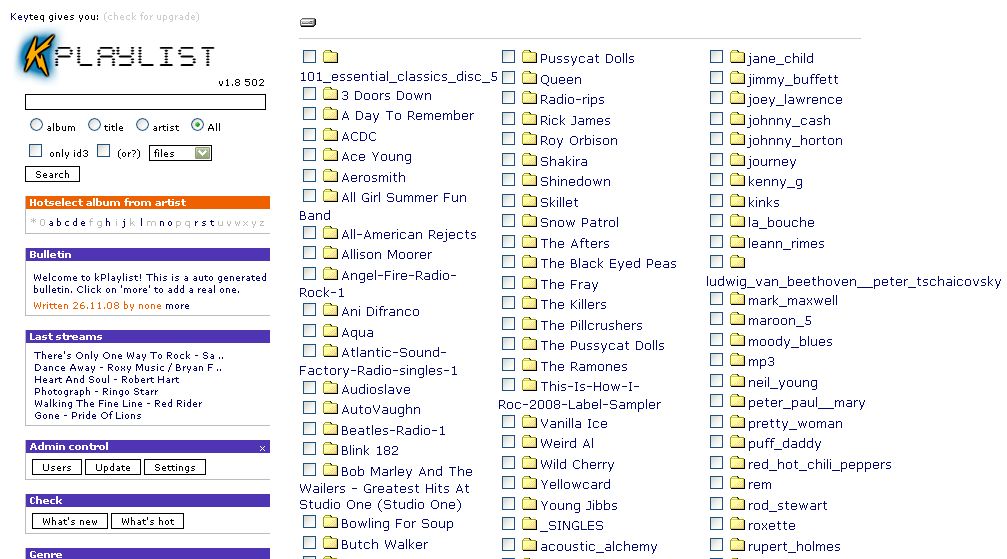 Have fun keeping and sharing your music wherever you go! Send a note to all of your friends and family about your site. Not only will they enjoy it they will upload or send you their music to place on the site as well.
-j