Dec 4 2008 6:41PM GMT
Sun has a unique application on their web site called Sun Inventory that will track hardware, software and operating systems. It is unique in that it is, more or less, a cloud application. You can access your inventory anywhere that you have internet access.
The Sun Inventory application tracks these items by installing a small application on the machine that you want to inventory. Initially it will report back the hardware and operating system. As qualified applications are installed the agent will report these back to the Sun Inventory application without any interaction on your part.
Getting started is simple. Go here to get started. If you don't have a Sun account go ahead and sign up. Once you are signed in it is a 3 step process to get started.
Step one is to download what are known as service tags. This is the application that you will install to "tag" your inventory so that it can be put into the application. Tags are available for Red Hat Enterprise Linux, Suse Enterprise Linux, Solaris and Windows. Download the appropriate tag for your operating system and install it on the machine on which you want to inventory. The tagging also works on Virtualized Machines from Red Hat Virtualization and from VMs using Virtual Box. I didn't check any other virtualization applications.
Steps two and three are discovering and registering your "gear" as Sun calls it. This downloads a small java program onto your machine to help in finding and registering tag ready machines. With this application you can find your machines in various ways such as hostname, subnet and ip address. Below is a screen shot of the information that you can use to find your tagged your machines.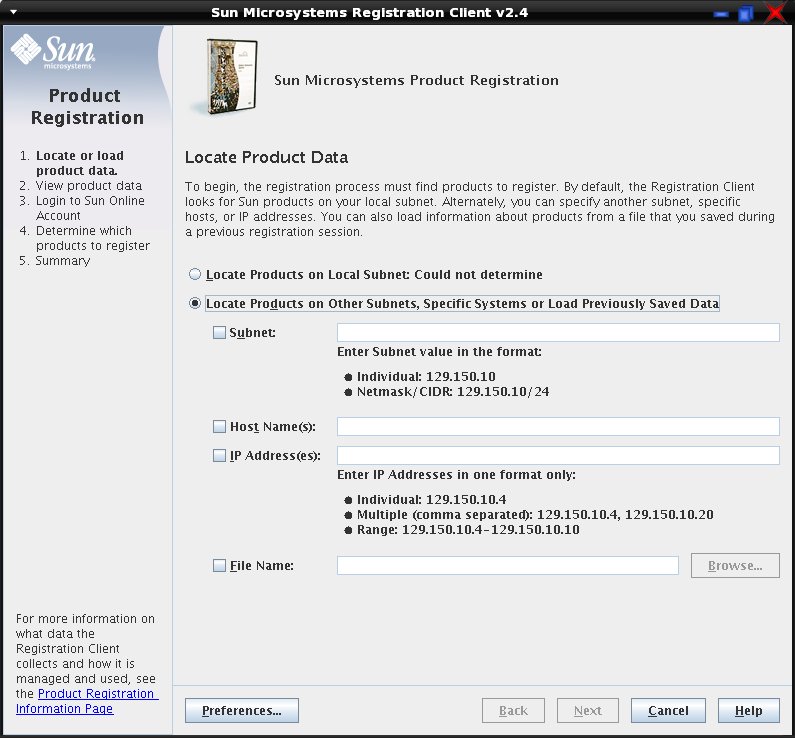 Once you have done this a screen will pop up showing the gear that the registration client found. You will then login to your Sun Account and choose which products that you want to register. Once they are registered what you will see is like the following screen shot.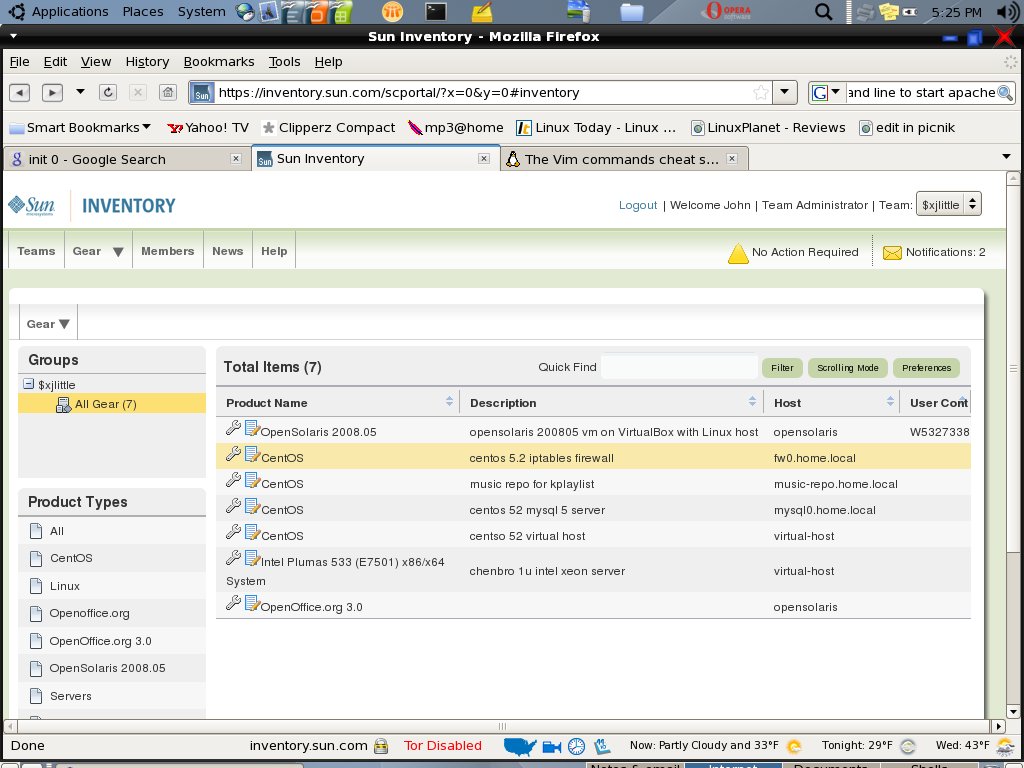 As you can see I have my 1u server tagged along with the host and virtual operatings systems. The OpenSolaris machine is running on Virtual Box. The OpenOffice application was installed after I tagged and registered the machine. Since the tag runs as a service it picked up the OpenOffice application and registered it as part of the OpenSolaris machine.
This is a great way to get your machines and related software inventoried and get control of it.
-j