---
September 22, 2011 11:12 AM
IT skills
,
ITworks
Gary Kildare, IBM VP for Human Resources previously wrote about apprenticeships. This week he blogs about career changes.
At IBM, it is important to us that our workforce reflects the markets we serve. Leaders, who surround themselves with like-minded employees, can't compete in today's world of global business. This means we aim to recruit the best people regardless of age, gender, disability, ethnic background, sexual orientation, gender identity or gender expression.
It also means we take on experienced hires who may not have IT backgrounds.
For instance, one of our managing consultants has a background in teaching. He now works with our clients to embed advanced learning technologies and solutions into their business processes.
For a candidate who doesn't tick all the boxes, demonstrating transferable skills and expertise that will benefit the role they are applying for is important. Once hired, you can work to up-skill and re-skill to further your career.
For people keen to move into the technical side of IT, you can go straight for official qualifications, but there are also many free resources available for you to gauge if a field is right for you. For instance, the IBM DeveloperWorks site offers free of charge tutorials, demonstrations and access to social networking with thousands of developers across the world.
September 19, 2011 9:38 AM
IT skills
,
ITworks
Continuing on from her blog post about how to break into IT, Philippa Snare, technical sales and marketing director at Microsoft UK looks at the possibilities offered by internships.
Choosing a career is a significant decision to make and internships can help you make that choice. Internships are an effective way to gain experience and understanding within a new environment and industry. In my mind, it's essential for anyone wishing to pursue a career in IT to actually gain a practical taste of what work is actually like in the industry away from the classroom.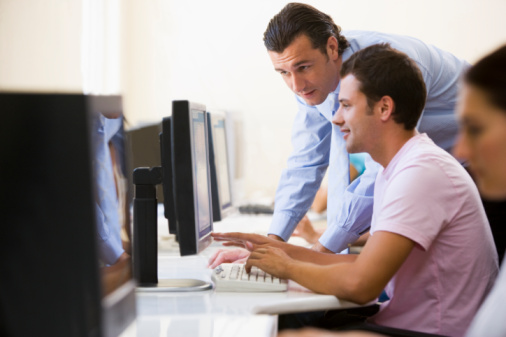 source: www.thinkstockphotos.co.uk
Fortunately, a number of companies offer work experience for students giving experience of working in the IT sector. At Microsoft in the UK, for example, we offer 100 paid long-term internships every year. These internships put students into the heart of our business and offer them an authentic flavour of what life is like in the industry. Hewlett Packard also provides an intern scheme which introduces fresh and talented undergraduates into its UK workforce. The programme sees around 80 undergraduates work across HP's business in London, Bristol and Bracknell.
I spoke recently to Sergiy Okhotnytsky, who is undertaking an internship at Microsoft with the Bing team as part of his Computer Science degree at Kent University. Sergiy has already found his internship is giving him very different experience from university, he told me: 'The main difference is that I'm working on real products that are used by millions of people. We've launched a new feature yesterday and I can see it today – it's very rewarding and driving.'
Not only is Sergiy preparing himself for the world of work, but also preparing himself for the IT industry. He's not only developing his CV, but also developing the right skills to start a career in IT. Findings from the Higher Education Statistics Agency demonstrate the value of internships. It found that over a fifth of students graduating in 2009 found work six months later with an employer they previously had work experience with. This goes to show that students who've gained work experience, and whilst there have proven they are capable and hardworking, are more likely to attract the attention of employers and create more opportunities for themselves. People remember those who have made a difference, and internships give an amazing opportunity for you to make an impression, as you get the chance to break through any expectations very quickly.
---
September 16, 2011 9:42 AM
IT skills
,
ITworks
Following on from his blog post last week on school ICT curriculum, Matthew Poyiadgi, European VP of CompTIA discusses why a degree in Computer Science is not the only route into IT.
The problem with IT's image is not just that the opportunities aren't well represented, but also that routes in are poorly understood. People assume they need an IT degree, then hear that lots of IT graduates (amongst other graduates) are struggling to find jobs.
I believe the focus on academia is misplaced for IT. IT degrees are good for some but are not the only way. For many organisations, hands on experience gained through IT trainers (eg QA, Just IT, Firebrand, Zenos) and backed by industry certifications count for much more.
CompTIA designs certifications with industry to identify the skills they need. Companies such as Microsoft, Cisco, Oracle, etc, take much the same approach. Students we speak to who take certifications, such as CompTIA A+ followed by their vendor certification of choice, consistently land rewarding jobs.
When discussing IT careers – in IT lessons, careers advice sessions or the media – we should be clearer about how students can get in, and shift the focus away from IT degrees as the de facto route. This may work to our advantage – as education costs soar, a professional career with a recognised industry certification track may become very attractive.
Furthermore, we'd like to see this real-world focused approach throughout IT education, particularly GCSEs and beyond. We need to teach IT in a practical, exciting way which relates to how it is used in real life, as the aforementioned IT trainers do with great success. This will not only inspire more young people into IT and increase understanding of how to get there, it will also ensure they have the skills to get the jobs they want.
CompTIA has just completed a guide which hopes to help young people understand the many exciting options that a career in IT offers and can be viewed here >>

---
September 9, 2011 3:32 PM
IT skills
,
ITworks
Last week Gary Kildare, IBM VP for Human Resources, discussed how to recruit graduates . Today's guest post looks at the benefits of apprenticeship programmes.
More and more companies are recognising that university isn't for everyone. Apprenticeship schemes are a way for employers to tap into talent which they may otherwise overlook. Increasingly apprenticeship positions are cropping up in the services industries – including IT.
Working closely with e-Skills and the National Apprenticeship Service, we opened the IBM Apprenticeship scheme last year. Our apprentices work while attaining a recognised qualification in ICT over two years. This has proven so successful that we are expanding the programme this year.
While most applicants had just finished their A-Levels, we had older applicants as well. One of the apprentices we took on is 30. He demonstrated the seven transferable skills we look for as well as a deep level of commitment which made him an excellent candidate for us.
In our experience, apprentices are enthusiastic and embrace a culture of learning new skills and self-motivation. Bespoke training on the job means they do it 'right' from the start. An apprenticeship can be a great choice for people who want to dive straight into the world of work while at the same time gaining access to support, training and a career path.
---
September 8, 2011 1:59 PM
CompTIA
,
ITworks
Another guest blog from Matthew Poyiadgi, European VP of CompTIA. This time Matthew calls on schools to revamp the IT curriculum.
It's all very well talking about how IT is an exciting career, but unless we start telling people about it, we're not going to attract the people we need.
This all starts with education. Too many secondary schools have an IT curriculum which teaches Word and Excel and other subjects pupils already know about. This is boring.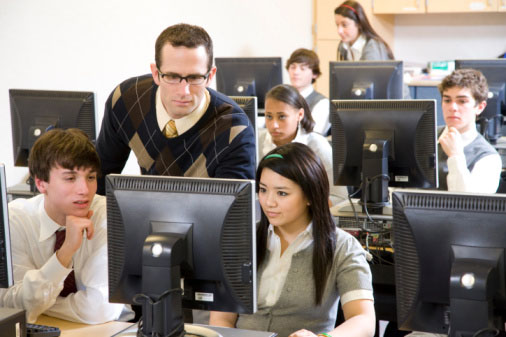 We don't teach 14 year old English students how to read, we teach an understanding of literature and use it to cultivate analytical, evaluation and communication skills. Similarly, IT should give students an understanding of how technology works and the tools to use it in productive and creative ways. It should teach subjects which, for those who enjoy IT, can be developed into relevant career skills.
Once students are excited about IT, we need to ensure that when they look for advice – from careers advisors, parents or teachers – these people have the materials to explain what IT can offer. The IT industry can help by providing these materials. CompTIA, for example has just completed a guide for use by such people to explain careers in IT and how we can help. Those interested can download the guide here.
We also need people who will fly the flag in the media. Perhaps we could even find a champion who can do for IT what James Dyson did for engineering. An even better result would be for IT professionals to volunteer to visit their local schools or college and tell students why they love their career.
It's a big job, but as an industry we need to find ways to share our love of IT with young people.
CompTIA has just completed a guide which hopes to help young people understand the many exciting options that a career in IT offers and can be viewed here >>
---
September 2, 2011 10:21 AM
graduate
,
IT skills
,
ITworks
Gary Kildare, IBM VP for Human Resources, blogs on how IBM recruits graduates.
What makes a young person stand out as a potential employee? IBM takes on between 350-500 students, graduates and apprentices each year. Over time, we've identified seven transferable skills which we ask young people to demonstrate in our recruitment process.
These are – in no particular order:
adaptability
creativity
leadership
communication skills
collaboration skills
passion for our business
a strong client focus
We find that people who demonstrate these skills during the recruitment process are more motivated and keen to take on board the training we provide.
We take on graduates and students with a variety of degree backgrounds. A recent IBM graduate studied the fall of the Roman empire and the origins of the British Secret Service for his degree. Not obvious choices for someone on their way to a career in IT. However, he is now a client systems manager and works closely with clients to understand their needs and identify the IT services and products which will support their strategy.
The world around us is constantly changing, becoming more interconnected and intelligent. Seeking out candidates with transferable skills help us make sure that our hires can adjust and thrive in the years to come.
---
September 1, 2011 3:13 PM
Career Development
,
ITworks
,
Training
,
Work
Today's post is from Matthew Poyiadgi, European VP of CompTIA. Poyiadgi highlights two young people who have chosen careers in IT, speaking to them about what makes IT great.
I recently caught up with some people who got into IT through CompTIA certifications. Their careers speak volumes about the breadth of IT careers and the interesting jobs on offer.
One, Dujon Walsham, played a critical part in building up the IT infrastructure to capture programmes for ITV Player and now helps companies like eBay and British Airways adopt cloud computing systems.
Another, Daniel O'Sullivan works for Venatrack, a company whose software tracks player movement in football matches and provides 3D digital playback for post-match analysis. On match day he supports clients using the software to make sure the system runs perfectly.
All of them were deeply enthusiastic about their careers. They work on many interesting projects using the latest technology and receive good salaries for their hard work.
One of the things that kept coming up was that, in addition to the technical side, IT can be one of the most sociable jobs around. Daniel put it well, saying "Everyone has a computer, so you have to deal with everyone from management to all the different departments, as well as with customers. It's a great way to see how an organisation is run and a great job for meeting people from all walks of life."
This is what IT is about. It's about getting involved with exciting projects, building computers and networks, creatively designing solutions (whether software or hardware) and working with people to solve problems and make their lives easier. This is rewarding career, and it is unfairly portrayed by the 'geek' image. It's time IT professionals started sharing their stories and showing the world what IT is really about.
---
---
August 31, 2011 12:54 PM
Engineering
,
IT skills
,
ITworks
,
Olympics
,
Training
Forget the 100 meters, javelin and even synchronised swimming, the UK is pinning its hopes on IT network support for a gold medal this year.
The UK is competing at the WorldSkills London event in October. WorldSkills London 2011 is the world's biggest international skills competition, covering hairdressing to stone-masonry to ICT skills.
UK network support competitor, 20-year-old Matt Mack, is currently studying for a higher degree in engineering at the University of Bedfordshire.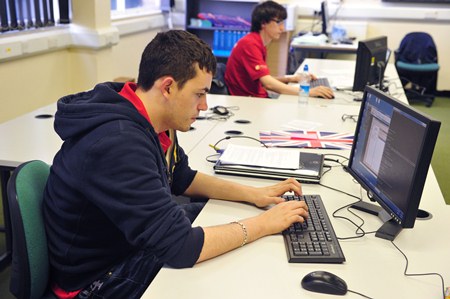 Mack won gold medal in the WorldSkills UK Microsoft Network Administrator competition in 2010 and is currently training twice a week for over five hours a day to compete again this year.
Competitors complete an average of 100 hours of training after being chosen through a rigorous selection process.
Over four days of the competition, Mack will have to set up complex networks from scratch in an allocated amount of time, without internet access or reference books – that means learning all the short-term commands and staying calm. He'll be using Cisco, Microsoft and open source technologies.
Part of the training includes techniques for managing pressure from organisation, Brathay Trust.
Young talent let down by education

Mack set up his own IT company called E-Systm.com for web design and hosting at the age of 11, making the company limited when he was 13. He now has over 450 clients, including Cisco, for his Networks Connections business.
He said he saw a technician setting up a network in his Dad's new office and thought "I can do that". And did.
Despite showing an enthusiasm and aptitude for IT at a young age, he felt let down by his IT education. The IT courses at school didn't provide the breadth or depth he needed, and simply focused on spreadsheets and word processing instead.
Mack says he recently received an email from a teacher at his old school, apologising for the lack of support he received.
"When I logged on at school, teachers' alarms bells went off. They were intimidated I could get into school servers," says Mack.
John O'Neill, deputy head of computing & IT at Barnfield College and Mack's training manager believes young people's talent needs to be channeled by educating about the career opportunities in the IT sector.
"The problem is we're dealing with digital natives. They're not coming along to do the basics. We need to make sure we can show them a career path," he says.
O'Neill previously worked for BT and later set up his own company providing networking services. When he struggled to hire young, skilled engineers for his own business, he decided to go into teaching to address the shortage of young people in the sector.
He predicts the training Mack will receive is equivalent of £30,000 of QA Training qualifications an employer would provide.
He adds that it's rare to find talent like Mack's. To demonstrate the complexity of the task at hand, I had a go at setting up a simple local area network (LAN) using Cisco Packet Tracer – under O'Neill's supervision.
My feeble attempt to understand network addresses, connecting cables, subnet masks, packet loss and configure a gateway didn't qualify me to join the network support elite. Although it did amuse Mack. Maybe next year?
WorldSkills will take place at ExCeL London between 5-8 October.
---
August 31, 2011 11:38 AM
A'levels
,
Apprentice
,
career
,
GCSE
,
graduate
,
ITworks
,
school-leaver
,
Skills
,
Student
,
undergraduate
In this guest blog post, Philippa Snare, technical sales and marketing director at Microsoft UK discusses why young people today are ideally placed to develop a rewarding career in IT.
In my opinion there's no doubt that the technical knowledge of this generation of school leavers and university students is above and beyond previous peer groups. Being a student and graduate means you are now more connected and have more choices of communication than ever before; keeping up to date with vast circles of friends and family across boundaries is now part of how you live. However, it's just as essential that as a student you posses other skills, such as professional communications, management and leadership, as well as having an understanding of how these work in practice.
With intense competition for the top entry-level jobs in the industry, it's also important that as a school and university leaver you give yourself the best chance to get the job you want. I know from experience there are many ways students can do this. For example, proactively gaining extracurricular skill-sets through programmes such as Microsoft's Imagine Cup, where school students around the world are given the opportunity to use technology to help solve global challenges and make a difference in the world. Doing an internship is also a fantastic way you can make yourself stand out and break into the industry.
Traditionally it has been difficult to find internships with top companies. But there are now a variety of organisations, including Microsoft with our Young Britain Works initiative, who offer help to find work experience to develop the skills needed to secure your first job.
Being a student today means social media is probably engrained into your life. So why not use it to start networking and finding conversations that will help you get into the industry? Following IT companies and people in technology on Twitter and connecting with key IT people and joining technology groups – like the Microsoft Young Britain Works group – on LinkedIn, will help you gain invaluable insight into the industry.
It's up to students to empower themselves by proactively looking for opportunities to gain the experiences and knowledge required to succeed in the industry. By doing this, you will start developing the right skills, building on your strengths and giving yourself the best start in your IT career.
---