---
February 17, 2014 3:01 PM
Birmingham
,
Business
,
career
,
Education
,
Math
,
Mythology
,
Ofsted
This is a guest blog from Adelle Desouza, partner marketing manager at Enlogic
As readers of my previous blogs will know, I am passionate about encouraging young people to consider a career in the IT industry. So naturally, I jumped at the invitation to speak with a group of secondary school students from Greenwood Academy as part of a recent Business in the Community (BITC) event in Birmingham. This was a great opportunity to dispel some of the myths that surround the industry I work in and stress the importance of staying open minded about career options, especially as my audience would be year 9s – 13 to 14 year olds – who had just chosen their GCSE subjects.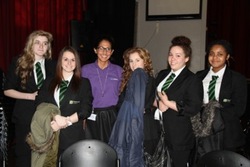 With five companies attending and 60 students to speak to, I didn't have long. However, I wanted to understand their thinking process when it comes to choosing a career and to gauge their thoughts about the tech industry as a whole. To achieve this I asked two questions: "what are you looking for most in a future career?" and "would you consider a career in IT?"
The results were conclusive if unsurprising. The majority – 45 of the 60 students – said that money is the most important thing to them when deciding on a career. A similar imbalance was true for the second question, although this time 49 out of the 60 students said they wouldn't consider IT as a career choice.
As I said, I didn't find the results surprising but I wanted to find out why the figures were so biased and address any issues behind them. From my discussions with the group I was able to understand what the students' perceived a 'good job' to be. Their definition was any job that 'pays well' – a term which by its nature is relative and so I wasn't surprised when the students couldn't give me an exact amount that would constitute well paid. This was worrying in itself, although not as worrying as the students' perception of what IT jobs are like – a worker stuck behind a desk in an artificially lit office, forgotten about until something technical goes wrong. This description also matched perfectly with the attributes that would put them off of a job. To try and bust these myths I discussed my role with them and the opportunities it has afforded me to travel. This helped to dispel the misconception many of them had of IT and some even told me how surprised they were that jobs in the IT industry can be so diverse.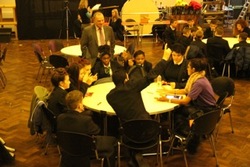 Many of the students also questioned the background requirements they felt were needed for an IT career. One person believed that you have to be "really clever, pretty geeky, good at Maths and Physics as well as being pretty confident". I explained that all industries need to be made up of a broad spectrum of people with different skills and attributes and once again, I was able to draw on my own experiences. I told the students about the variety of subjects I studied at school and how important it is to keep your options open at their age.
By the end of the day, I was glad to hear that some students had changed their view on the industry and taken on board my message about keeping their options open. However, it did make me consider whether the industry puts itself on an elitist pedestal and whether the younger generations believe that it's an accessible enough career path to give it proper consideration. As an industry we must continue to keep a steady line of communication between us and the younger generations. This will ensure the IT industry as a whole is fed from the bottom up with a range of people that offer different characteristics.
Altogether, it was a successful day that was made all the better when I was invited back to meet with the rest of the year. This was truly humbling and I look forward to returning in the future.
February 17, 2014 2:24 PM
Australia
,
Brisbane
,
CoderDojo
,
Education
,
Ireland
,
Youth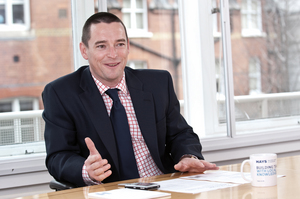 This is a guest blog from Lee Chant, UK and Ireland IT and telecoms managing director at Hays IT who shares his views on the Year of Code and the best way to teach coding to young people.
Any initiative to encourage young people to embrace technology is a good thing, and the fact that coding will become part of the national curriculum in September is a welcome move, but we simply can't afford to wait a decade for these young people to leave school with the skills that employers need immediately. The employers we work with are struggling to find sufficient numbers of skilled coders to keep up with demand, and this will have a real impact on economic growth if not resolved quickly.
The education system has a vital role to play in teaching young people the core attributes and skills that make good coders, many of which will also be essential to provide the digital skills that increasingly required in many industries, from marketing to finance, in the future. However, employers also have an important role to play in upskilling their existing workforces, and in being flexible in their recruitment to find employees with the transferable skills and ability to learn new technologies.
Businesses need to work closely with education and training providers to invest in targeted training to provide the skills they need, and ensure this training is up-to-date with new technologies. The input from employers is crucial to ensure that these new initiatives do not rapidly become out of date, educators can not predict changing technology alone.
For this reason at Hays we are working with not-for-profit group Coder Dojo to give primary school children a chance to try out coding. The foundation of its success is a joined up approach between schools, parents, employers and industry experts. It relies on a contribution of time and enthusiasm for coding from all these groups to help encourage young people to consider careers in coding.
---
February 14, 2014 11:07 PM
Christianity
,
Curriculum
,
Education
,
Massachusetts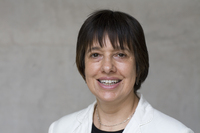 This is guest blog from Sue Milton, a member of the ISACA UK Security Advisory Group who shares her views about the government's Year of Code campaign which aims to encourage young people to become excited about technology, coding and the new computing curriculum.
Getting excited about IT is not an option for children as it is part and parcel of their life. Getting excited about understanding how to contribute to it wisely and use it well is what needs to be encouraged.
It is clear that the default, ever since the internet began, of people knowing what they were doing and would use it ethically, has meant an open and free environmental by default. Unfortunately, human beings, being who we are, will interpret the use of these freedoms differently, form outright financial abuse through to social abuse, with a mix of good along the way.
First step is to teach children the difference between end user computing and coding.
· Using an app is end user
· Making the app is coding
· Sometimes the division is blurred, e.g. Excel and the macro functionality within that.
So, in the coding space, we should be teaching them:
· The science behind computing
· How to code and the fun of getting the right result and the perils of 'garbage in garbage out' when we get the code wrong
· The principles of sound data management and data security
· Good housekeeping in terms of change management
· An understanding of how others perceive and use what we code.
In the science space:
· The basics of how maths and physics come together with the art and innovation of code to make computers fun (as in games), business partners (as in how they help companies be more efficient) and a family friend (social media, online shopping).
But within the above, we must teach them the ethical aspects:
· Rights and responsibilities of an open society in the world of computing, especially the internet
· Good and bad behaviour and the positive and negative consequences
· Introduce them to standards, quality, security and keeping safe.
Like all teaching and learning, I believe we need a mixture of both formal and informal. Formal teaching will cover the building blocks in logical way and also link them to other formal building blocks, e.g. maths and physics.
The informal approach can come from how computers are used within the home environment, and also from other formal subjects taught in school, where the computer is an aid to teaching.
Sue Milton has been in the governance and IT industry for 30 years. She has two main objectives when working with organisations. The first is to improve and embed sound governance and resilience within organisations both at the board level and in operational areas. The second is to incorporate strong IT policies and processes to reduce the potential for negative outcomes.
Sue lectures and advises on governance-related subjects to promote corporate understanding of how good governance and sound risk management enhance organisations' reputation and bottom line.Sue is currently the president of the ISACA London Chapter.
---
February 14, 2014 11:49 AM
Employment
,
information technology
,
Linkedin
,
Odisha
,
recruitment
This is a guest blog by Katrina Collier, a leading authority on the use of Social Media for Recruitment & Job Search.
In December Dice.com published a special edition of their Hiring Survey that outlined the employment picture according to nearly 900 technical hiring managers and recruiters. The results it reveals are similar to what I am hearing from UK based tech companies.
· 73% of companies plan to hire more tech pros in the first half of 2014 with 24% saying that it would be a substantial increase.
· 75% of techies cited pay as the reason they left their job.
· 34% say they've had an increase in rejected offers.
Could your company be making one of these hiring mistakes?
1. Unrealistic expectations of availability
In my last post, I mentioned Stackoverflow's findings, that there are 4 job vacancies per developer in the UK. A quick look at ITJobswatch also reflects this increase in demand.
If you want to recruit successfully then you need to have a look at your expectations. Are you being realistic? Can you look further afield? Could they work remotely? Do they need a degree from only that specific university? What criteria can you change?
2. Spray and pray.
It's a misconception that giving your requirement to lots of agencies will increase your likelihood of filling the role. It will do the reverse; it will reduce your success.
For two reasons, people with in demand skills don't like being on the receiving end of countless calls about the same role and this harms your employer brand, and agents like exclusivity and they will work much harder for you if you give it to them.
Find the specialists. Find the agents who are masters in the skillset who will know all of those people who are eluding the spray & pray job board posting agents.
And learn how you could use social media to attract talented techies to your company and opportunity. It's the age of influence; become an influential voice on social channels so you can be heard over the big boys with big budgets. Make the most of all the ways you can cost-effectively attract the right people by showing off who you are and what you're doing.
3. Focusing on the outcome not the thinking
It's interesting hearing the differing ways companies choose their talent. Like yesterday in training, when one company confessed to dismissing applicants who delivers the wrong technical test results whilst the other was sharing their reasons for being more forgiving, preferring to look at the thinking behind the result.
The latter asks their applicants in to explain their thinking, either on whiteboard or in a presentation, because they have found that they can improve the skills more easily than trying to change the way they think.
The shortage of technical talent is very real. What change could you make to improve your technical recruitment?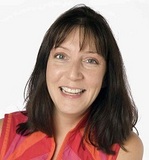 Katrina Collier is a Speaker, Trainer & Writer on the use of Social Media for Recruitment; showing companies how to recruit directly on many social sites, including LinkedIn, Google+, Facebook, Twitter, and a range of niche sites. She has over a decade's experience recruiting IT Professionals both agent side and in-house. She regularly speaks at industry events and she writes for Jobsite, Work4 and Firefish Software.
---
February 12, 2014 2:42 PM
Accenture
,
england
,
health
Over half (55%) of tech-savvy senior citizens want new digital options for managing their health services remotely, according to research from Accenture.
 Of those surveyed 69% said they would welcome electronic reminders and 77% said they would like online appointment scheduling, yet research has found only a third of healthcare providers currently offer such services.
 Accenture's survey found 27% of tech-savvy seniors in England are electronically self-tracking some aspect of their health such as health indicators (18%), weight and blood pressure, or information on their health history (11%).  
 According to data from the UK Parliament one-in-six of the UK population is currently aged 65 and over. This figure is projected to rise to one-in-four by 2050.
 Figures from the Office of National Statistics showed that between 2006 and 2013 internet use more than tripled for those aged 65+ and nearly doubled amongst 55-64 year olds.
 Aimie Chapple, managing director for Accenture's health business in the UK, said: "Just as the older generation is turning to the Internet for banking, shopping, entertainment and communications, they also expect to virtually manage certain aspects of their healthcare services."
 "To meet the needs of an ageing population, health systems need to expand their digital options if they want to attract older patients and help them track and manage their care outside their doctor's office."
Of those surveyed 60% said access to their health information is important, but only 8% are able to do so. 64% believe it is important to be able to request prescription refills automatically, but only half of respondents have access to this capability. Almost half (46%) said they want to be able to email healthcare providers, however only 10% are currently able to.
 "As a growing number of older people are digitally-engaged, healthcare systems need to consider the role the internet can play in making healthcare more convenient for patients of all ages at every touch point," added Chapple.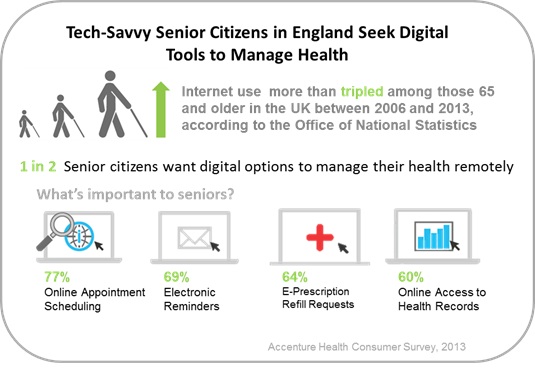 ---
January 30, 2014 5:06 PM
Education
,
ICT
,
McKinsey
,
school
,
Teacher
This is a guest blog by Jane Richardson, director of Oracle Academy EMEA.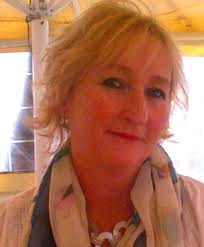 The disconnect between the skills employers expect from graduate hires and the IT education that students receive at school has reached a critical level. A recent report from McKinsey underscores the gravity of the situation, revealing that more than a quarter of European Employers are struggling to find candidates with the skills required to make an impact in the modern workforce.
So what is causing this disconnect? Part of the problem lies with the ICT curriculum that the UK currently has in place. Often this fail to keep pace with the latest technological innovations and the evolving skill-set today's 'digitally native' youth. So while some youngsters may spend their time at home writing complex lines of code on Java, at school only the basics (such as word processing and office tools) are being taught. Naturally, this leaves students uninspired and with little desire to explore the subject beyond the classroom.
Another issue is that not enough emphasis is placed on showing students how varied and lucrative a career in IT can be. There is a perception that with a qualification in ICT young people will exclusively finds jobs at an IT company or doing rather unglamorous back-office or support work – often in a male-dominated working environment.
Teachers, governments and businesses must work to disprove this perception. With the right computer science skills young people can find work in any industry, in any sector and in any position. All businesses today, and in the future, will rely to some extent on IT – for most technology is at the core of whatever they do – whether they operate in retail, manufacturing, financial services, the arts, or virtually any other discipline.
In large part, reform will come down to changing the way computing skills are taught in schools. In the UK, the government is actively looking to update the existing ICT curriculum to be fit for the modern age. Once we move away from teaching children how to use basic desktop applications and hardware and towards more involved concepts such as programming or networking, we will be on the right track.
For its part, the government and British Computing Society have unveiled an encouraging new plan to help combat the IT skills shortage. 400 "master" computer science teachers are currently being recruited to help reshape how computer science is taught in UK schools. The individuals will in turn train teachers in other schools and provide them with resources to teach more relevant computer science topics. This initiative could not be timelier, and represents a hugely positive step towards improving young peoples' IT literacy.
With businesses today putting IT at the heart of their operations to make the most of trends such as big data and the Internet of Things, a workforce with strong computer skills has never been more valuable. Arming the next generation of workers with real-world IT skills is essential, and will better prepare them to find employment and contribute in their new roles as they navigate an increasingly IT-centric world.
---
January 29, 2014 11:28 AM
Birmingham
,
Bursary
,
Education
,
Technology
Jisc, a UK technology education and research charity, is offering five start-ups the opportunity to showcase their ideas at its inaugural Digital Festival.
Taking place 11-12 March at the ICC Birmingham, the Jisc Digital Festival aims to celebrate the best in digital technologies and investigate future trends that will impact education and research.
Jisc is offering five companies the chance to secure free exhibition space at the event, a two day exhibitor pass for two people, and a demonstration slot to highlight what their company offers.
To be considered for the bursary companies applying must meet the following criteria:
Be a UK-based start-up

Have less than ten employees

Offer a technology product or service that is innovative, primarily targeting UK higher education, further education and/or skill sectors.
Andrew McGregor, deputy chief innovation officer at Jisc, said: "One of the most exciting things about the Jisc Digital Festival is the sheer diversity of people who will attend; people from a variety of higher and further education institutions and commercial organisations with many different roles and titles.
"This makes this bursary a fantastic opportunity for educational technology start-ups to meet potential customers and network with experts in digital technology."
The festival is set to include keynotes from educational experts such as Sugata Mitra and Diana Oblinger.
The deadline to apply for the Jisc Start-Up Bursary is 31 January 2014. Details on eligibility can be found here.
---
January 28, 2014 4:21 PM
Apple
,
england
,
Manchester
,
Microsoft
1,500 school pupils from across Manchester were given opportunity to learn how to write code and create apps last week.
The Careers Aspiration Event, held last week, included over 40 employers who used the day to showcase professional and vocational skills and to promote apprenticeships as a pathway into a variety of careers.
Taking place at the Manchester Central Convention Complex, 'Have a Go' activities were provided for pupils in years 9, 10 and 11 from schools within the Manchester City Council area.
Six different coding activities were set up on Apple computers so students could try their hand at what it would be like working in IT. Each activity had a code missing from the programme which students needed to replace once they had learnt to write the code. This then enabled them to play an interactive game.
Present at the event was service provider FDM Group. Heather Bridge, FDM's European training manager said: "It was a great opportunity to inspire younger generations into IT and address the skills shortage in the industry, and FDM is proud to be a part of that."
According to FDM feedback from pupils was very positive from both boys and girls present on the day. FDM said students repeatedly stated that they would rather study the subject in school if the curriculum included more activities like coding rather than how to use databases and Microsoft related documents.
FDM said they discovered that some pupils who had taken a keen interest in coding had taught themselves at home as they did not have the opportunity to do so in their school IT lessons.
The event was funded by World Skills UK and co-ordinated by Manchester City Council and Greater Manchester Learning Provider Network.
---
January 27, 2014 2:29 PM
Apprenticeship
,
Business
,
government
,
Moon
,
Youth
This is a guest blog from Stephen Bushell from Mercato Solutions who talks about apprenticeships and opportunities for young people starting out in the technology sector.
The Midlands is one of the fastest growing regions for the technology sector. Birmingham alone houses over 6,000 tech firms, employing over 38,000 people and delivering £768 million to the regional economy. To combat the risk of a skills crisis, apprenticeships should be high on the agenda of technology businesses when it comes to up-skilling the workforce and providing opportunities.
At Mercato we have developed ways to incorporate apprenticeships into our business framework, and more and more companies are following suit. Businesses are discovering that not only do apprenticeships provide young people with an opportunity to gain essential skills and get their foot in the door, but they can also bring a lot to the companies who offer to support them.
So why take on apprentices?
It has been said many times before, but it is worth noting that there is a considerable gap between the skills youngsters are developing in IT lessons at school and those required to be employed in the sector. The move from education to work is also a huge jump for young people starting out in any career and this is where apprenticeships can help to bridge that inevitable gap between education and the workplace.
Creating apprenticeship opportunities gives young people a chance to build confidence and prove their competencies in the workplace – whilst also developing a valuable skill-set. Companies that provide opportunities to young people can up-skill a local community and assist in driving business and innovation forward – if managed in the right way.
In my experience, finding the right people with the right skill set can be a challenge – not to mention that taking someone on, based on an interview alone, provides no real certainty as to whether they are the right fit for the company's culture, or how their skills will contribute to the overall corporate vision. In this way, employing new staff will always carry an element of risk in any business.
I find that employing individuals through apprenticeship schemes significantly reduces the degree of risk involved, since you not only have your own knowledge that they work well, but you are also able to develop and nurture their skills in a direction suited to your particular company. We've found our apprentices have developed skills that are of real value to the business.
Protecting the future of the UK tech scene
There is a growing appetite for young apprentices within the tech industry -particularly as the Government recently announced plans to provide financial support to anyone taking on a role within the sector.
We find that our apprentices are genuinely excited and keen to work with the technology we build and use, as well as being surprised that there are so many opportunities for training and support across the industry. Supported by our training partner, Birmingham Metropolitan College, our apprentices learn about various areas of technology, from servers to networking. We are also using our own software platform, KnowledgeKube, as part of the training process and apprentices are learning hands-on how to develop software applications without writing a single line of code.
I think this helps to combat the misconception, which may begin in the classroom, that to work in technology you have to be a 'techie' and need to have had some training in software development. That's why our sector needs to work harder at building awareness of the vast range of opportunities available in our industry, helping young people to realise that a career in technology is within their grasp.
With the UK tech sector thriving, it's critical that we drive innovation for growth and don't let a shortage of skills hold us back. Apprentices offer us a new way to nurture talent. This, I hope, will lead to a generation of highly skilled employees that will deliver significant business benefits and develop the technology landscape in Birmingham and beyond.
---
January 27, 2014 2:23 PM
Business
,
Employment
,
Linkedin
,
recruitment
,
twitter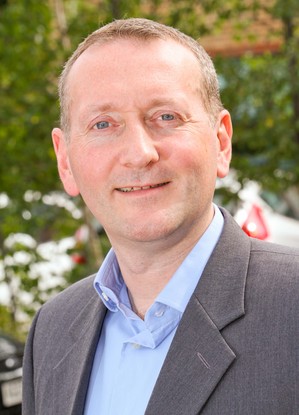 This is a guest blog from Derek Kelly, managing director at Optionis – home to professional employment provider Parasol and contractor accountant ClearSky.
Now is a good time to be an IT contractor. Rates are increasing in line with growing demand, whilst the accelerating economic recovery means assignment opportunities are currently more plentiful than at any time since the financial crash. Confidence levels amongst IT contractors are on the up.
None of this means, however, that success is easy to come by. Here are my top seven tips for a lasting, prosperous contracting career:
1) Choose the right setup for you
Many newcomers to the world of IT contracting are worried about the lack of job security and the level of admin and paperwork involved, and therefore choose to work through an umbrella company or professional employment organisation (PEO) instead of setting up a limited company. It's common for umbrella contractors to then make the leap and 'go limited' once they have gained sufficient experience and are satisfied that the contracting lifestyle suits them. There is no right or wrong answer when deciding whether to go umbrella or limited, but it's vital that you do your research.
2) Find a first-class recruitment agency
A pro-active, intelligent, helpful recruiter will be one of your biggest allies – particularly in the early days when your CV lacks evidence of contracting experience, and assignments are therefore sometimes difficult to secure. We work with lots of recruitment agencies, and what separates the best from the rest is a willingness to go the extra mile for contractors. Your recruitment consultant should know your skill-set inside out, and be able to advise you on improving your CV and 'selling yourself' more generally.
3) Learn to sell yourself
This leads nicely onto my next point, which is something that many contracting newcomers struggle with: mastering the art of self-promotion (also known as blowing your own trumpet). It may require stepping out of your comfort zone, but developing the ability to articulate your skills when speaking to recruiters and end clients could make all the difference when it comes to securing assignments.
4) Network, network, network
Keeping up appearances may seem like a drag if you're busy with your current assignment or contract, but doing so will help to ensure the work doesn't dry up in future. Successful contractors realise that things can change quickly in the contracting world, and treat networking as a future-proofing tool. Make time to meet contacts for coffee, attend breakfast seminars and show your face at networking lunches. Additionally, remember that contractors who fail to utilise social media sites such as LinkedIn and Twitter may be missing a trick.
5) Become a specialist
Positioning yourself as a specialist in one particular area requires bravery, especially in the early days when it's tempting to cast your net far and wide. However, doing so can help you stand out from the crowd. Successfully carve a niche for yourself in an in-demand field, or one that is experiencing skill shortages, and the rewards can be substantial. For example, a recent survey by recruitment firm Manpower found that IT contractors with niche skills, such as data governance, cloud and mobile, are "hugely in demand" and commanding rates of up to £1,000 a day.
6) Invest in yourself
In a fast-moving sector like IT, it's vital that you keep your skills, qualifications and technical knowledge up to date. Use periods between assignments to attend training sessions and work towards industry-recognised qualifications. Many training providers now run fast-track courses over weekends, and discounts are often available, so be sure to shop around and negotiate.
7) Keep the taxman happy
Keeping on top of your finances may be mundane, but the last thing any IT contractor wants is to get on the wrong side of HMRC. An investigation by the tax authorities can be extremely stressful and time-consuming, so it pays to play by the rules. Be sure to choose a compliant, ethical provider if going down the umbrella company route, and be mindful of IR35 if operating through your own limited company.
---