---
December 27, 2019 11:44 AM
"women in tech"
,
Creativity
,
IT jobs
,
IT skills
GUEST BLOG: In this contributed blog post, David Parry-Jones, VP EMEA at Twilio, explains why more people need to engage with the coding curriculum to gain coding skills, and why creativity is important in the software engineering world.
The future of innovation is written in software, and in the driving seat of that future are developers –  the engineers who will be building it. Software developers are the key to addressing all manner of critical business problems. They are problem solvers, analytical thinkers, creative, builders.
However, the number of students applying to computing and ICT GCSEs fell this year, which is indicative of a broader problem facing the digital enterprise: the talent gap. Then there's the gender divide. Just 21.4 percent of the UK Computing GCSE cohort in 2019 were female.
This gap, as well as the diversity of the talent pool, are problems that must be addressed. But it isn't just the education system that should be working to fix it: instead, businesses should be working alongside public bodies and education providers to find a holistic solution – whether by funding, teaching or inspiring a future generation of software engineers.
Why is it important?
When your customers come to you with a problem, it might be executives that are tasked with fixing it, but it will most likely be developers who encode the solution. Whether that's a specifically technical issue, or a wider-reaching problem, like how your business can best engage with your customers, it is code – and its creative application – that can overcome challenges.
From helping to improve simple, everyday processes to overhauling the way in which a business communicates with its customers, there's huge potential for the application of code, and coding skills. Code can help to build something as simple as a mechanism for automating backend functions of your business – and thereby save time spent on laborious, manual processes.
On the other hand, it might also form the building blocks of an intelligent chatbot as a human-facing customer service solution, to help route customer enquiries quicker and ultimately improve your customer satisfaction. Code creates solutions.
But without students engaging with the subject today, without diverse role models to encourage people into the sector, and without more funding and support for teachers hoping to kickstart the digital careers of the classes they are teaching, we will soon face a dearth of developers.
Why should businesses care?
Businesses are the ones most suffering from the lack of digital talent – or to put it another way, will be the beneficiaries of closing the digital skills gap. It's in their interest to lend their expertise to inspire the next generation of engineers, as they will be the ones looking to hire the best talent when the current cohort of students enters the working world. While society as a whole needs to put greater emphasis on the value of these skills, businesses can certainly play a part in the puzzle.
The deficit isn't just a theoretical problem, it's also a measurable one. The Open University Business Barometer suggests that UK businesses have had to inflate salaries to attract digital talent, at a cost of £527 million over 12 months. More broadly, Accenture recently estimated that the digital skills gap could cost the UK economy £141.5 billion in growth.
What can businesses do?
At Twilio, we have a long-term goal of teaching one million people to code. To help us achieve this, for example, we recently held a coding competition for secondary school students in Hackney that saw students create apps to solve everyday problems.
By highlighting the creative power of code in practical ways like this, businesses not only help students to develop their skills but also inspire them to consider a career in the field, so they can build the solutions of tomorrow.
There's no doubt that there's still a long way to go when it comes to addressing what is a deep-rooted issue. But it's only if society start to acknowledge that there's a problem, and accept that they have a part to play in creating the solution, that we can start plugging this gap.
I, for one, can't wait to see what the developers of the future build from here, and hope that other businesses will work alongside us to help create a future that will be a better place for us all.
October 9, 2019 5:58 PM
digital
,
Education
,
history
,
museum
,
samsung
,
Skills
,
smartphone
,
Smartwatch
Ten years after it was first introduced, the Samsung Digital Discovery Centre has been relaunched at the British Museum after an update to install new technology and create new digital experiences for visitors.
Alongside the updated room, the British Museum and Samsung have launched a new learning programme aimed at engaging teenagers, as well as allowing virtual visits to the museum for schools across the UK without them\ having to make the trip to London.
Called Virtual Visits, the Museum and Samsung hopes 35,000 pupils across the UK will be able to experience both the museum and its experts virtually over the next five years through broadcasting into classrooms in England, Scotland, Wales and Northern Ireland.
The programme takes into account the national curriculum when building its virtual visits, and has tried to take into account the varying levels of technology adoptions in schools.
Many believe collaboration is the way forward when it comes to teaching kids digital skills – for example partnerships between local authorities, schools and technology firms – and it is also widely believed technology should not only be involved when teaching computing, but as a part of other subjects too.
For teenagers, the British Museum and Samsung have worked alongside young people to develop access to the museum's various collections in line with what this age groups wants – an age category which is apparently very difficult to keep track of.
As for the Discovery Centre, since it opened in 2009, 150,000 people have visited it, 25,000 of which were in the year before it was closed for refurbishment.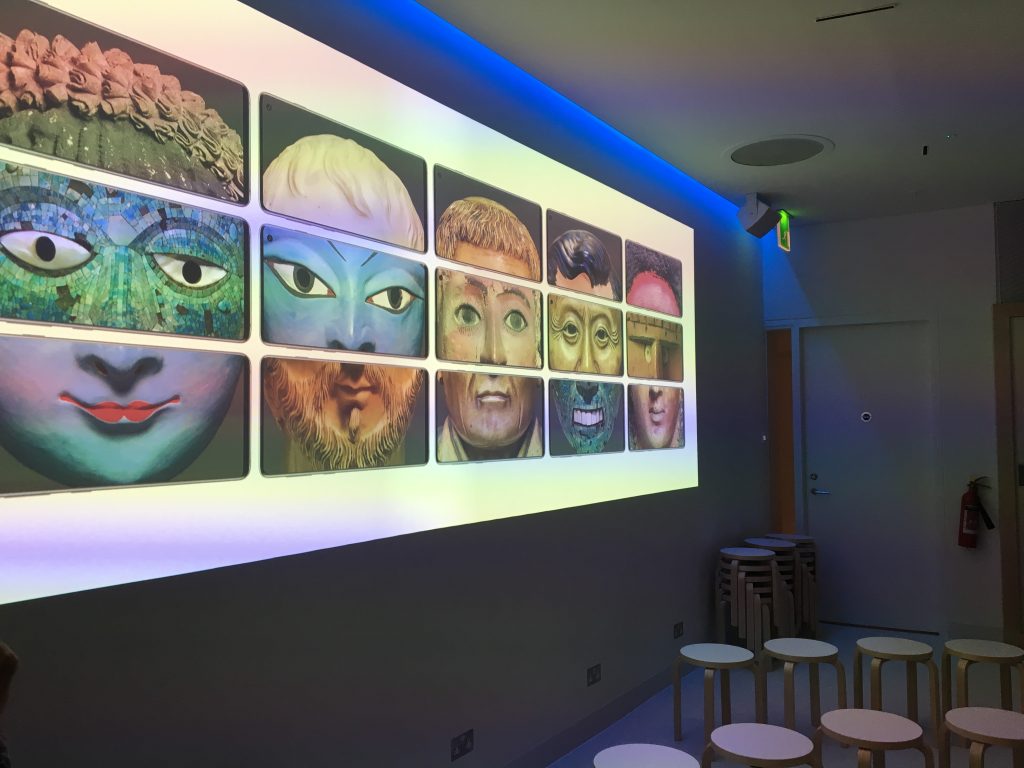 The Centre allows people to attend workshops, school visits and family drop-ins to learn more about the museum and use technology to explore its exhibits.
At a recent visit to the newly opened centre, which has been upgraded with a Samsung Flip, E-boards and Samsung Galaxy smartphones, tablets and smartwatches, I got to play around with the tech there, and take part in two of the experiences on offer – Emoji Match and Fun Family Photo.
Emoji Match
Emoji Match uses a combination of a Samsung Galaxy smartphone and smartwatch – one person wears the watch and the other is designated photographer. Participants visit museum exhibits, choosing an emoji on the smartwatch which matches how they feel about certain things on display.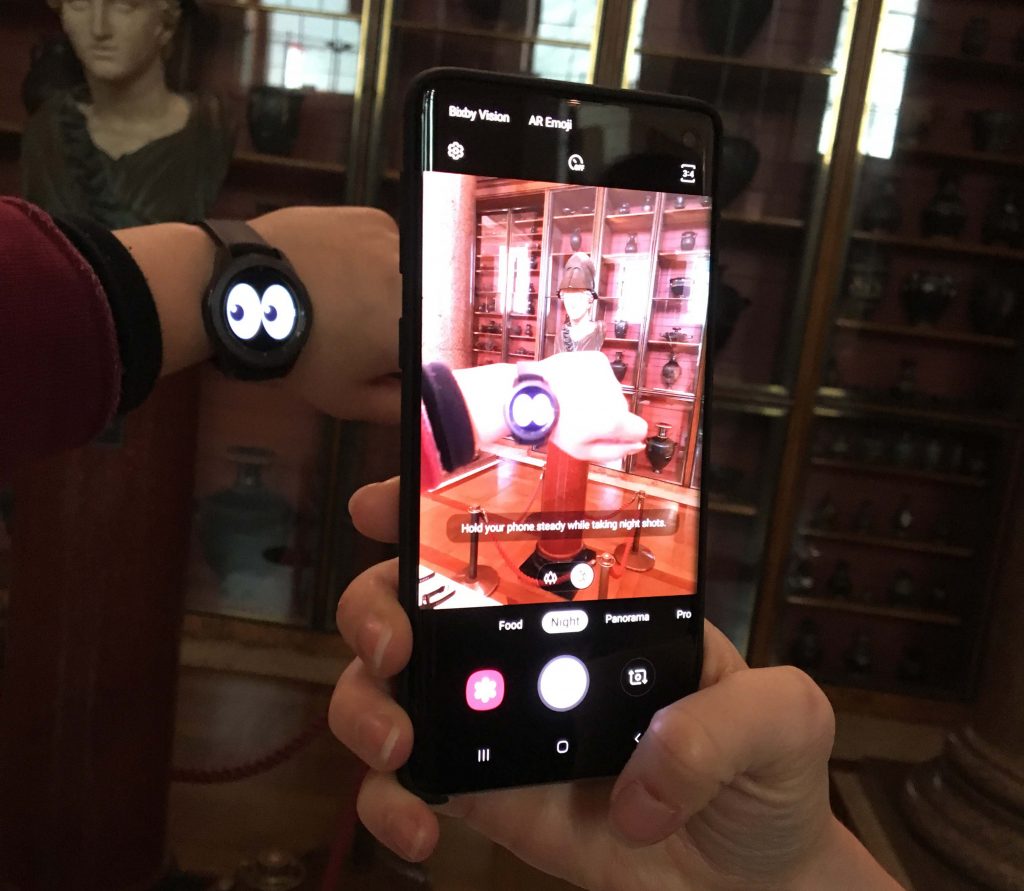 The photographer takes a picture of the emoji next to the exhibit, with the idea that using emojis not only sparks up a conversation between participants, but can also be a fun experience regardless of the native language of the visitor, as pictures can cross language barriers.
Family Fun Photo
When down in the Digital Discovery Centre, I had my photo taken in front of a green screen, which I was then able to manipulate on a Samsung tablet to make it look like I was interacting with one of the exhibits.
I was given a written guide to help me with the software, and there were staff members on hand if needed.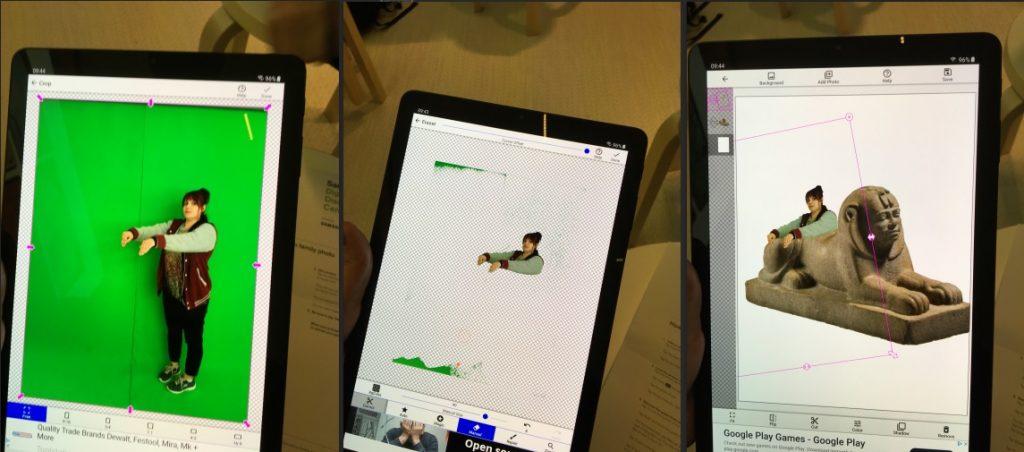 As well as the chance to fiddle with the tech, I was given a list of possible exhibits I could use in my picture, the details of which were available elsewhere in the centre through large interactive screens.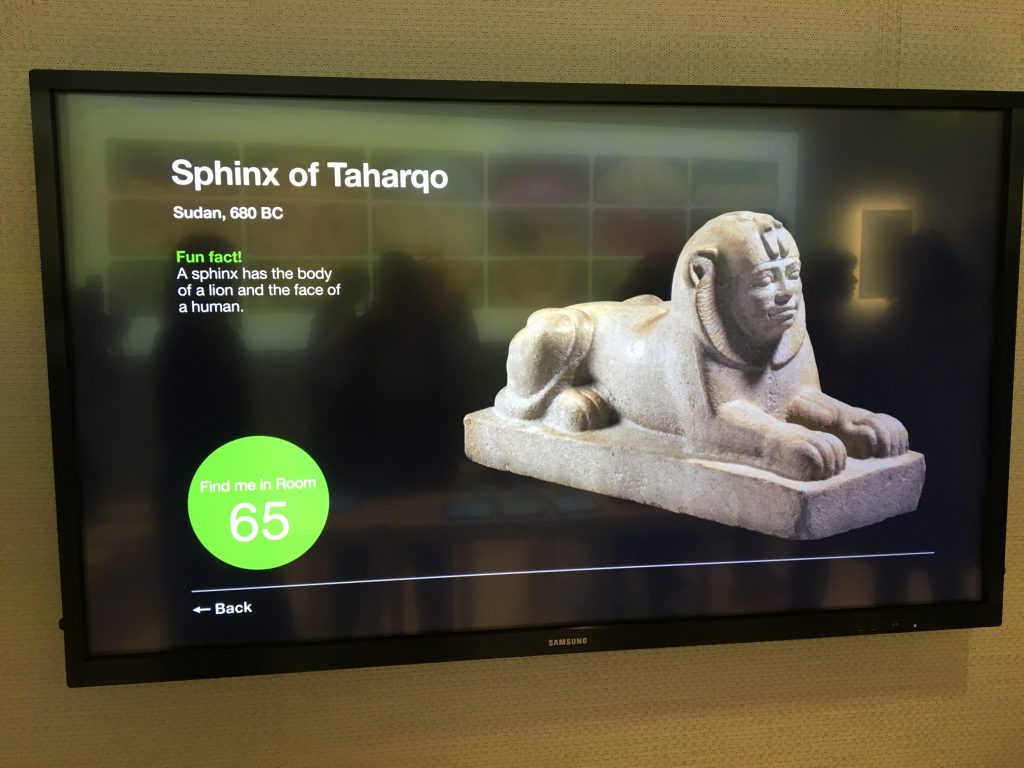 The Centre has activities on throughout the year, and is free to visit.
Hartwig Fischer, the British Museum's director, explained the new virtual visits will help young people interact with exhibits and experts where they "ordinarily might not be able to".
The hope is by using technology alongside the exhibits, as well as giving people digital access to the museum, will spark a "lifelong curiosity in the history of the world".
He said: "The advances in digital technology have enhanced the learning opportunities within, and now outside, the Museum."
The idea of working alongside Samsung to introduce digital technology into the museum is to make exhibits more accessible, as well as make people more comfortable with using technology through walkthroughs in the Centre.
The introduction of augmented reality (AR) and video conferencing technology to the Museum might not seem like much, but it means lots more children around the UK can learn about what is housed in the huge columned building in London, and we all remember the lessons as school that were a little bit out of the ordinary.
As put by Francis Chun, president and CEO of Samsung Electronics UK&I said, the collaboration between Samsung and the British Museum has allowed both parties to "constantly trial new technologies that engage children and young people in innovative ways to not only help them learn about lessons in history, but enable them to better understand the present and prepare for the future."
---
July 19, 2019 7:01 PM
"computing curriculum"
,
Coding
,
Curriculum
,
Education
,
schools
,
Stem
I went to a Code Club and polled the children in attendance to find out their opinions on technology careers, and I was surprised by their answers.
There is a debate among those in the technology industry about whether the computing curriculum is actually fit for purpose.
Despite teachers, parents and government officials alike claiming all industries will demand digital skills in the near future, there are concerns the computing curriculum is either too focused on coding, or not really focused enough on anything.
The mission to encourage children into tech roles, as well as give them the appropriate level of digital skill for other roles, seems to be an uphill battle that can only be won through further collaboration between schools, industry and government.
In some cases there are supplementary lessons, classes and clubs on offer to help encourage kids to learn more about tech in general – and some of these additional sessions tick the "collaboration" box I've mentioned above.
Are the kids attending these sessions engaged in technology, and how far do they go towards educating children about the sector and potentially helping to direct them further down the talent pipeline?
I recently attended a Code Club session at Lansbury Lawrence Primary School in London, during which I spoke to a volunteer from a local firm as well as the teacher in charge, and polled the class of eight-year-olds to find out their opinions on both Code Club and the tech industry – and most of what I learnt I had not expected.
The kid's perspective
My first surprise was the Code Club session was split down the middle when it came to gender – 50/50 boys and girls.
Whether the kids had previous experience of coding was mixed – some had coded before and some hadn't, bearing in mind I went at the beginning of term when the cohort at the Code Club was fairly new.
The boys were slightly more outspoken than the girls, which didn't surprise me as much, and the girls appeared to band together – which I thought was brilliant, because Girl Power.
My first question to the kids – what made you attend the code club?
With this question came my second surprise – all of the 15 children in the room had chosen to attend the code club, many because they thought it would be fun.
Although this wasn't the answer I'd been expecting, because if I'm honest learning to code strikes me as an activity children were more likely to be forced to do than choose to do, it was also brilliant to hear – kids are more likely to be engaged with something they've chosen to do rather than something they've been made to do.
Some said they had heard lots of good things about coding, and had heard about technology before, one girl even said she wanted to learn more about coding. These kids seemed to have a natural interest for tech, so hopefully that's a win for further down the pipeline.
Next I asked (or rather I got the teacher to ask, because I can't control kids to save my life) what they knew about technology jobs, and whether they would be interested in one.
Another surprise – the kids rolled off the names of many of the tech giants that are such a large part of our lives today, Apple and Sony among them, and claimed they thought tech was about making new products.
Some said it would be cool to see what goes on behind the scenes in the companies making today's tech.
Top on their list of priorities – making money, and being part of making cool stuff. Seems like the kids have it all sorted out.
The teacher's perspective
In the Code Club session I attended, the kids were working on a "fortune teller" project to code a random number generator using Chrome Books, a free online resource, BBC Micro Bits and Raspberry Pis.
The resource uses drag and drop elements to teach kids Java Script, which will manipulate the Raspberry Pi-connected BBC Microbit.
Bernie McNerney, the teacher in charge of the Code Club, and also the person responsible for getting more tech into the school, said there's "not much excuse" for failing to offer children extra-curricular coding opportunities.
There's an online hub where you can search for volunteers to help you out with the club – that's how Park Place Technologies, a local tech company, and Lansbury Lawrence Primary School ended up working together to provide the kids with coding know how.
Much like we all know from childhood, the lessons we remember are the ones where we got to do something fun or different – the ones where we got to set something on fire, or dress up, or put on an accent while reading in front of the class.
McNerney told me: "I feel like if I took it away, I'd be depriving them of using the computers in a fun way."
But teachers, understandably, are "reluctant" and "afraid" – McNerney said he's a bit of a geek, but he doesn't know how to code, and I've written before about how many teachers feel inadequate in the face of the computing curriculum, especially when it comes to coding.
Then, McNerney threw another surprise my way – while many people debate whether or not the curriculum is too focused on coding and not focused enough on digital skills, coding is just the "last pillar" of the computing curriculum, reserved for those who have made it to the bitter end.
The forefront of the computing curriculum is focused on digital literacy – and McNerney explained the Code Club sessions not only get the children thinking creatively about tech, it also gets them excited about it.
It teaches the kids to problem solve, and helps with other milestones the kid's need to work on at that point in time for other parts of the national curriculum, such as reasoning, learning, algebra, language and problem solving.
And in some cases, it might help address another pipeline problem – tech isn't accessible to everyone.
From a gender perspective I mentioned the split was half and half, and McNerney said if a girl considers dropping out of the club, he'll have a chat with the child's parents to find out why try and convince them she'd gain a massive amount from attending.
But the inaccessible nature of tech isn't confined to just a gender problem.
The volunteer's perspective
Tech also has a problem with attracting and retaining those from ethnic minorities and those from lower income households, for various different reasons.
For the Code Club I visited, Park Place Technologies, the aforementioned tech firm, provides the classes with volunteers who help the teacher answer the children's questions, and director of marketing in Europe for the firm, Simon Bitton, said he was interested in helping out a Code Club in this part of London in particular to help children who might not be from as wealthy a background as others.
He told me Code Club, as well as some other free-to-attend clubs, might "allow [children] further education through this free extracurricular club they might have to pay for elsewhere."
So what of Park Place's involvement? Bitton starts by pointing out the kids in these sessions may well end up in a technology career, and by placing themselves within these Code Club sessions in some shape or form, the kids may build up an affiliation with the brand early on – the firm is local to the school it volunteers in.
The firm also provides technology to schools in underprivileged areas around the world – in Ireland the firm provided a school running Coder Dojo sessions with refurbished laptops and power cables so they could better run the sessions.
At Lansbury Lawrence Primary School, volunteers from Park Place give up their time to help teacher Bernie McNerney, who started the Code Club off his own back.
Bitton told me: "We genuinely want to give back to the community and we wanted to do that through education. Education is at the heart of everything we do."
Part of that education is helping kids to become more "savvy" – like many, Bitton warns against the idea of kids as digital natives.
They might be used to using technology at home, but time spent at the school in Code Club sessions has them more "engaged" in processes such as logging in, and the club gives them an environment that's more fun, where they get to see a different side of their teacher and it's not as formal as a lesson.
Our very own… Caroline Donnelly's perspective
If you're a listener of the Computer Weekly Downtime Upload Podcast, you'll know Caroline Donnelly, senior editor at Computer Weekly and Queen of cloud, is a Code Club volunteer as well.
The Code Club she works as is on a weekend, and takes place in the public library.
She's said before on the Podcast this can sometimes pose a difficulty – the kids are used to using touch screen technology. In many cases before they can get started with the coding learning they need to be taught how to use a mouse.
But this is a minor hurdle, and Donnelly said parents and participants alike are mad keen for the sessions – the sessions she volunteers for have around seven regular attendees (two of which are girls) who are all clearly attending because they want to learn more about coding and technology.
Kids will sometimes bring projects to do which they've found elsewhere, such as on YouTube or through other platforms like Coder Dojo or Hour of Code.
Donnelly said they even sometimes suggest projects "they've come up with themselves".
"Our club runs on a Saturday morning, when there are a lots of other extra-curricular activities vying for their attention and the fact they choose to spend their morning with us is sign they find the sessions fun," she pointed out.
"You soon pick up on the kids who are there under duress from parents, and they tend to come one week (possibly two) and then never again."
An emphasis on creativity is also encouraged, a connection often overlooked in some cases when it comes to the realms of technology, with volunteers explaining to children the project guidelines are a "jumping off point".
Donnelly said: "They should feel free to make [the projects] their own however they see fit, which they always do by tweaking the functionality or creating spin-off projects of their own using what they've learned."
So are the children at Code Club engaged? It certainly seems they are.
From the answers seen above it seemed to me Code Clubs across the UK are doing what they can to help tackle what I think are some of the tech pipeline's most common problems: gender imbalance, a lack of early engagement, and a lack of knowledge about what technology careers involve.
But do Code Clubs help to feed in to the future tech talent pipeline? It seems they may well be a good start, but as pointed out by Donnelly, it is much more likely kids will look towards tech careers if Code Clubs are supplemented by other opportunities such as classroom learning and other extra-curriculars.
She said: "Our kids are all aged between 7-11 and once they age out of our group it is hard to know if they will be given opportunities (either after school or within the classroom during normal hours) that will enable them to turn their interest into a viable career,  but a lot of our kids do other coding-related activities outside of our sessions like attend maker sessions hosted by the library or the Raspberry Jam events in our local, so I am hopeful it will make a difference."
---
June 28, 2019 10:29 AM
IT skills
,
Skills
,
Work
GUEST BLOG: In this contributed blog post, Byron Calmonson, director at The Resourcing Hub discusses what the future of work will look like, and whether the next generation are ready for it.
The Resourcing Hub recently ran a Future Of Work workshop for children and young people aged 9-17 years to explore their views on tomorrow's world, opportunities and workplaces. Are they proud of us and what we have given them?
Some of the answers were not what we wanted to hear.
The research proved that this truly is an ultra tech-savvy, digital generation with a serious screen addiction. The moment they wake up they reach for their devices, they plug in to their head phones, they check their Instagram likes.
Generation Z's close knit relationship with tech means that they think it's OK to be on their phones during meal times or when they're spending time with friends and family. Their devices are almost an extension of them.
Device batteries must be fully charged and the Wi-Fi always connected or they may feel irritable and anxious. In fact, the availability of Wi-Fi is now viewed as more important than basic human needs such as food and sleep.
Many of us despair at the number of hours our children spend online. But who gave them those devices, and who pays the bills?
The uncomfortable truth is that we, their parents, are the generation who built this digital world which enables and fuels young people's screen addiction and online culture. Their reliance on tech, automation and digital solutions has been created by us.
What will all this mean for the Future of Work? Will our children have acquired the skills they require to thrive in the workplace of today and tomorrow? Are they equipped to communicate, to negotiate or even just to listen and to empathise?
Author and generational diversity consultant Jacqueline Cripps says: "We have created a culture that fuels technology addiction amongst our younger generations. We are operating in a world that has become dependent on technology and gadgets to live our daily lives. The impact this is having on Generation Z are significant – from challenges in interpersonal relationships, to a muting of soft skills, to rising mental health issues. If we don't find a balance between utilising the benefits of tech, and mitigating its risks, we are going to end up with a very troubled generation of young people."
The older generations have created so many complex structures that have served us well, but will not meet the needs of our children. For example, Christina Hammond-Aziz, private sector transformation director at Rainmaker, talks about how many of the financial products that form the cornerstones of our current banking industry and every-day lives will be irrelevant for Generation Z.
"Why are we still developing pensions for a generation that may never see a retirement age and mortgages for a generation that may never own a home?" she asks.
A further learning from our Future Of Work workshop was that Generation Z is a generation of worriers. They dream of becoming famous singers, YouTubers and footballers, but are also really concerned about pollution, plastics, climate change as well as the sharp increase in violent crime. And they fear political and economical instability.
They are growing up in a period where the Brexit debate is causing uncertainty for businesses, individuals and the economy.
It's time that we show Generation Z that we listen and that we care.
We should be investing things that will make a real difference to the futures of the younger generation. Our children want to be able to breathe cleaner air, put an end to cyberbullying and get a good quality education.
The workplaces we build for them cannot be all about technology and processes, but must have people, social values and culture at the core. Automation and digital solutions will play an important part, but in the Future Of Work people really do have to come first. Always.
I'm so sorry, Generation Z, we have let you down. Let's put this right before it's too late.
---
December 12, 2018 3:09 PM
Creativity
,
IT education
,
IT jobs
,
IT training
,
Stem
In this contributed post, MJ Chun, director of product, Anki, explains why children need to be exposed to science, technology, engineering and maths (Stem) from a young age.
Coding was added to the UK curriculum in 2014 but we recently undertook some research which revealed 43% of parents struggle to help their kids with coding homework, meaning that children don't have the same support at home as with other subjects.
This automatically puts many children at a disadvantage when it comes to science, technology, engineering and maths (Stem). We all too regularly talk about the Stem skills gap and we know that businesses are crying out for Stem skills, but it's difficult to know what 'Stem' jobs will look like in the future because of the rapid rate of change when it comes to technology.
While those who have grown up with less of a natural affinity for Stem subjects may find them intimidating, it's important to remember that one of the most valuable skills that comes from Stem is creativity – something that all of us have to some degree. In addition to facilitating creative thinking, Stem subjects also involve skills like learning to problem-solve, being inventive and learning to fail.
In Anki's experience, Stem doesn't support one particular sector of jobs, but rather it empowers us to create new things which is a skill that is transferable to lots of jobs, not just those in technology.
Whilst the adoption of Stem subjects from a young age is important, what's also equally important is how children learn Stem. This doesn't just mean what they learn in the classroom but also the whole ecosystem around their learning which means how young people interact with parents, teachers and their wider communities.
Finding role models that children look up to as they learn, whether it's a parent, guardian, teacher, sibling or community member, can accelerate and support their learning too, as can having a tool that's interesting and fun, such as Anki's AI-powered robot Cozmo, to take the first steps into Stem with.
This could be from someone who is encouraging them to stick with it, or someone they may see who creates with technology or codes in their job. Having Stem role models can be especially significant for girls, who may not as easily see themselves reflected in Stem fields.
Many people think of engineers when they think of Stem subjects, but Stem learning and subsequent skills can support a wide range of different roles. Anki believes that coding and robotics are tools for self-expression and creation, tools that children can use to invent and create with throughout their lives.
By adopting Stem-based skills from a young age, children can then apply their tech fluency to an almost endless number of different scenarios.
Ultimately, society benefits by having a more creative and empowered workforce, made up of people who are ambitious, inventive and not put off trying new things in case they fail. The individuals who learn Stem from a young age will grow up with an understanding that Stem is a communal subject, involving communication, collaboration and systems of support.
The key is to cultivate these communities so that more and more young people grow up not only with Stem skills under their belt, but also with the other applicable skills that go hand-in-hand with them.
---
May 4, 2018 1:15 PM
cybersecurity
,
IT
,
Millennials
,
Smartphones
,
Technology
In this contributed blog post, Mark Settle, CIO of Okta, talks about millennials and how they have changed the technology industry.
The millennial generation, born between the early 1980s to the mid-1990s, is widely recognised for being at the forefront of the technological revolution sweeping the consumer and business landscape. And, according to Goldman Sachs, their impact is only growing. In the US alone, millennials make up the largest cohort of employees, coming in at 92 million, compared to Generation X and Baby Boomers at 61 million and 77 million respectively. Of course, a demographic this large is going to have a massive impact in driving new technology and strategies in business.
Facebook's Mark Zuckerberg and Tumblr founder David Karp are just two examples of millennials who have become well-known and wealthy figures in today's business world. Millennials, with their unprecedented access to data and education, are changing how businesses are run. With more and more organisations looking to incorporate digital methods into the workplace, millennials can be an important asset in accommodating this shift.
Technology paradigm shift
For many organisations, traditional IT models and technologies have largely been the status quo. Take for example, how landlines and desktops are still omni-present in many offices. But as technology continues to evolve and bring unparalleled benefits to the enterprise, millennials have been a real driving force in changing the way corporate devices and services are used.
As millennials commonly use smartphones and apps in their personal lives, they expect the same in the workplace, and as a result, we're seeing the relaxation of corporate rules and a move towards a more modern technology infrastructure. Company-issued Blackberry devices, which relied on Blackberry's own (and limited) OS, are no longer commonplace. Now, it might be typical for an enterprise to adopt Android and Apple devices, some of which are employee-owned personal devices.
Additionally, the vast number of apps available on the market are also gathering momentum within the enterprise. For millennials tasked with company travel, their preferred choice is often services like Uber and Airbnb, which offer a convenient and cheaper way to travel than local taxi services and hotels. There is a growing acceptance within the enterprise to use consumer-based applications to improve business operations.
While this may cause initial concerns on the impact to IT, the fluidity in which millennials are using these devices and apps signifies a flexibility to existing IT models, and rethinking of the ways in which technology is secured.
Leading the path to a more secure workforce
Robust security must be key in today's business climate. In recent years, organisations have been hit by high profile data breaches and with the looming GDPR legislation set to enforce stricter penalties for the loss of personal data, ensuring the highest security standards is paramount. Introducing new security initiatives or outsourcing security requirements may be some tactics towards strengthening security, but securing the workforce and how staff embrace security will be just as important.
Unlike previous generations, millennials have grown up around technology and are more acute to cyber-security basics such as phishing scams. Millennials are also more likely to use growing cloud-based services, such as Slack and Trello, that offer wider security assurances through encryption and security certifications, while boosting workplace productivity at the same time. The level of security already built-in with these applications means that IT teams can invest time and resource in improving other security aspects of the business.
Millennials' experience of security with consumer applications in everyday life breeds a welcomed culture to expect the same level of security within their employer. Simple measures such as two-factor security authentication, which are common use in social media and banking apps can also be incorporated within work apps to ensure stronger security processes.
For organisations looking to capitalise on the benefits of technology innovation, the hiring of millennials will be important in supporting IT understanding and growth within the workplace. Millennial's natural relationship with technology puts them in an ideal position to help organisations' path towards more intelligent and secure technology solutions that can overhaul a business for the better.
---
April 3, 2018 8:18 AM
Digital skills
,
IT education
,
IT jobs
,
IT recruitment
,
IT skills
,
IT training
,
Skills
,
Soft skills
In this guest blog post Andrew Gardner, senior divisional director at Reed Technology, discusses what technology talent the UK will need in a digital age. 
Although we're only a few months into 2018, the growth of the tech sector shows no signs of slowing down. The ways businesses are using technology is rapidly evolving, and as such, the need to recruit highly skilled teams to programme, develop, maintain and operate this tech is increasingly important.
What our latest research shows is that as this demand has grown, so have advertised salaries for some roles.  The latest Reed Technology Salary Guides show that potential earnings for some roles soared in comparison to the same time 12 months ago. If candidates have the right skills and employers are able to invest in salaries to attract the right employees, the tech sector can continue to boom.
If you look at the analysis of last year's advertised salaries across the sector, they actually grew on average by 1.6%. However, this doesn't tell the true story. Far from it. The real opportunities are revealed by major leaps for specialist roles such as Java Developers, which experienced a massive 9% increase.
These leaps are largely down to a combination of the demand for technical skills being high, with candidates possessing those skills becoming increasingly difficult to source. That said, the trend for these kind of roles isn't a recent one. For instance, in the last two years Full Stack, .Net and PHP Developers have seen advertised salaries increase by more than 10%.
With more than £6.8bn invested in the sector in 2016 alone, the UK continues to make a name for itself as a tech heartland as we spearhead the 'fourth industrial revolution'. As a result, this is reflected in advertised salaries and an increase of 12% in numbers of advertised jobs last year.
These figures indicate that the war for tech talent will not be letting up any time soon.
However, this doesn't mean that candidates can just walk into highly-paid work. With bigger salaries comes greater demand for diversity of skills. Employers are not only looking for highly skilled analysts and developers, they also want people with good management and commercial skills.  Finding candidates with this mix of technical and commercial abilities will enable companies in the sector to continue to grow.
The sector needs people who are passionate, show a real desire to learn and both love and live technology. As Generation Z enters the workforce, we will see a new breed of candidates with a strong appetite for learning. Employers may need to adapt to ensure they attract the best and brightest new talent.
Naturally, having grown up in an era of smart technology, and being able to access anything on demand, Generation Z will be attracted to companies that are successfully using the most up-to-date digital technology. They will not be satisfied with being glued to a desk all day, and will expect an element of mobility and flexibility from their career.
This new generation are not only quick and flexible learners, who enjoy being in a fast-paced environment, but they live and breathe technology and will expect the same attributes in return from an employer. However, while businesses may need to adapt, the challenge for candidates will be to distinguish themselves from the competition.
For employers, to initially attract the best candidates it is important to be clear and manage expectations from the very beginning, offering long term, rewarding and successful careers with the organisation. They also need to highlight fantastic opportunities and the chance to upskill where necessary.
The technology industry is booming, and salaries, jobs and opportunities to expand skillsets are growing every year. The challenge now will be for candidates to take advantage of the opportunities available to them and businesses to not just be an employer, but a brand that is recognised, respected and attractive to those it wants to recruit.
---
October 25, 2017 9:59 AM
"tech skills"
,
Big Data
,
Data Analytics
,
Data Science
,
Engineering
,
IT skills
,
Maths
,
science
,
Skills
,
Stem
,
Technology
In this contributed blog post, John Brodie, CEO of Aquila Insight, discusses the importance of data skills and how science, technology, engineering and maths (Stem) education can help tackle the big data skills shortage.
Big data will continue to play an even greater role in business and many companies that rely on data analysis across the UK will soon suffer from a recurring nightmare – a lack of employable people with sufficient skill sets under their belts to help analyse the vast amounts of data we'll see.
Research by IBM sets the scene suggesting we'll see the number of job vacancies for all data professionals increase by 364,000 to 2,720,000 in the run up to 2020 (figures based on the United States). Unfortunately we may not have enough skilled people to do these jobs.
With many changes on the horizon, the increasing lack of data-specific skills across the UK will start to look very interesting over the next few years, especially in the lead up to the likes of Brexit and the introduction of a more "millennial" workforce by 2020.
So if businesses are struggling to source the right people now, how will these factors further add to the growing recruitment issues and skills shortage many are already facing?
Invest in Stem
The Stem skills debate is ongoing – with no real resolution to the limited amount of investment in this area. So despite the fact that by 2020 half the work force will be millennials (in the US alone), if this reduction in Stem-related skills continues, new workforces will be unprepared for the complexities of digital roles now and in the future.
Recent trends, particularly in Scotland, have seen the removal of pure math and statistics courses. This is also coupled with the shortage of Stem teachers, with figures highlighting that Scotland is losing two science and maths teachers almost every week. We're now starting to see similar trends trickle to other areas in the UK. It's clear that businesses will face big challenges when it comes to recruiting the right analytical talent in the future, with the McKinsey Big Data Report of 2011 into the data analysis skills shortfall certainly showing itself to be true.
Data is growing at an exponential rate so this skills shortage will impact on businesses and of course their clients and brands. If something isn't done now to help re-balance this skills gap, businesses will find it increasingly difficult to draw insights from their customer data in order to make better decisions. This will result in their competitors from countries which see education in math and statistics as a priority gaining an advantage. Businesses have to rely on the acumen and analytical skills honed in Stem graduates to help us help customers get more value and better understanding from data.
Invest in data education
As a collective, businesses need to start investing more time in coming up with innovative ways to talk to and inspire the next generation of students on their employment options with math and science-based courses. Our industry must start educating young students about the vast array of roles that a maths-based education will offer them.
Highlighting why working in Stem-based job roles is a good career and nowhere near as dull as it's traditionally perceived, will be the first step in engaging those that have an interest in this area but are stuck thinking there's just a few routes in.
You don't have to go into an accountancy practice or crunch data in a bank – you can work with some cutting-edge retail brands or challenger utility or financial companies. In this digital age, all types of brands have a growing mass of data about their customers and more and more businesses are going to need smart people to help make sense of that data and enable businesses to make better business decisions.
Invest in talent
Into 2018, we're going to see a continued trend towards technology becoming more commoditised and even cheaper. Talent and the investment in people will eventually become the most expensive and the most sought-after element for companies looking to understand their customer base truly. We need fresh thinking and better marketing to develop and entice the next generation of data analysts – including removing the perception that data analyst equals geek. Analysts should become commercial business people, interacting with clients and not stuck in a darkened room!
If we don't get this right and start now, the bad dream will turn into a never-ending nightmare.
---
April 18, 2017 3:59 PM
Mobile devices
,
retail
,
Technology
In this contributed blog post Paul Reed, regional product manager for Zebra Technologies discusses the technologies retailers should be choosing to increase warehouse productivity.
In recent years, the dramatic increase in online shopping has had a huge impact on the retail industry. Long gone are the days when purchasing goods or groceries was done from Monday to Saturday, between 9am and 5.30pm.
This new approach to e-commerce and on-demand culture has many plus points for the consumer – convenience being the key driver. It also gives retailers a fresh challenge that they must meet to stay ahead of their competitors.
In the retail chain, there is one key demographic under more pressure than ever: warehouse staff. For warehouse managers, this advancement in retail culture has meant being subjected to immense pressure to get a greater volume of goods shipped on time.
Warehouses are evolving from simplified operations to tightly integrated profit centres. Logistics firms and retailers are now looking for new innovations to help them keep up with changing consumer demands.
In this sink-or-swim environment, it is important that warehouse managers adopt the right technology to ensure fast-moving consumer goods (FMCG) remain, well, fast moving. The key to smooth operations is deploying the right handheld mobile computing solution. With this challenge in mind, what should warehouse managers look for tech-wise when doing this?
Design shapes functionality
Design is fundamental – specifically ergonomic design. We would advise avoiding the traditional design where the device scans an item and then the user has to tilt the computer to look at the screen. Newer designs enable warehouse operators to simply hold up the device in one position, with data capture capabilities at the rear of the device. Studies have shown that the removal of an up and down scan tilt action, and adding all touch software to the new product, can save an hour per worker per shift.
New mobile computing devices can be 33% lighter than traditional mobile computers, therefore these are the best options for warehouse staff under pressure. Lighter devices reduce worker fatigue, as minimal effort is needed to use them. Smarter solutions also feature a hands-free proximity scanner in a handheld device, which can be enabled from a hip holster, presentation holster or a cart mount.
Software and shelf life
On smarter mobile computing devices, the traditional "green screen" software found in most warehouse technology has also been replaced with "friendly touch screen buttons" – which means there is no need for a keyboard.
If the intended use for the handheld computer is purely for the warehouse, it is important to choose devices that are Wi-Fi, NFC and Bluetooth proficient. NFC and Bluetooth are particularly important for the swift connection to printers, essential for the labelling of goods and items ready for dispatch.
Before purchasing mobile computers, it is worth speaking with your developers. This is to ensure devices can be adapted to suit specific warehouse needs. In the future, these devices will make better use of Augmented Reality (AR). This is already proving useful for selecting goods for dispatch in a more streamlined way and can even be used for staff training.
As well as design and software applications, it is vital that mobile devices have a good battery life. Our advice here is research devices that can function for nearly 16 hours, or two full shifts. Also check that the shelf life of the product is between three to five years, to ensure you get the most return on your investment.
The future
The introduction and selection of new handheld mobile computers has helped companies boost productivity. Ultimately, this helps businesses operate more profitably during challenging periods. The ultimate goal of inventory management is to optimise supply chain practices to minimise costs without jeopardising service to customers. While there are many factors involved in gaining better control of inventory, upgrading warehouse hardware has helped to manage inventory in a leaner way, especially when it comes to multi-channel fulfilment complexities.
---
February 7, 2017 10:48 AM
ai
,
Artificial intelligence
,
Brand
,
personalisation
In this guest blog Gavin Mee, senior area vice president of enterprise UKI for Salesforce, discusses how artificial intelligence may be the next step in connecting with the modern shopper.
Ever since a computer first beat a human opponent in a chess game, artificial intelligence (AI) has proven its potential to interpret and act on provided data. Deep Blue cemented its place in history in the 1990s when it beat chess champion Garry Kasparov in a tense, televised finale. And earlier this year, computer scientists went a step further and developed an artificial brain, "AlphaGo," to beat a human at 'Go' – one of the hardest games of logic and intuition on the planet today. The reason that Go is so difficult is that it requires continual learning of new techniques and accurately forecasting how your opponent will play.
It's an interesting game – and one that has implications for the retailer today, because AI is no longer just for gaming. As today's brands seek to personalise the customer journey to a greater degree, it's time for the smart retailer to think one step ahead and embrace AI.
For instance, AI-enabled e-commerce platforms can provide product recommendations to personalise offers to customers, predict which goods and services they are likely to want, and provide insights as to how smarter merchandising and product purchase correlations can enhance overall sales. According the recent Salesforce State of Connected Customer report, 45% of consumers and 57% of business buyers say that by 2020 they will switch brands if a company doesn't actively anticipate – and act on – their individual needs.
What's more, modern AI is easy to use – by everyone.  Previous iterations of AI required data specialists and back-office IT teams to manage the technology and understand the insights. But no longer. New technologies offer solutions that a whole host of employees, from marketers and sales strategists to finance teams and customer experience experts, can use. For example, Salesforce AI technology, called Einstein, is fully embedded across all of our technologies so that anyone in an organisation using Salesforce can now benefit from having their own 'data scientist' in their pocket  ̶  right on their phone.
In recent months, AI has moved into the mainstream to the extent that customers may not even know they're interacting with AI:  Amazon's Dash services are just one example. AI is anticipating the needs of customers and this is vital in delivering the VIP experience they want.
Millennials, in particular want to walk into a store and get the red carpet treatment. A personal, 1-to-1, seamless experience is important to them and makes them feel valued. It's essential to remember however, that while personalisation is important to everyone, millennial expectations are markedly different to those of their parents.
For example, this younger generation is almost three times more likely to expect the stores they visit to know all about their online shopping and research on that retailer's website (42% of millennials feel this way vs. 18% of baby boomers). Once again, it's all about retailers' ability to blend both online and offline interactions into a seamless, customer-centred experience to deliver a personalised journey – the "star treatment" younger customers increasingly expect.
Don't forget, this demographic is demonstrating increasing spend and because of their age, offer retailers a unique opportunity to put a stake in a customer relationship which could ultimately span decades. It stands to reason, then, that a clear understanding of what millennials expect from their shopping experience should be front of mind for retailers
Expect to see more AI innovations in the coming year, because it's set to be big business, next year and in the years ahead. And remember, as a retailer today, it's never been more important to have insight into our customers – insight that gives you an incredible advantage to win the hearts, minds, and purses of customers.
---