Feb 1 2008 6:53PM GMT

Profile: BrentSheets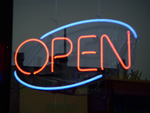 If you're serious about improving your presentation skills, visit our newest community blog by presentation veteran William Peterson.
William provides best practices, discusses proven techniques and welcomes the open exchange of presentation ideas and experiences. Visit the brand new Business Presentation over your IT blog and start polishing up those rusty presentation skills today.
IT Knowledge Exchange provides free blog hosting for IT-related blogs. Browse our growing list of blogs written by fellow ITKE members and consider starting your own blog with us.


Community Manager