Aug 8 2011 3:32PM GMT
Tired of being mocked by your friends because you know a little too much about Microsoft? Don't worry, at IT Knowledge Exchange, we embrace and celebrate your nerddom. Put that miscellaneous tech knowledge to good use, earning free IT books, IT Knowledge Exchange swag, and Knowledge Points by checking out the IT Knowledge Exchange Tech Trivia in our newsletters. Every Tuesday and Thursday, take a peek at the sidebar for the latest nugget of tech trivia to win. The first person to email me the correct answer wins! With two chances a week, you're guaranteed to learn a new thing or two.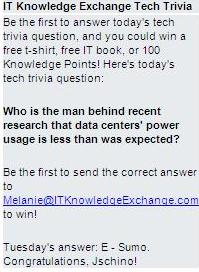 Not signed up for the newsletter? Sign up for the IT Knowledge Exchange Community newsletter by editing your account. Already receive the newsletter? Hit reply to tomorrow's newsletter with your favorite article featured in it, and we'll give you 50 Knowledge Points!