Nov 7 2007 9:42PM GMT

Profile: BrentSheets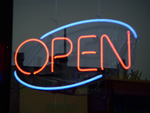 Hello ITKE community,
I wanted to let you know about a couple of brand spanking new blogs we just added to IT Knowledge Exchange. Check them out and be sure to leave a comment to welcome them to our ITKE community.
The first blog is from fellow member Ryan Shopp and is called Adventures in Data Center Automation. Ryan is going to blog about the latest data center trends and share his tips and tricks to help you achieve a "Lights Out Data Center" through software automation. His topics will span application, systems, network technologies, configuration, performance, availability and security functions.
The next blog is a team effort from the editors of SearchServerVirtualization.com and SearchVMware.com. It's called Virtualization Pro and it's going to cover the VMware virtualization scene. You'll find expert opinions, links, quick how-tos and advice on VMware technologies and products. Visit for the latest scoop on VMware platforms, like VMware ESX, and subjects like backup, disaster recovery, performance optimization, desktop virtualization and more.
If you're not browsing our growing list of blogs, then you're missing out. Get in there and see what other community members are yakking about. If you want to do some yakking of your own, feel free to request your own IT-related blog.


Community Manager