Aug 6 2008 4:47PM GMT

Profile: BrentSheets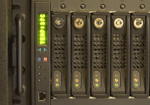 Trying to keep up with the latest changes in the data center world? Here are three new community blogs that aim to do just that. Written by the editors of SearchDataCenter.com, you'll find coverage of everything from Big Iron to green data centers.
Server Farming | About the bloggers
Servers and systems administration news and advice, covering Unix and x86 systems and blades, and the tools to manage the server farm.
Mainframe Propeller Head | About the bloggers
A blog about mainframe computers and related issues, including Linux on Big Iron, application modernization, mainframe jobs, CICs, server consolidation and third party mainframe software.
Data center facilities pro | About the bloggers
A TechTarget blog on data center facilities management, design and engineering, covering energy efficiency, site uptime and more.
Why aren't you blogging and sharing your IT knowledge? If you have what it takes, fill out this short online form to request your own blog. We'll help you get started and attract a readership of your peers and colleagues. Come join our blogging community and start sharing your IT knowledge.


Community Manager