Feb 1 2008 7:43PM GMT

Profile: BrentSheets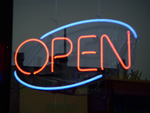 Introducing a brand new community blog devoted to IT departments in the advertising business. IT Director John Wilder discusses the unique challenges spawned by a mixed Macintosh and PC environment, Creative department and the insatiable storage needs that come with the territory.
If you work in this area or a similar environment, visit the new IT in the Ad Biz blog for an insiders perspective on how to deal with the challenges.
If you'd like to start an IT-related blog, we offer our members free blog hosting. Why start an IT blog on a generic network when we have a community of IT pros waiting for you here on IT Knowledge Exchange? Be sure to browse our IT blogs, written by community members just like you.


Community Manager