Jun 25 2008 6:13PM GMT

Profile: BrentSheets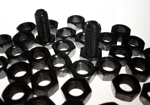 Have you ever wished you could get first-hand information on what it is really like to be an IT consultant? You know, the nuts-and-bolts view from someone who does it on a daily basis? Well, you're in luck, Raj Perumal is a network engineer with 15 years in IT and he works as an IT consultant with the largest Manitoba-owned IT consulting firm in Manitoba. Raj will be blogging about the daily issues he encounters as an IT consultant on his new community blog, called The musings of an IT Consultant.
My musings about the everyday things I run into during projects in the IT Consulting field. I design and implement LAN and WAN infrastructures and I have a lot of experience with HP server hardware, including the HP C-class Blade systems. I used to teach at the University level and train up and coming network engineers. I am regularly engaged in network migration, design and implementation projects.
— Raj Perumal
Blogs are a great tool for sharing your IT expertise with the community. If you'd like a blog of your own, we'll help you get started and we'll also help you to build up a readership of your peers and colleagues. If you blog regularly, you can even earn a little cash. Visit our blog request form and fill out the short form to request your own blog. Thanks.


Community Manager