Nov 16 2007 9:53PM GMT

Profile: BrentSheets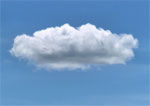 If you like big tag clouds (and I do mean big) then you're going to love the whopper we just added to IT Knowledge Exchange. We've super-sized our tag cloud and gave it a page of it's very own.
See that new tab in the navigation bar? The one labeled Tags? That's the tab to click whenever you wish to browse this much larger cloud.
As you know, tag clouds are just a list of keywords that are weighed based on their popularity. Sean has already covered why it's important to properly tag your questions on IT Knowledge Exchange. The bottom line is to think carefully and use tags that best categorize your question so that others can find your question easily.
And now, back to that big ol' tag cloud. This honker can be sorted in a couple of ways. The default view is …Cloud View. Duh. But you can also sort by List View if you prefer a simple list format to the tag cloud format. And lastly, you can also sort using Alphabetical or Most Popular.
That's about the long and short of it. So if you've been pining away for a big honking Tag Cloud to browse, your wish has come true. Leave a comment and let us know what you think.


Community Manager