Nov 1 2007 8:03PM GMT

Profile: BrentSheets
Tags: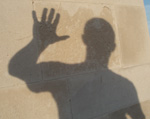 Hey, don't get too excited, I'm referring to that gray silhouette that appears next to your question when you post on IT Knowledge Exchange. We're a community here; so don't hide behind that default avatar like a shadow – show yourself!
To get rid of the gray – first, log into IT Knowledge Exchange and click the Edit my Public Profile link. Then it's a simple matter of clicking a couple of buttons to upload your photo or logo. Pretty simple cure, eh?
And while you're on your profile page, why not enter a little information about yourself to allow your fellow members to learn more about you? It's a good way to share your interests or areas of expertise with the ITKE community. There is even a place to enter the URL of your blog or website. And we all know a little self-promotion never hurt anyone.
C'mon, we all want to see more faces and less gray silhouettes. So login and visit the Edit my Public Profile link today. Thanks.


Community Manager