Jun 17 2008 4:56PM GMT

Profile: BrentSheets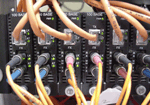 Please welcome one of our newest bloggers, Joshua Wood. Joshua has been a Network Administrator for more than 8 years and has a number of certifications, including MCSE, CCNA, SMBE, A+ and Network+.
Joshua's blog is called TechStop and he'll be covering a wealth of information about network administration and operations. Be sure to bookmark Joshua's blog and visit often for the latest on Network Administration.
My expertise includes technical infrastructure, network architecture, implementation, security, disaster recovery planning and management. Including the installation and maintenance of VPNs, backup systems, and VMware virtualization. — Joshua Wood
Have you considered starting your own blog? It's a great way to share your unique IT viewpoint with the community — and even earn a little cash. Request your own blog and we'll help you get started building a readership. Thanks.


Community Manager