Jan 17 2008 7:35PM GMT

Profile: BrentSheets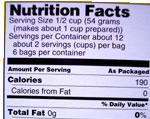 Tags are an important factor in whether or not you get a quick reply to your IT question. Why? Because your question lives for only a short time on the main page and is then deposited in the categories of the tags you use. Here's a helpful tip about this essential feature.
I've previously detailed how to increase your chances of getting an answer but I'm seeing quite a few tags that look more like run-on sentences or a series of keywords than a actual tag.
For example, this is not a tag – it's a question:
what cisco certification is best or should i go for mcse?
Nor is a series of keywords a proper tag:
Certifications Cisco certifications CCNA MCSE
Instead, you should break these terms into individual tags, like this:
Certifications, Cisco certifications, CCNA, MCSE
This will ensure that your question appears in the proper categories so that members browsing those categories will see it. Just be sure that the tags you use are applicable to your question. You should never use a tag that is not related to your question.


Community Manager