Apr 8 2008 6:40PM GMT

Profile: BrentSheets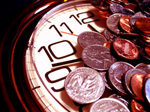 Time is money, as they say, and nowhere is this more evident than in the midmarket. Midmarket CIOs face unique challenges but finding a reliable source of news and information can be difficult. So I'm happy to introduce our newest editorial blog geared specifically to technology management strategies for the midmarket CIO. If you're looking for a savvy look at the latest issues, then drop by the CIO Symmetry blog today.
See why other midmarket CIOs are making news and you aren't. We'll gather relevant news for you to peruse – here — at your leisure. Considering attending a trade show aimed at CIOs, but you're just not sure that effusive PR person is being totally honest with you? We'll give you the skinny.
— CIO Symmetry
The bloggers, Zach Church and Brian Kraemer, are no strangers to the ins and outs of the issues facing midmarket CIOs and can usually be found on SearchCIO-Midmarket.com. They describe their CIO Symmetry blog as a proportional mix of news and wit for the midmarket. So be sure to mouse over and check it out today.


Community Manager