Jul 14 2010 6:00AM GMT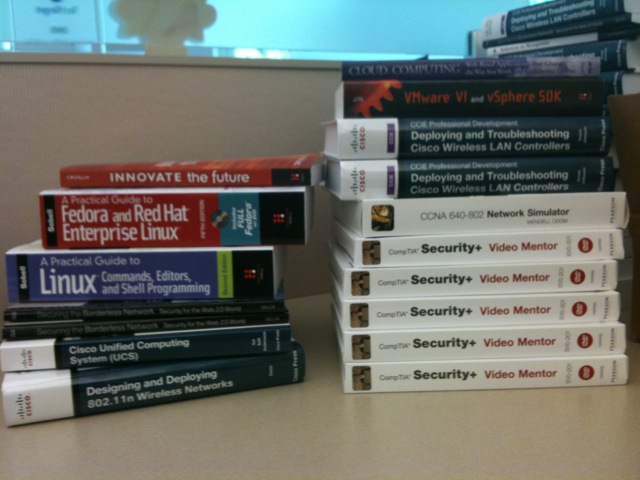 This is the current—and hastily organized—state of Michael's desk. Help him out? If you want some sweet IT books, head over to IT Answers and get to answering. See a question tagged Windows 7 in 2010 and know the answer? Give it your best shot then send me an email at Melanie@ITKnowledgeExchange.com or send us a message @ITKE with the link to the question, and you'll get to take your pick of Michael's deskmates. We're giving five away, so get started!
Some titles to get you excited:
A Practical Guide to Fedora and RedHat Enterprise Linux 5th ed. (Full Fedora on DVD)
A Practical Guide to Linux Commands, Editors and Shell Programming 2nd ed.
Securing the Borderless Network: Security for the Web 2.0 World
Cisco Unified Computing (UCS)
CCIE Professional Development: Deploying and Troubleshooting Cisco Wireless LAN Controllers
Cloud Computing: Web-based Applications That Change the Way You Work and Collaborate Online
VMware VI and vSphere SDK: Managing the VMware Infrastructure and vSphere
Melanie Yarbrough is the assistant community editor at ITKnowledgeExchange.com. Follow her on Twitter or send her an email at Melanie@ITKnowledgeExchange.com.