Mar 12 2008 6:45PM GMT

Profile: BrentSheets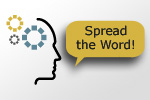 One of our members, Karl Gechlik, has published a nice write up about our community here on IT Knowledge Exchange. You can read his review on MakeUseOf.com.
Karl has participated in over 100 questions on IT Knowledge Exchange, so be sure to visit his Public Profile and browse his answers and contributions. While you're at it, drop by Karl's website at Ask the Admin. Thank you for spreading the word about us, Karl!
And to the rest of our community – please be sure to tell a friend or colleague about IT Knowledge Exchange – and consider linking to us from your own blog or website. Spread the word!


Community Manager