Nov 19 2007 3:55PM GMT

Profile: BrentSheets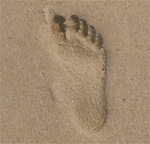 Have you ever come upon a really good IT answer on IT Knowledge Exchange and wished you could see all the answers from that same member? Well, now you can. Feast your peepers on our latest feature, called Recent Activity.
You already know that clicking on an ITKE member's name will display the Public Profile for that member. Starting now, the Public Profile also includes a list showing all the questions, answers or comments that a member has participated in.
This is not only a cool way to look up answers from other members – but you can also visit your own profile to view your participation history. It's like looking back at your footprints in the sand to see where you have been. I hope you'll use it as a handy way to see your previous questions or to return to improve an answer.
So what's the difference between My Watchlist and Recent Activity? I'm glad you asked. With My Watchlist, you can add any question you wish to your own personal watchlist. The Recent Activity feature, however, is designed to automatically build a participation list in each member's Public Profile page.
So try it out already, for Pete's sake. Visit the IT Answers section and click on your own name, or someone else's, and explore. Take a moment to leave a comment to let us know what you think.


Community Manager